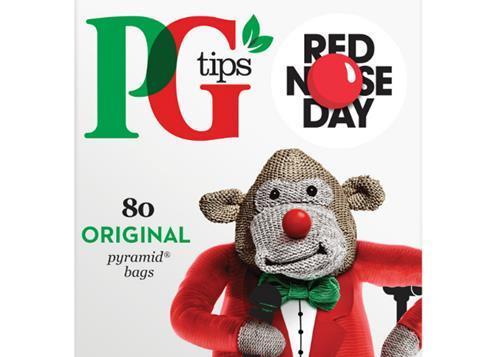 This month sees PG Tips return as an official Comic Relief partner, with the Unilever brand launching its #1MillionLaughs promotion.
Designed to encourage the public to share jokes across social media using the hashtag, the push will include limited edition packs, available now, featuring a joke inside to inspire shoppers to take part.
Ahead of Red Nose Day on 24 March, PG Tips will set up a chatbot on Facebook Messenger. The technology will allow consumers to contact the tea brand's Monkey character directly via the @MostFamousMonkey account. They will receive jokes and be able to donate to Comic Relief – to which PG Tips is to give £300,000.
The brand's new campaign is set to include OOH support and social media activity, with sponsored posts on Facebook and Twitter alongside a dedicated Snapchat filter that will be available on 24 March.
"UK consumers are passionate about getting behind Red Nose Day and this activity is designed to do just that in a fun and engaging way," said Fiachra Moloney, PG tips marketing manager.