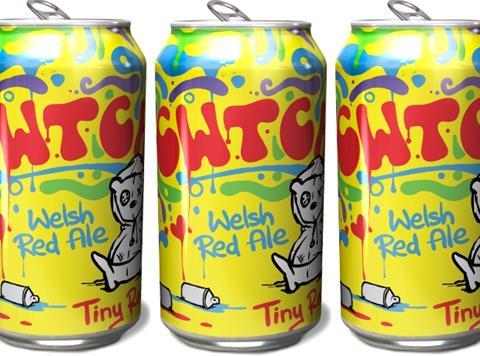 Welsh craft brewery Tiny Rebel has been rebuked by The Portman Group for packaging the trade body said risked appealing to children and "encouraged immoderate consumption".
A member of the public complained to the watchdog that the design of Cwtch ale, with a 330ml can featuring a drunken-looking bear slouched below colourful graffiti, overly resembled a can of fizzy pop.
The complainant said: "Surely this packaging is targeting the wrong age group? Concerning that young children would give this to their parents to buy who wouldn't necessarily take a second look?"
Tiny Rebel argued that the beer's packaging clearly indicated the 4.6% abv product was alcoholic, with the words Welsh Red Ale featuring prominently on the can, and its alcohol strength statement and the word 'beer' conveyed in 16 languages.
It said 330ml beer cans were not a recent innovation for the alcohol industry, and did not overly resemble those of soft drinks. The product was stocked in the alcohol aisle, with an rsp far higher than that of a soft drink, it argued.
Meanwhile, the brewer called the bear logo a "manifestation of the two co-founders' personalities" and "a broader reflection of the industrial, urban city of Newport", whose "scruffy and dark look" prevented it from resembling a teddy bear.
It was physically impossible for the bear to be intoxicated given it had no anthropomorphic features such as a mouth, added Tiny Rebel.
However, while The Portman Group ruled the beer did not suggest any association with bravado or aggressive behaviour, and did not in any direct or indirect way encourage illegal, irresponsible or immoderate consumption, it decided the beer did have a particular appeal to under-18s, rebuking it under section 3.2(h) of its code of practice.
Tiny Rebel had since "worked with the Portman Group", said its MD Bradley Cummings, and would make "a minor change to our Cwtch can product by making our logo less dominant on the front of the can".
Cwtch is one of Tiny Rebel's most popular beers, and was named Champion Beer of Britain by the Campaign for Real Ale in 2015.
Retail value sales of the brew grew £49,558 (157.6%) to £80,999 over the last year on volumes up 175.7% [Nielsen 52 w/e 9 September 2017].
This isn't the first time the trendy brewery's marketing has run foul of authorities. In 2013 its Fubar beer was banned from launching in Sweden. The Swedish government, which controls alcohol sales in the country, said its grenade-themed label made it unsuitable for sale.