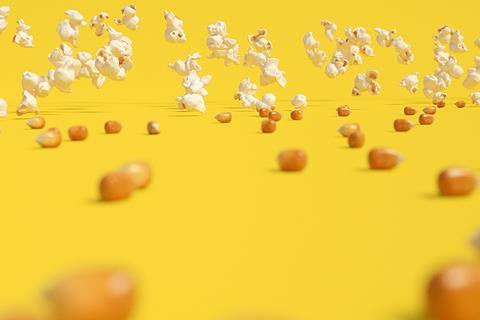 Proper is to make its TV debut this week with a campaign called 'Popcorn Done Properly'.
Billed as "a natural response to current nationwide consumer trends", the 20-second advert features exploding CGI popcorn kernels, layered with an onomatopoeic audio layer of pops, created by creative agency U-Dox, which Proper said "brings its brand name to life".
It will be shown across Sky channels and on demand from 4 June, with snippets running across social platforms throughout June and July.
Households were enjoying more time in together and shared TV viewing during lockdown, which had led to a "boom" in snacking, said Proper.
Proper founder Cassandra Stavrou said the advert drew inspiration from the fashion and design industries. It was created over the course of three weeks during lockdown, with Proper working alongside graphic designers, CGI specialists, animators and a music composer.
The move into TV was "an ambition that we set our sights on during a time when we know there is an appetite for healthier, great-tasting snacks", she added.