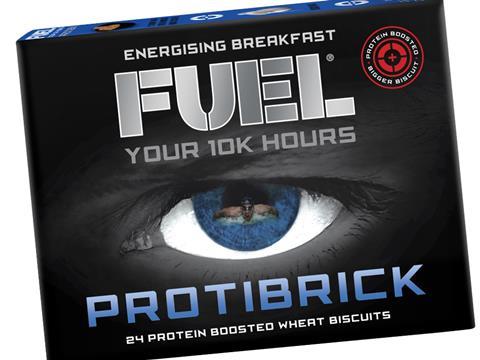 Zulu is the greatest movie ever made.
I haven't, though, mentioned Zulu in order to extol the film's virtues, of which there are many.
I do so because the story of 150 British troops defending the mission station at Rorke's Drift from 4,000 Zulu warriors is my favourite historical tale of a small force succeeding against a far larger one.
In a similar vein, I'm also rather keen on the Battle of Thermopylae, in which 300 Spartans (as seen in the movie 300) and a handful of allies held out for days against a Persian army that may have numbered 150,000.
Now I come to think of it, if those buffed-up Spartans were around today and shopping in a British supermarket (bear with me), I reckon they'd be pretty keen on all the added-protein products lining the shelves.
There are now yoghurts, cereal bars, soups and drinks claiming to be perfect for a post-workout snack. Or post-battle, for that matter.
And Weetabix is now looking to tap Brits' appetite for protein, this month rolling out packs featuring a flash flagging up that a serving of two Weetabix with milk provides 20% of an adult's daily protein.
"We know many of our consumers are more aware of protein as a nutrient and are looking for ways they can easily increase their intake," said Weetabix. "With this in mind we wanted to remind people that a serving of Weetabix with milk can provide them with a good source of protein to start their day."
Which is all perfectly reasonable (although the office's resident Spartan did suggest making such statements about relatively low-protein foods could undermine consumer enthusiasm for protein).
But I suspect that's not the only thing that prompted the reminder that Weetabix can contribute to protein intake. Which brings me back to my love for a good underdog story.
One reason Weetabix has put the word protein in large letters on its packaging, I believe, is the arrival of rival Protibrick in January. Not dissimilar to a Weetabix, these have been rolled out by Fresh Marketing under its Fuel brand, which since launching in 2011 as granola has grown to include milk-based cereal drinks, porridge pots and sachets, and boasts sales value of £7m in 2014.
Now, I wish Weetabix no ill whatsoever – I grew up on the stuff – but what I love about this situation is that Britain's biggest cereal brand – performing ahead of the overall market and with sales of more than £140m [Nielsen] – may have been spurred into action by a business a fraction of its size.
Weetabix, understandably, did not admit such a thing, telling The Grocer: "A serving of Weetabix for breakfast has always been a good source of protein. Putting the flash on-pack reminds consumers of this fact."
Meanwhile, Protibrick owner Fresh Marketing believes its launch may have given Weetabix a nudge to remind consumers "of the healthy protein content of wheat biscuits".
I'd never suggest Protibrick is a threat to the future of the Weetabix – and there is surely room for two brands in the wheat biscuits market – but it is very exciting to see smaller players have an effect on much larger businesses.
Probably wouldn't make much of a movie, though.