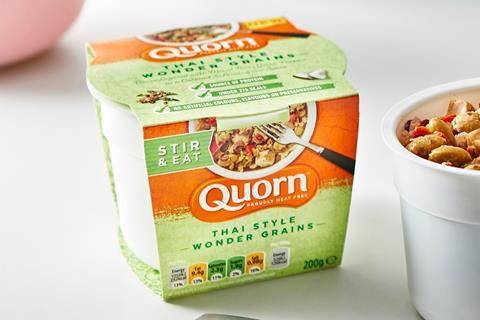 Quorn has been rapped by the ad watchdog for suggesting its Thai Wonder Grains could reduce shoppers' carbon footprint.
Thirty-two complaints were made to the watchdog over an ad for the SKU, which aired in April, featuring a woman walking back to her desk in an office with a flask of water and a Quorn Thai Wonder Grains pot.
In the ad, a voiceover stated: "I care about climate change and I love my food. So new Quorn Thai Wonder Grains is a step in the right direction because it helps us reduce our carbon footprint and that's got to be good."
The watchdog said it "considered that viewers would understand from the ad that purchasing a Thai Wonder Grains pot would contribute to reducing their carbon footprint and therefore have a positive impact on climate change" but that Quorn "did not clarify the claim 'helps us reduce our carbon footprint'".
The basis of the reduction was likely to be material information which consumers would need in order to make an informed decision, it said.
It "noted that the ad included on-screen text, which stated that Wonder Grains had been awarded the Carbon Reduction Footprint certification, and this related to the full life cycle of the product", it added.
"However, because it did not clarify what the claimed reduction of the carbon footprint was being measured against, viewers would not know on what this reduction was based."
Because the SKU in question was also a new product, said the ASA, it was "not possible to demonstrate a reduction in its footprint, and the certification for that product related only to Quorn's commitment to reduce the footprint over time".
Quorn was told to ensure the basis of any environmental claims was made clear and did not mislead by omitting material information from its ads.
A spokeswoman for the brand told The Grocer Quorn was "naturally disappointed by the ASA's ruling, and it was never our intention to mislead consumers".
"Our Quorn Wonder Grains product has achieved Carbon Footprint Reduction certification from The Carbon Trust, and we feel this widely recognised and independent certification justified the claim made in the advertisement."
It comes as Quorn this week unveiled plans to return to TV in November with a sustainability-centric ad for its mince, which the brand says will emphasise "how easy it is for families to reduce their carbon footprint by making more sustainable food choices."
Quorn became the first major meat-free brand to roll out carbon labelling across its packs earlier this year.