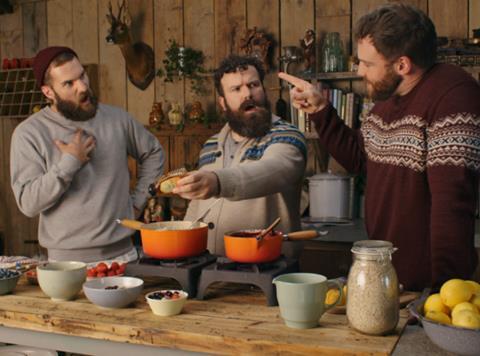 Rowse Honey has kicked off The Three Bears, an online media push starring a trio of gay housemates.
The ad's stars - Matt, Joel and Phil - identify as bears (large, hairy gay men) and are shown living together in a rustic wooden lodge, where they create porridge recipes featuring Rowse Honey.
Winter Survival, the first of three episodes with nods to the Goldilocks fairytale, made its YouTube debut today (23 October). Porridge Contest and Energy are set to follow, backed by OOH and social media activity, as well as Stylist magazine cover wrap.
The campaign was created by agency BMB to "offer some charming breakfast inspiration for those dark winter mornings" said Kirstie Jamieson, marketing director of Rowse owner Valeo Foods. "It is really exciting to connect Rowse with a younger audience in an engaging and relevant way."
Matthew Lister, a former Olympic canoeist who plays Matt, said while LGBTQ people had appeared recently in a number of ad campaigns, "certain groups have been under-represented in the media, which is why I jumped at the opportunity to feature in The Three Bears".