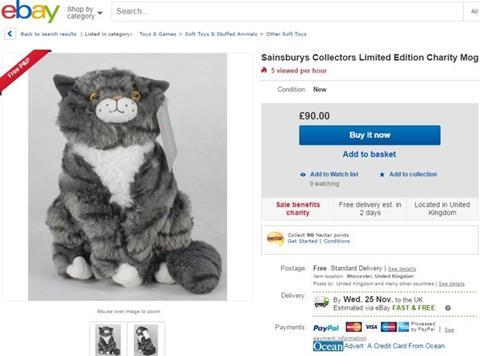 Sainsbury's has run out of Mog the cat toys just 10 days after airing its Christmas advert.
Stores will not receive any more deliveries of the limited-edition toy, leaving many shoppers disappointed.
Mog featured in the Sainsbury's Christmas advert in an adaptation of popular children's book Mog's Christmas Calamity by Judith Kerr.
Opportunists have taken advantage of the scarce supply by selling the cuddly toy for up to nine times more than the £10 rsp.
"The toy wasn't intended to be a collector's item, and we're disappointed people have chosen to exploit a charitable venture," said a Sainsbury's spokesman on Facebook.
When bought in Sainsbury's, profits from the Mog toy and accompanying book are donated to Save the Children to improve child literacy.