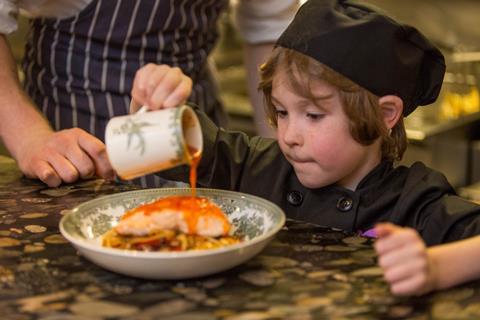 The Saucy Fish Co has moved to dispel the myth that cooking with fish is difficult by recruiting children as young as six to prepare ocean-inspired dishes.
With recent research revealing that UK adults consumed less than half the recommended amount of fish per week [Kantar Consumption January 2015], the supplier opened a "School of Fish" pop-up restaurant, at the Stephen St Kitchen in London's Soho last week.
The mini-chefs – aged between six and eight years old – served more than 150 free meals to diners at the restaurant, with The Saucy Fish Co's Squid, King Prawn & Chorizo with a Sherry & Herb sauce proving to be the most popular dish.
Siblings Daniel and Emily Grundstrom, of West Sussex, were among those who demonstrated the simplicity of cooking with catches including Sea Bass and Haddock.
"I like cooking at home with my mum and big brother but haven't cooked fish before," Emily, aged 6, said. "I had butterflies in my tummy when I saw the size of the restaurant, but after a bit of practice I was really good at knowing when the salmon was cooked and ready. It was really fun and easy. Before today fish wasn't my favourite food, but I'm going to try it more now.
Saucy Fish Co sales and marketing director Amanda Webb, added: "We know that some people are intimidated by the idea of cooking fish at home, so we want to show just how simple it can be. Our School of Fish event should help The Saucy Fish Co. deliver on our mission to get more people eating more fish more often."