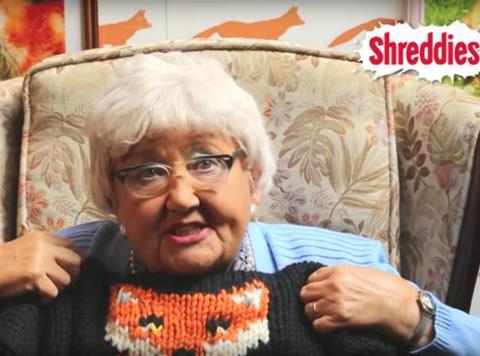 Shreddies has killed off its knitting nana characters - 10 years after they made their TV ad debut - in favour of a new family-oriented 'Shreddie or Not?' campaign.

The comic ads showed elderly women working in a factory where they hand-knitted each Shreddie. As the campaign evolved, the ladies went on to enter faux auditions for Britain's Got Talent in a promotional tie-up with the ITV peak time show. And from 2007 to 2011, packs of the cereal even included a photo of the nana who had supposedly knitted the contents.


But after making their final appearance in February, Shreddies will unveil a £3.5m push for its core line on 4 September - centred on a TV ad in split-screen, backed by OOH and ­digital activity.
Called 'Shreddie or Not?', the ad reflected "the chaos of modern life and how the right Shreddie attitude can make a big difference to your day", says Nestlé.
The story centres on a dad going about his daily routine. It simultaneously shows two scenarios: one in which he starts with a Shreddies breakfast and one in which he doesn't. In the former situation, he has a successful day, earning the admiration of his son and local footballers, while in the latter his clumsiness leads to him being chased by an angry biker gang.

The campaign was aimed at families "in a way that will bring a smile to their face," said Toby Baker, UK marketing director for Nestlé Breakfast Cereals.

The brand has also been modernised on shelf, with new-look packaging unveiled this summer featuring larger imagery of the Shreddies themselves, while smaller pack sizes have been accompanied by lower prices. The changes come as value sales for Shreddies have slumped 3.6% to £45.7m on volumes down 6.4% [IRI 52 w/e 17 June 2017].