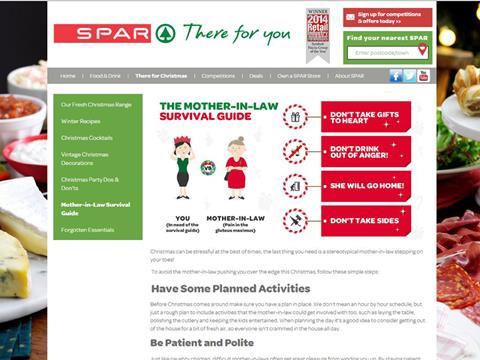 Spar and Nisa have taken their Christmas ­campaigns digital.

Spar has launched a dedicated Christmas ­section on its website ­featuring games, competitions, recipes, festive ideas and even a mother-in-law survival guide.

"Digital is an excellent way to engage with a younger audience and our content will be of particular interest to young party goers and mums with kids," said Spar UK marketing manager Laura McNally.

Nisa's digital strategy features an online consumer campaign for one winner and a friend to win a 'Nisa Christmas' for their families.

Shoppers are being encouraged to nominate using the hashtag #NisaXmas. "We have been overwhelmed by the response so far on Twitter and it was fantastic to see #NisaXmas trending after only a few hours of being live," said social media executive Becky Slingsby.