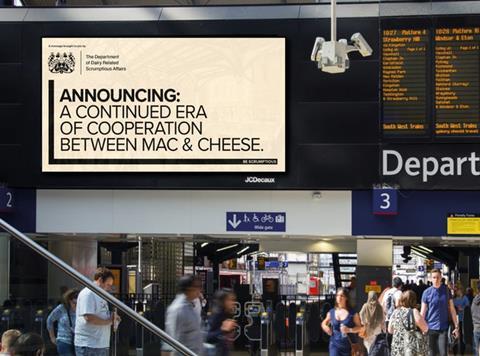 Dairy UK and AHDB have renewed their spoof public service announcement marketing campaign for a second year following a positive response from millennials.

The Department of Dairy Related Scrumptious Affairs push has been handed an additional £1.2m in funding for a "refined and updated" campaign, which will launch in October, said Dairy UK CEO Judith Bryans.

The campaign was the first generic dairy marketing push funded by the industry since 2013, and designed to re-establish the credentials of dairy in the face of opposition from the vegan lobby, particularly among millennials.

Attitudinal research conducted after the initial wave of promotional activity in February and March showed 8% of the campaign's target audience were less likely to cut down on their dairy intake, while 11% were less likely to replace dairy with alternatives, said Bryans, against a target of 3%. The campaign attracted 19 million interactions on social media, and reached 14 million people through advertising.
The new campaign would include new creative executions and new ideas, Bryans added.

"We also want to remind people of the qualities of hidden dairy, for example in pizza and pasta toppings," she said, while also pointing out Dairy UK was working on a separate initiative to target even younger generation Z consumers, with more details to be unveiled later this year.

"Our decision to move away from traditional media has shown that understanding your target audience and tailoring your messages accordingly is the best way to communicate your message successfully," she said. "It's fantastic to see so many engage with and enjoy our campaign and remember what it is that they love about dairy."

Rebecca Miah, AHDB's head of crops and dairy marketing, added: "We are pleased to see the positive effect the campaign has had among the target audience, and we will be ensuring year two is as robust and focused."