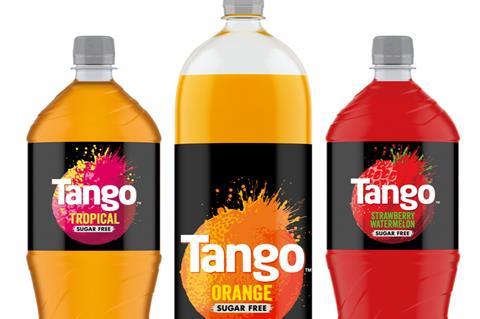 Tango is to return to TV after four years, in a £2.2m push following the launch of two sugar-free flavours and new-look packaging.
A new ad will air in the summer as part of the biggest spend in eight years for the Britvic brand. It will come after Tango this week rolled out Tropical and Strawberry & Watermelon variants with no sugar (rsps: 67p-£2.29/330ml-two litres).
The new drinks are landing alongside a reformulated sugar-free Orange. All have been given a fresh look as Tango aims to attract younger shoppers – the fastest-growing age group buying low and no sugar fruit carbonates, according to Britvic.
Details of the commercial are yet to be announced, but it would focus on Tango's "distinctly British personality and irreverent humour that people have come to know and love" Britvic said.
"Tango is a brand with big personality and we've always been bold with our humour and tone," added the soft drink giant's Phil Sanders, commercial director for at-home. The 69-year-old brand wanted "to excite the younger generation who perhaps don't know what we're about".
Tango's most recent TV ad campaign was 2015's '#TangoMyLove'. The brand has a recent history of irreverent and often controversial advertising. It began in 1992 with the Orange Man TV ad that introduced the 'You Know When You've Been Tango'd' strapline. The clip featured a heavyset, semi-naked man covered in orange body paint, who slapped unsuspecting Tango drinkers on both cheeks. It was later banned after children were reported to be injuring one another by copying the ad.
In March 2000, a Tango TV ad starring James Corden was banned for encouraging the bullying of overweight children.
And an OOH push campaign in summer 2009 joked about the side effects of drinking 'Tango With Added Tango Orange', with the 'Orange' in smaller text than the rest of the phrase. National newspapers later pointed out the initials of 'Tango With Added Tango' spelled out an obscenity – as was intended by the brand's marketing communications agency, Euro RSCG KLP.