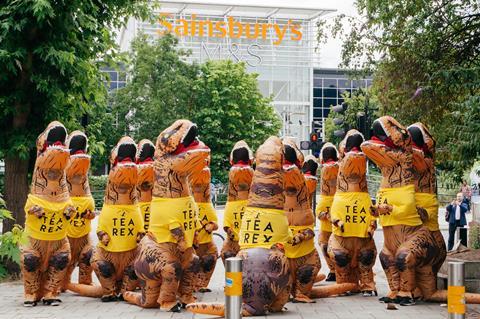 Tea infusions startup Tea Rex marked its Sainsbury's debut by besieging the retailer's Merton superstore with a herd of inflatable T-rex.
The horde, led by founder Andrew Walker, invaded the store on Saturday 13 July without approval from the retailer, to mark the brand's launch in Sainsbury's Taste of the Future aisle.
The move "probably wouldn't have been approved if we'd asked", Walker told The Grocer, adding he had since had a "very positive" response from Sainsbury's. "We know that sales are the key criteria [in this trial] and we're hoping they're looking for brands to show what they can do."
At the time of writing, an Instagram video of the dinosaurs' siege had racked up more than 13.5k views on Tea Rex's account.
Walker said the trial listing was "momentous" for the fledgling brand, which bills itself as offering the world's first completely fresh fruit and root infusions.
All profits generated from sales over the week following the event would be donated to a charity for people with dyslexia, added Walker, with the brand offering a paid internship "for a young dyslexic in need of a mentor". It is asking for one-minute video applications rather than traditional CVs.
Walker, himself dyslexic, said: "School can be tricky for those who struggle with language and communicating ideas on paper. I wanted to use the way we launched our game-changing, vibrant infusions to bring attention to the wealth of creative careers open to young people with dyslexia.
"What better time to shine a light on a message that can resonate with young people who may need that confidence boost."
Tea Rex's packs are also stocked in Ocado and Amazon (rsp: £4.50).