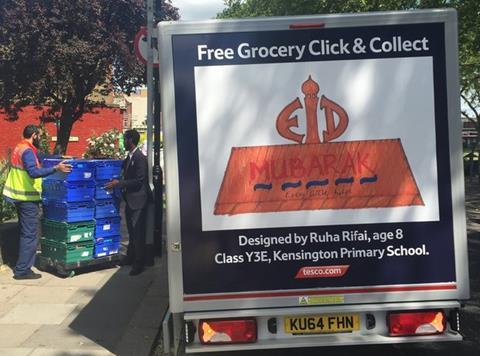 Tesco has announced a raft of Ramadan activities for this year, including food donations, event sponsorship and a redesigned van.
The retailer will send £10,000 worth of supplies to 12 mosques across London this week, with deliveries including large bags of chapatti flour, rice and oil.
Each mosque will either use the products for their soup kitchens or donate to a local foodbank charity.
Tesco is using a branded van customised by an eight-year-old Muslim pupil for the deliveries.
Ruha Rifai, of Kensington Primary School, Newham, which sits within the area with the highest Muslim demographic in London, won a competition to design the van's new look.
Tesco said it expected sales this year associated with Ramadan, which begins on Thursday, to be as high as £30 million, and that it had planned for a sale spike of up to 70% on key lines.
The retailer will also, for the first time, sponsor an Eid celebration. The event is expected to have more than 25,000 attendees, and is organised by the Mayor of London. It will take place at Trafalgar Square on Saturday 25 July. Tesco will be giving out free products including Rubicon Mango juice, Cofresh crisps and Tilda Rice.