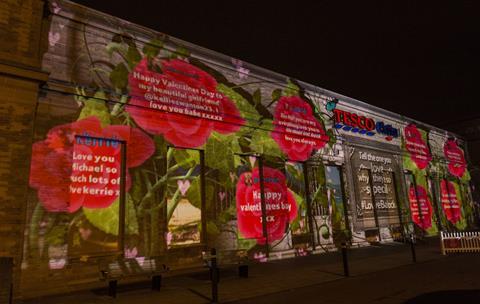 Tesco went big for Valentine's Day, shining a giant animated 3D projection onto its Baldock store, displaying romantic tweets as they were sent in by locals last night.
The supermarket's spectacle also included huge animated rose buds, blooming 10 metres high and 40 metres wide across the Baldock shop building, which used to be the country's most popular wedding venue, when it was the Kayser Bondor ballroom in the 1960's.
Tesco said the stunt, in action for one night only, was inspired by its latest research, which revealed one in five Brits first declared their love for their current partner over social media.
In fact, the supermarket discovered that nearly a quarter of people (23%) would rather say "I love you" via twitter, Facebook or Instagram than say it in person.
"We wanted to help our customers send their Valentine's messages in a rather unique way this year," said Tesco regional press manager Bryn Woodward.
"It's made for our most romantic store experience yet. Whether you're into DDA [that's digital display of affection] or PDA, the projection has been really popular as people are treated to romantic gestures when they least expect it!"