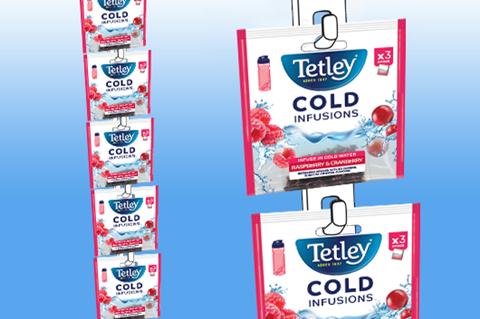 Tetley has made its first major investment in the Cold Infusions brand since its launch in July 2018.
The supplier has put £1.3m behind marketing, new formats and an extra variant. It will kick off a push next month to run throughout the summer across live events, sampling, print ads, outdoor and social.
The activity will begin with an "interactive and educational" stand at the Women's Health Live show in London this bank holiday weekend, when 10,000 bottles will be handed out.
Meanwhile, the digital aspect of the drive is set to include sponsorship of online content for the next TV series of Love Island.
It came as the cold infusions market was worth "over £5.8m and growing with Tetley currently holding 14.35% volume share" said the company – which has added Strawberry & Watermelon (rsp: £2.49/12 bags) to the Cold Infusions lineup. Like the other variants, it is free from caffeine, sugar and artificial flavours.
It is to be joined in stores by a revamped starter kit (rsp: £6.99), which has reduced the size of its packaging by 50% by packing the infusions into the reusable bottle, and by a clip strip carrying 12 packs of three infusions (rsp: £1). Two SKUs will be available: Cranberry & Raspberry and a mix of Cranberry & Raspberry; Mint, Lemon & Cucumber; and Passion Fruit & Mango.
Cold Infusions rolled out 10 months ago to take on Twinings' Cold In'fuse, launched in April 2018. The Tetley brand had since "delivered over £0.8m in sales" according to the supplier.
It was "an easy, tasty and healthy way to maintain hydration levels" said Cold Infusions marketing manager Cassie Shuttlewood. "The new flavours and formats will help to keep the offering fresh and relevant."