More memorable than a slogan, and more reliable than celebrities, mascots have been 'visceral shortcuts' for grocery brands seeking cut-through for years. So, which are most powerful today and what is their future?
1. Captain Birdseye
Birds Eye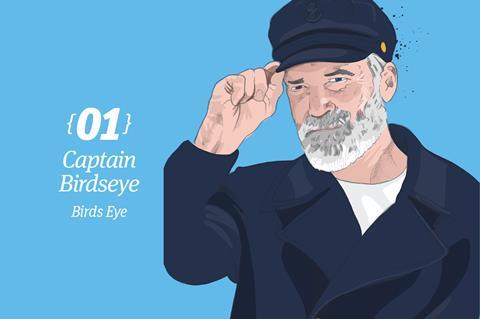 Birds Eye's main man is much like Doctor Who. Both made their debut in the 1960s. Both change with the times – and make headlines when they do so.
Pulling into port in 1967 (played by actor John Hewer), his 'death' just four years later was marked by a faux obituary in The Times.
"Birdseye, Captain. On June 7th, 1971, after long exposure, life just slipped through his fingers," it read. He would be mourned "in recognition of his selfless devotion to the nutritional needs of the nation's children". Of course, the notice was Birds Eye's doing. As was the 1974 press announcement that he had "returned to the shores, a revitalised man".
With the brand facing declining market share and rising prices, the bearded seadog was back – and an icon was now firmly in the making. TV comedies, from The Goodies to Peep Show, have joked about him, and spoof songs have been written about him.
So singular has the Captain been that, in 1983, he "was named in a poll as the most recognisable captain on the planet after Captain Cook" according to The Times.
Meanwhile, Nomad Foods points to an Ipsos Brand Equity report in 2017 that named him "the UK's most recognisable food icon in the UK of the last 50 years".
That was just a year before the supplier introduced a "younger, more rugged" Captain. The internet went wild for the version played by twinkly-eyed Riccardo Acerbi. He and his ever-present crew of kids didn't get off to the best start, though. Birds Eye was forced to pull his fish finger ad, after water safety campaigners complained about its depiction of a boy jumping into the sea.
Like any ol' salt, however, the Captain abided, and even found time to launch his own beard care kit, eau de toilette and calendar – featuring him in 12 different poses.
And yet, not everyone's on board with the avuncular Captain, who "looks strange" to Alan Young, CCO at agency St Luke's. "Perhaps it's time for Captain Birdseye to reinvent himself as a sustainable fisherman, doing the right thing by our oceans and our families," he says.
That sort of regeneration would certainly be massive news.
2. Freddo
Mondelez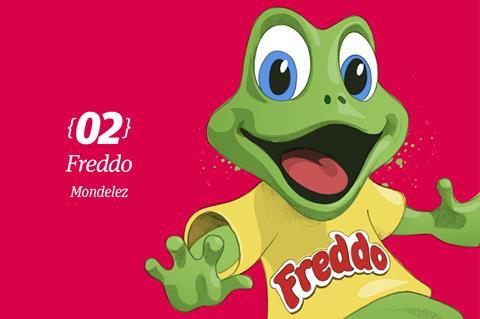 Freddo arrived in the UK in 1973 – but it wasn't until after a revamp in the 1990s that his inexorable link with food prices began. The Cadbury frog became an informal indicator of the cost of living as the price of his core, child-centric snack grew five times faster than the rate of inflation, from 10p in 1999 to 30p in 2017. Consumer outrage ensued, and Mondelez eventually trimmed off 5p in early 2018.
Now, as shoppers' purses tighten, all eyes are once again on the so-called Freddo Index – with the Liverpool Echo last month reporting the chocolate amphibian's average price as 30p.
That's a far cry from the 1d (pre-decimal penny) on the front of the frog's first pack 92 years ago. Created in Australia in 1930 by the MacRobertson's chocolate company, he was going to be a mouse until it was decided he'd scare women and children.
In 1967, MacRobertson's was sold to Cadbury – which is now preparing to celebrate Freddo's 50th anniversary in the UK next year. His longevity has been driven in great part by his ability to stay relevant, says Susan Nash, trade communications manager at Mondelez. He has "evolved over the years to suit an ever-changing market, while still retaining his trademark playfulness and cheeky smile."
Nash is in no doubt that "Freddo is a truly iconic little frog. He's one of the most recognisable assets in confectionery."
3. Kevin the Carrot
Aldi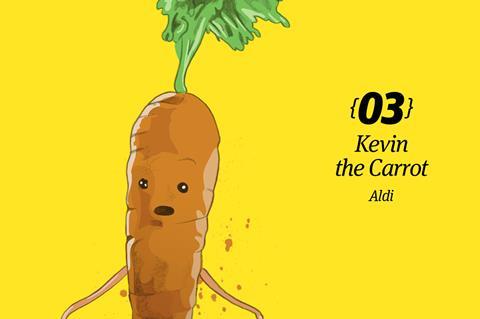 For years Aldi didn't really 'do' Yuletide, struggling to connect shoppers with its no-frills approach. Skip to the present day, however, and it's no exaggeration to say that Kevin has transformed its Christmas fortunes.
Keen prices and eye-catching innovation have, of course, played a part in this success story. But Kevin is the star of the show. Introduced in a TV ad in 2016, he's appeared on telly ever since, generating huge column inches in the process, most recently with a teaser trailer for his 2021 ad. It sparked widespread fears Aldi had given cartoon Kevin the chop. But they were unfounded, and his appearance as "the spirit of Christmas" in a pastiche of A Christmas Carol was rated by Kantar the most effective festive ad of the year, helping Aldi to report its "best ever" Christmas, adding £21m in sales (the only major grocer that month to grow year-on-year sales).
Kevin has "become synonymous with an Aldi Christmas" says marketing director Adam Zavalis, delivering for the Aldi brand the warm festive glow it was looking for, but also huge sales – directly as well as indirectly. "We had to start making toys to satisfy the demand from customers to own their very own Kevin," Zavalis adds. Queues once again formed last year, as early as 4am, to secure the cuddly carrots before they ran out. "It goes to show how we all love to see an ordinary character come out on top."
4. Coco the Monkey
Kellogg's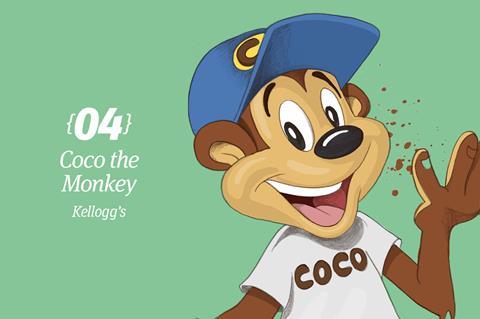 "Why Coco?" you may well ask. After all, he's just 59 years old – a mere whippersnapper when compared with Kellogg's stablemates Snap, Crackle & Pop (aged 89) and Tony the Tiger (aged 70).
Well, one reason is Coco's commercial clout. Coco Pops is worth £50m in UK grocery, compared with £39m for Rice Krispies and £28m for Frosties [NielsenIQ 52 w/e 11 September 2021].
The second reason is Coco's potential once HFSS regulations kick in later this year. His cereal has been reformulated to be compliant with the new rules (unlike Tony's Frosties), meaning no loss of advertising and promotion opportunities – likely securing the monkey's position as one of Kellogg's top marketing tools moving forward.
"Today, the main characters we use are on our non-HFSS cereals – including Coco Pops," explains Kellogg's activation brand manager Sophie Daniels.
Coco has been no stranger to controversy, the ASA having backed down in 2018 after banning his use in an ad for its HFSS-free granola variant. With the entire range now compliant, however, he's set fair.
Even accusations of racial insensitivity have been batted away. During the BLM protests of 2020, former Labour MP Fiona Onasanya criticised Coco Pops' use of a monkey to push brown, chocolate-flavoured cereal, whereas Rice Krispies was championed by "three white boys". Kellogg's retorted simply: "We do not tolerate discrimination." (And social media users pointed out Coco also appeared on the smash-hit White Choc Coco Pops.)
5. M&M's
Mars Wrigley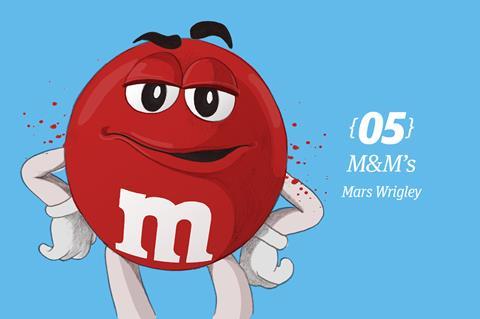 When M&M's unveiled more inclusive versions of its colourful characters in January, Fox News host Tucker Carlson was outraged.
Having dared – among other things – to make Green and Brown "less sexy", the brand was on a mission to ensure all six anthropomorphic candies were "deeply unappealing and totally androgynous" he fumed on live television. "When you're totally turned off, we've achieved equity."
Carlson's rant was the most bizarre public response to what M&M's called a "modern take on the looks of our beloved characters, as well as more nuanced personalities to underscore the importance of self-expression and power of community through storytelling".
That meant making the female gang members less stereotypically feminine, while Red became kinder and Orange embraced his anxiety.
Branding experts don't share Carlson's libidinous fury, but some have other doubts about the rebrand.
For instance, Stephen McGilvray, executive creative director at FutureBrand, believes the change doesn't "fit with the over-arching narrative M&M's has built up for some many years".
Paul Domenet, partner & creative strategy director at Free the Birds, goes further, insisting the characters – which made their debut in 1954 – "defy logic" and are "creatively bankrupt".
Others are kinder. Ben Sillence, director of strategy at Lewis Moberly, recognises M&M's "enduring iconicity" and "need to mirror modern sensibilities".
6. Julius Pringle
Kellogg's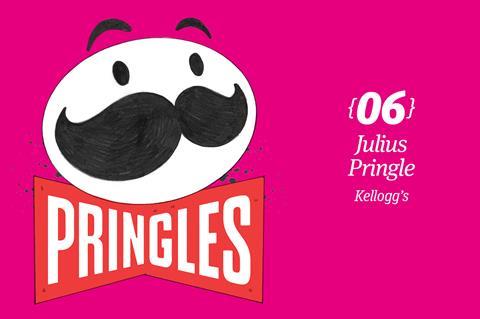 Who'd have thought eyebrows would cause such a fuss? When Julius received a pair in the UK last autumn, Pringles fans were divided. Some slammed the makeover as "so bad it's hurtful", national newspapers reported, while others praised the newly bald character as "cute".
It was Julius' first revamp in 20 years, and the sixth since his creation in 1967. Having been a floating head throughout his career, Mr P has inspired much online fan art (some of it alarming) speculating on what he looks like below the chin.
Which speaks to his status as a pop culture icon – which has also made him the subject of several Simpsons gags. The show's referred to him as "the Pringles man" and "Mr Pringles", but he was born Mr P – a name Kellogg's still favours. 'Julius Pringle' was the invention of a mischievous Wikipedia user in 2009. After it was reported as fact by news outlets, Kellogg's formally acknowledged the extended moniker about 10 years ago.
7. Bunny
Duracell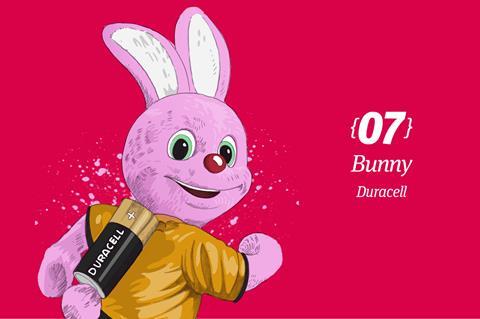 The popular phrase is "running around like the Duracell bunny", not "drumming like the Energizer bunny". That's thanks to Duracell winning the battle of the bunnies following a biter trademark dispute in 1992.
The ruling allowed Energizer to use its pink, drum-toting rabbit only in the US and Canada, while Duracell's bunny, 16 years older than Energizer's creation – and bigger in the UK by £62m [NielsenIQ 52 w/e 11 September 2021 – has dominion in the rest of the world.
The speedy mascot has "endured for a variety of reasons" explains Neil Godber, executive strategy director at Wunderman Thompson, Duracell's marketing agency, but boils down to "the rational product benefit of longevity. It's what everyone wants from batteries." Plus, Bunny speaks to "indefatigability, winning despite all attempts by his competition, never giving up and saving the day. Finally, there's a more fundamental reason for the rabbit's appeal, adds Godber. "Furry animals just work."
8. Percy Pig
Marks & Spencer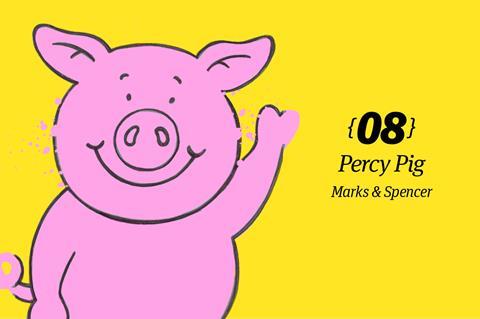 Percy is one big pig. Literally. Last month, M&S installed a huge, fibreglass stature of its beloved character on the roof of a new store in Stevenage.
That was just the latest tribute to the mascot, who in 2008 made British Vogue's 'what's hot' list and last year was finally given a voice courtesy of Hollywood's Tom 'Spider-Man' Holland.
Set to celebrate his 30th birthday in July, Percy is worth more than £50m. His value is growing at more than 10% year on year from domestic and international sales of confectionery, soft drinks, biscuits, cakes, toys, clothing and much more.
The swine's all over social media, too. His official Facebook page boasts more than 202k followers, while his Instagram has 70k fans. Plus, he's "a mainstay on the M&S TikTok channel" notes Christina Miller, head of social at brand agency VMLY&R.
"Not only is the brand creating Percy Pig-led content, but fans are creating it as well," she adds. "The content is unexpected, a little bit obscure and very TikTok savvy, making it highly engaging and 'newsworthy' on the platform."
9. Peperami Animal
Jack Link's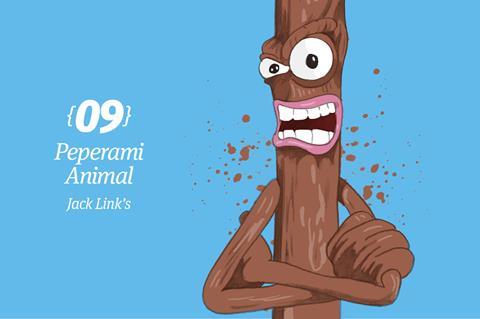 According to Peperami ads, the Animal bit off his own umbilical cord … while still in the womb. Yeah, the guy's wild. And loud. But Brits love him – as suggested by the brand's 14% value growth in 2021 [NielsenIQ 52 w/e 1 January 2022].
Part of his appeal is his pipeline of on-trend NPD. Another is his wit. Originally voiced, from 1991 to 2001, by comedian Adrian Edmondson, the sentient sausage "has a tongue-in-cheek, humorous personality to make Peperami able to connect to its audience on a personal level" Jack Link's says.
And, like other mascots on this list, the Animal has his finger on the digital pulse, the supplier adds.
"From a social media perspective, the brand asset comes into its own. Peperami is uniquely placed to have a personality and character online, allowing the brand to have a human voice" (albeit an occasionally ear-splitting one).
10. Aunt Bessie
Nomad Foods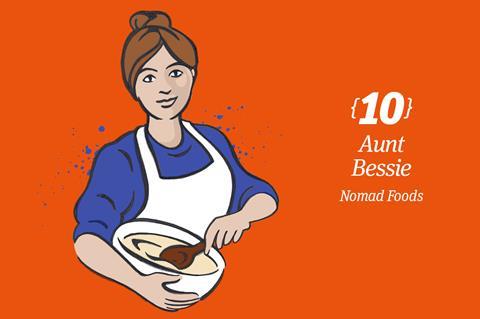 Bessie's not as old as some think. Aged just 27, she's the second-youngest character on this list (after Kevin the Carrot).
Nor is she simply an aunt. The youthful Bessie is "the personification of multiple figures in the lives of our shoppers – mum, grandma, aunt or sister" says Nomad. "People can therefore relate with Aunt Bessie on a far more personal scale as she means different things to our shoppers."
Worth £128m [NielsenIQ 52 w/e 1 January 2022], her relevance "has endured throughout the decades", adds the supplier, which has "ensured she has also evolved visually to continue to appeal to the modern consumer".
Daniel Selwood is The Grocer's special projects editor, managing our annual Britain's Biggest Brands, Britain's Biggest Alcohol Brands, The Dairymen and Top Products reports – as well as contributing to news, features, analyses and category reports. He joined the magazine in January 2016 as food & drink editor, having worked at financial & legal publisher LexisNexis for eight years. He began his journalism career in the mid-1990s at a general interest magazine in his birth city of Sheffield.
View full Profile
The UK's 10 most powerful grocery mascots in 2022
1

Currently reading

The UK's 10 most powerful grocery mascots in 2022

2