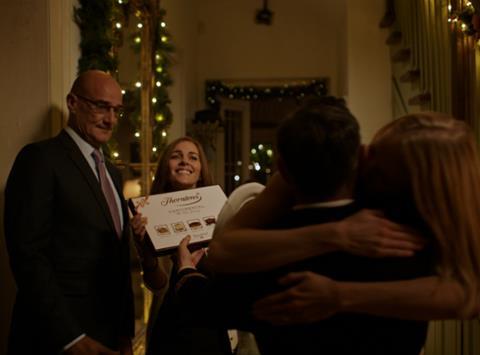 Thorntons' Christmas advert, Pass The Love On, will make its debut tonight (24 November) in support of SSAFA, the national charity that works with service men and women, military veterans and their families.
Scheduled to air at 9.30pm during Channel 4's Gogglebox, the ad tells the story of a young man travelling home in time for festivities. He spots a Thorntons store en route and stops to buy a gift. It is then revealed he is a naval services member home on leave and about to meet his fiancé's family for the first time. He hands his future in-laws a box of the recently revamped Thorntons Continental, and they sit down to spend time together.
Following the launch of the clip – expected to reach 16 million viewers – 2% of sales from the Continental boxed range purchased from Thorntons' stores and website will be paid in support of SSAFA.
The Ferrero brand was "truly passing the love on" said Ian Tweedale, Thorntons marketing director. "We are excited to launch our Christmas ad, which not only brings to life the warm festive spirit of giving but showcases the love, passion and care that goes into every Thorntons product."
The SSAFA charity's chief executive, Sir Andrew Gregory, said the charity was "truly delighted to work with Thorntons this Christmas to celebrate the service of men and women in the Royal Navy, Royal Marines, British Army and Royal Air Force – and recognise the importance of the support given by their families."