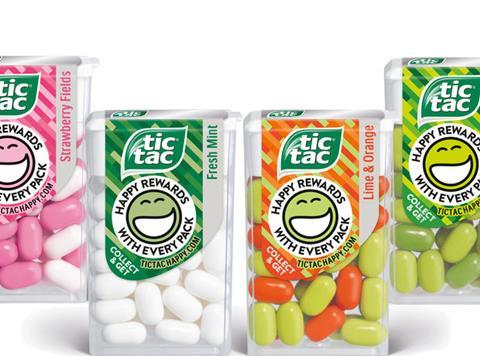 Ferrero is launching an on-pack offer for Tic Tac called 'Happy Rewards'.
The promotional packs, which are available from now until August, will give shoppers reward points, which can either be cashed in immediately online for items such as ringtones and phone wallpapers, or saved up and exchanged for prizes including Cineworld tickets, Casio watches, headphones and free Uber rides.
The £0.5m+ campaign will be supported with digital, social, outdoor and in-store theatre.
"Every shopper loves to receive an added perk and we're confident that the 'Happy Rewards' promotion will help retailers to boost their sales," said Levi Boorer, customer development director at Ferrero.
"We know the mechanic works - last year, we launched the Tic Tac Find a Fiver campaign, where consumers could win £5 or a £5 off voucher with selected partners, and the activity generated over 54,000 entries and repeat purchases."
Tic Tac's sales rose £1.5m last year to £25.0m [Nielsen 52 w/e 11 October 2014].