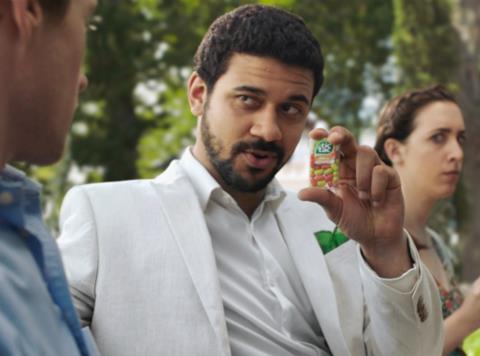 Tic Tac's core range is back on TV after a five-year absence, as part of a £1.5m push urging shoppers to 'Open Up'.
The advert focuses on the Ferrero-owned brand's Fresh Mint, Lime & Orange, Strawberry Fields, and Mint Rush variants. It opens with a man and a woman sitting at opposite ends of a park bench.
The man reaches for his pack of Tic Tac, the scene freezes and a character called Mr Tic Tac appears to encourage people to be more sociable by "opening up with the sweet taste of Tic Tac". The ad closes with the man offering the woman a Tic Tac and a narrator saying: "It's time to open up".
The 30-second commercial, which made its debut yesterday (7 May), will run until mid-June, supported by activity including a pop-up in London this summer aimed at "showcasing the brand's iconic flavours with an immersive event".
The new Tic Tac campaign was "a great reminder of the fun personality that the brand has, brought to life in a great character" said Levi Boorer, customer development director at Ferrero UK & Ireland. "The campaign really helps us to relate to our target market: anyone that is open to new opportunities."
Last year, Tic Tac saw its vales sales plunge 9.5% to £24.6m [Nielsen 52 w/e 9 September 2017].