From Elton John in a rap battle, to superhero cheeses and an orange alpaca, here are 50 of the best fmcg adverts from the past year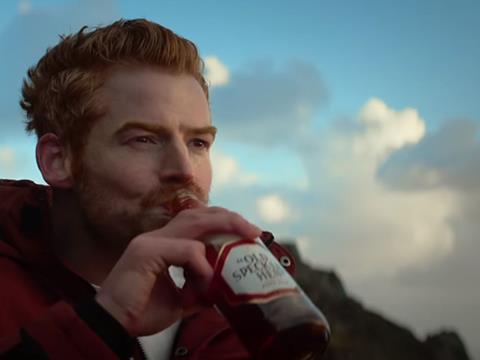 Alcoholic drinks: Beer
Seek a richer life
Product: Old Speckled Hen
A city fox, narrowly avoiding cars on roads, spots an ad encouraging him to explore. So he hops on a bus, winding up deep in the countryside with its picturesque views, and crystal clear rivers. He ends up sipping on a well-deserved pint of Old Speckled Hen at a country pub. As the last scene reveals, our fox is a metaphor for suppressed city-dwelling humans everywhere.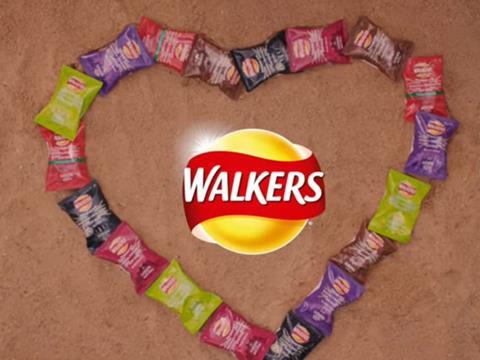 Bagged Snacks
Walkers regional favourites
Product: Walkers Crisps
Walkers here delves into the choices that truly divide us: what is each region's favourite flavour of Walkers crisp? Scots, we learn, are diehard pickled onion fans. Wales loves beef & onion. The Midlands are besotted with smoky bacon. And the south west is into Marmite. Try them all, Gary Lineker reminds us, and we could even win £5,000.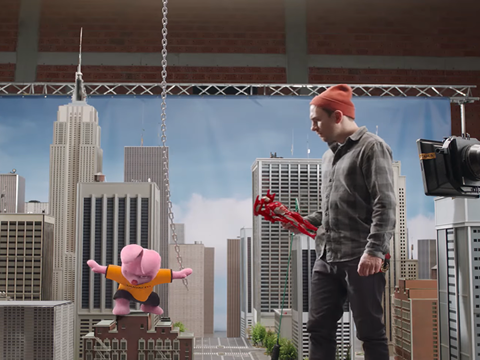 Batteries
Ultra Power – Marvel Avengers Infinity War
Product: Duracell batteries
The Iron Man toy in Duracell's Marvel Avengers campaign runs out of power. Thankfully, a certain bunny is here to save the day, with batteries supposedly longer-lasting than the zinc ones they're replacing. A clever partnership, bound to boost sales of both battery and film merchandise.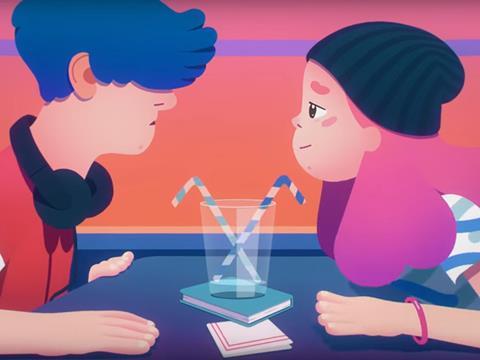 Biscuits
Oreo cookie people
Product: Oreo
With a theme tune you'll be humming for days, this quirky Oreo push takes a leaf out of the Cadbury Creme Egg playbook by celebrating all the ways people enjoy its biscuits, whether they're 'crumbs people,' 'dunk people' or 'dip people.' Actors spliced with cartoon imagery and a fast pace makes this ad feel youthful and contemporary.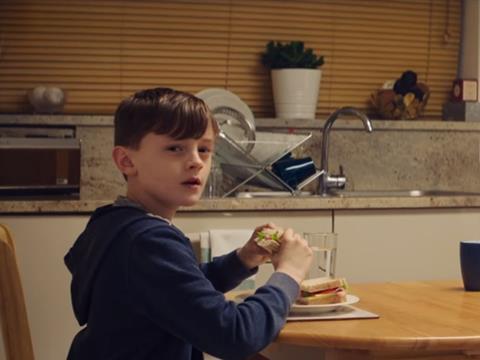 Bread & baked goods
Loaf's good
Product: Kingsmill Bread 50:50
We're all very different. Even from the family we're born into. That's what's behind this sweet TV ad, in which a young boy introduces his super-clean mum, slobby dad, oversized brother and brainy sister. And the thing that brings them together is Kingsmill – an oldie but a goodie when it comes to advertising strategies.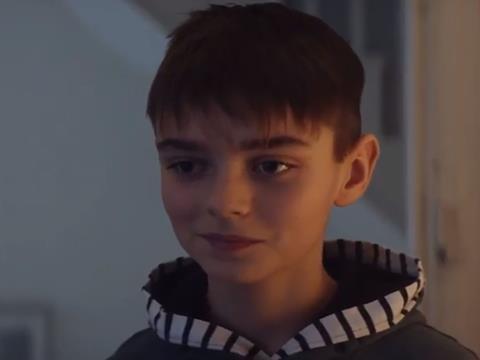 Cakes
Mr Kipling thief
Product: Mr Kipling
Steeped in nostalgia, just like the brand itself, this ad is quaint and British, set at a birthday buffet in the village hall. Cue the emotional centrepiece, a young teen looking to thieve a French fancy from right under guests' noses. All is not as it seems, though – he's stealing the treat for his older sister left working at home. Aww.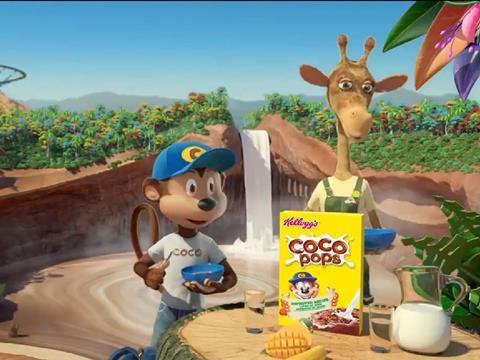 Cereals
Coco Pops Reduced Sugar
Product: Kellogg's Coco Pops
If the reduced sugar recipe flagged up on this Kellogg's cereal ad is for the parents, then the cartoon adventure is definitely aimed at kids. New recipe strapped to his back, Coco the monkey flees a thieving crocodile, braving puffed rice streams and creepy cocoa caves to escape with his life (and the recipe). It's perfectly pitched.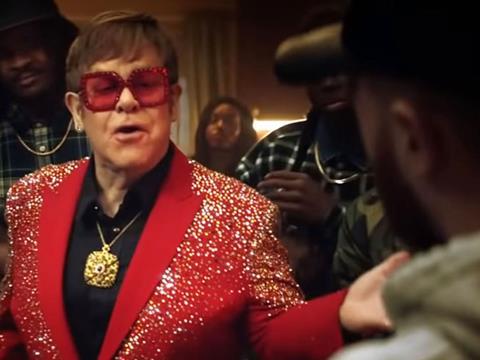 chocolate confectionery: countlines
Rap battle
Product: Snickers
Elton John's first ad this year saw him turn up in the latest instalment of Snickers' successful 'you're not yourself when you're hungry' series, belting out 'Don't Go Breaking my Heart' in the middle of a rap battle. A stunned pause and one bite of the chocolate bar later, though, and the rapper within is back, recovering his mojo and his cool.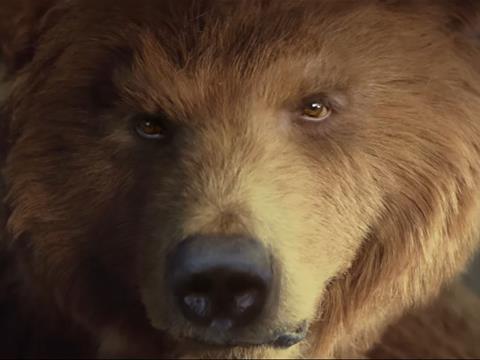 Childcare: Snacks
End the nonsense
Product: Bear Foods YoYos
Parents everywhere will wish they had access to a 7ft grizzly bear on long car journeys. Without uttering a single word, this particular one manages to end the incessant moaning and questions from a little backseat driver. It turns out all parents can have the same no-nonsense babysitter just by keeping a back of Yoyo snacks handy.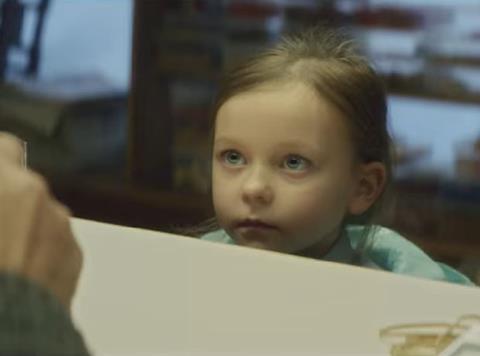 Chocolate Confectionery: sharing
Happy birthday mum
Product: Cadbury chocolate
Kindness is under-rated. But there's a 'glass and a half' in this sweet scene from Cadbury where a stressed mum is bought a birthday gift by her young daughter – who pays with buttons, toy money and a unicorn keyring. Thank goodness, then, for kind store owners that accept toys as currency, and even give unicorns as change.
Confectionery: Gum
Time to shine – parents
Product: Wrigley's Gum
We'd think that Tom, discovered here in his girlfriend's bedroom by her parents, would be at a loss as to how to recover. But armed with Wrigley's gum, he manages to greet them in only a questionable pair of boxers and still garner a smile from her father. The ad manages to be relatable, funny and position the brand as the saviour.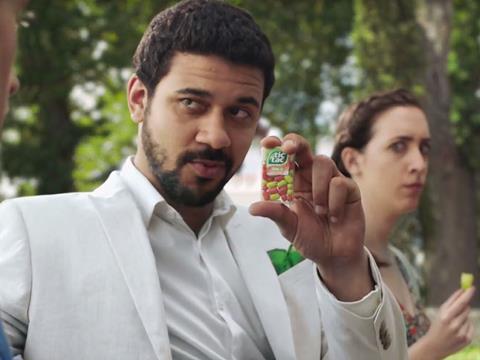 Confectionery: Sugar
Mr TicTac
Product: Tic Tac breath mints
On a summer's day in a park, we meet Dave, eating lunch alone from a brown paper bag. Enter suave Mr TicTac, here to encourage Dave to open up by sharing his Tic Tacs. That could mean getting involved in Frisbee Friday, dusting off his school recorder or speaking to that nice woman sitting next to him. Either way the Tic Tacs give him an in.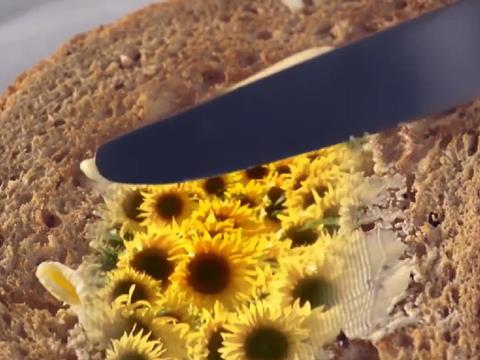 Dairy: Butters & Spreads
Field of flowers
Product: Flora Light
With growing consumer focus on what's in our food, this ad from Flora aims to reassure. It does so with a soothing voiceover and shots of sunflowers in a field, all symbolic of the plant-based oils that make up its Flora Light butter. Calm and simple, the message is clear – this is a brand to be trusted with our healthy eating goals.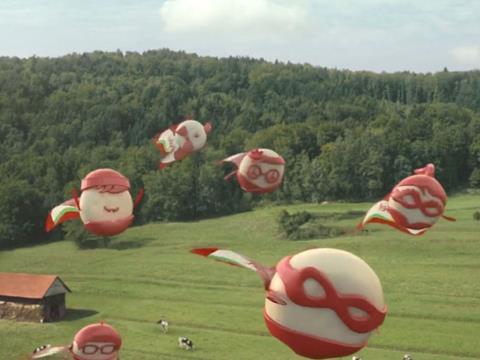 Dairy: Cheese
A mission for the super snacks
Product: Babybel
It's Babybel cheese to the rescue in this playful ad, targeted at both parents searching for healthy snacks and their kids. Spotting a mum struggling to find a snack for the school lunchbox, a group of Babybel cheeses, cloaked in red wax superhero capes, come to the rescue, flying in to land on the kitchen table in the nick of time.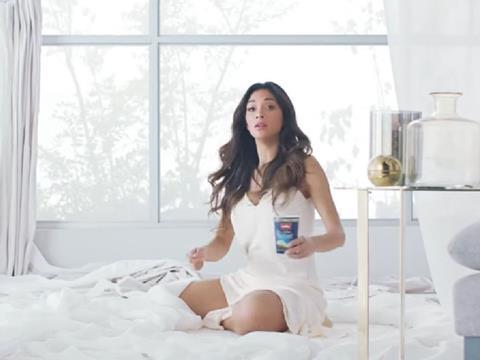 Dairy: Yoghurts/Desserts
Nicole in white curtains
Product: Müller Dairy
Some love it. Some find it irritating. But there's no denying the long-running campaign between singer Nicole Scherzinger and Müller has been a fruitful partnership. In this instalment, a softly lit Scherzinger winds her way through long white curtains clutching a pot of white velvet yoghurt. As always, it goes wrong, and she ends up with a splodge of yoghurt on her nose.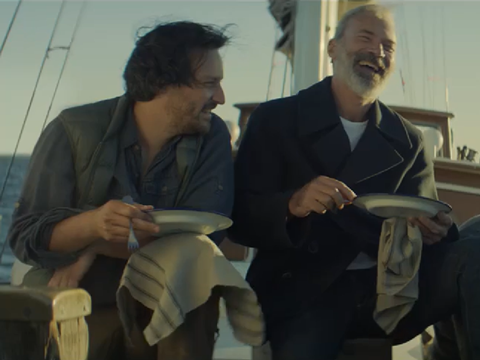 Frozen: Fish
Captain Birdseye loves the simple things – sunset
Product: Birds Eye foods
Captain Birdseye returned this year in a new, 'rugged' incarnation. In its latest ad, the handsome skipper stares into the distance as we're told he loves the simple things, like a sunset. The happy crew gathers over plates of cod – exactly what you'd imagine commercial fishing to be like.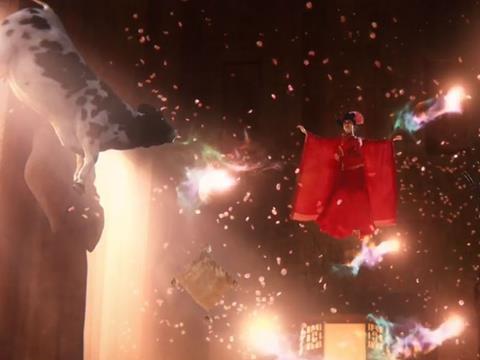 Functional Food
A little bit of science (not magic)
Product: Yakult probiotic drink
A nice rug pull, here, as Yakult sets up an ad playing up its 'mystical' Japanese roots – full of clichés about 'ancient shuffles' – and then dismisses it in favour of science. This TV advert does a great job of getting the message across that daily consumption of the probiotic drink is a worthwhile ritual based on science, not magic.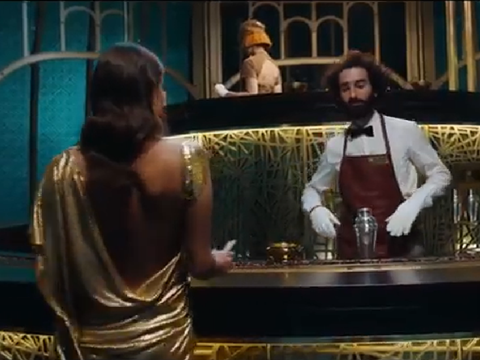 Frozen: Handheld ice cream
Take pleasure seriously
Product: Magnum ice cream
Known for its sensual ads, filled with innuendo, Magnum's latest campaign is no different. A woman in a gold dress approaches a decadent bar as the barman steps towards her. Except he's a Belgian chocolatier, who mixes her up a Magnum ice cream. She takes a bite before heading out on a balcony to join a party.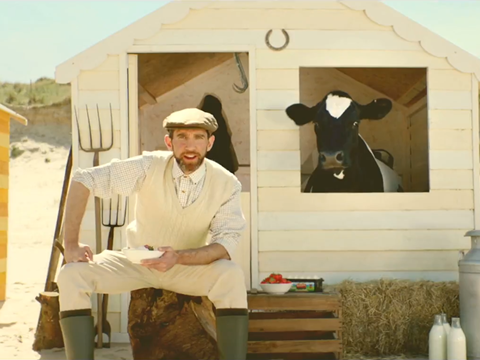 Frozen: Tub ice cream
Beach huts
Product: Kelly's of Cornwall
Kelly's released its second ad spoken in Cornish this year. It features three beach huts, each occupied by Cornish characters. All have a favourite flavour, and though most people might not know what they're saying about them, the message is clear. It's competing with an influx of US brands – but Kelly's is staying true to its roots.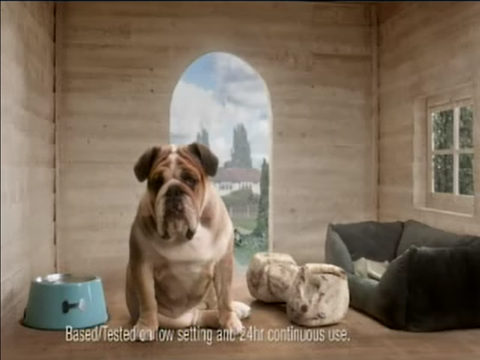 Household: Aircare
Sarah and Jack – Christmas tree
Product: Febreze fabric refresher
Another person has gone 'noseblind' in Febreze's latest ad. This time, a woman can no longer smell her dog, Jack. Everyone else, on the other hand, thinks her home reeks of Jack's bed, bowl and bone. That's until she plugs in an Ambi Pur home fragrance. A guest visits, smells the room and seems to approve, for a change.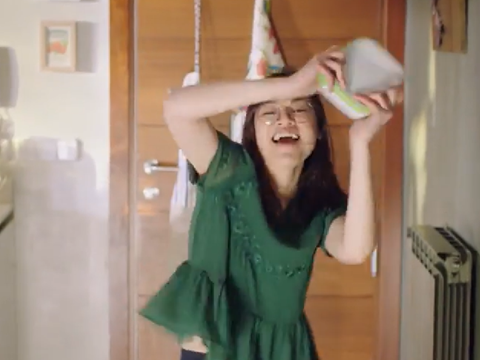 Household: Detergent
Shake up
Product: Fairy dishwashing detergent
Think washing up is a chore? Not with Fairy, apparently. Just chuck it in a dirty container with some hot water, put the lid on and shake it. It's even more fun if 'I like to shake it, shake it' is playing. And it's not just for fun, either. When compared with a competing brand in the ad, the dish that uses Fairy comes out spotless.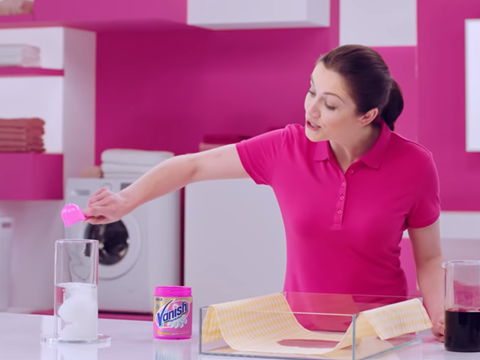 Household: Laundry
Trust pink, forget stains – beetroot stains
Product: Vanish laundry & carpet products
Sticking to a formula that works, Vanish shows how its Oxi Action product can be used to remove those tough stains. A woman, in a shirt the same colour as the pink tubs of Vanish themselves, purposefully pours beetroot juice on a yellow gingham cloth. But a scoop of Vanish powder in warm water soon sorts it. Naturally.
Household: Foils
Kids won't eat them if they're broken
Product: Bacofoil
Kids won't eat food that's broken, apparently. Lucky that the dad in this ad has used Bacofoil to avoid fish fingers sticking to the baking tray, then. The animated foil assures him its "unique BacoLit surface makes sure everything will look right". This doesn't stop the kids smashing up the fish fingers as soon as they get them, though.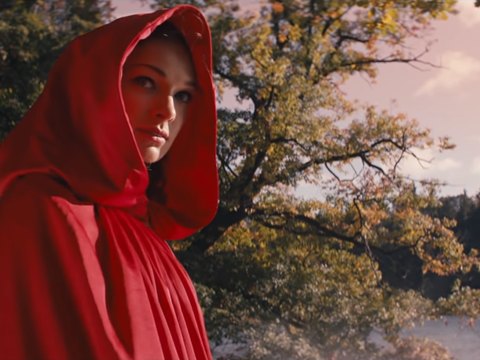 Household: Laundry fabric detergents
Red Riding Hood
Product: Lenor fabric softener
Lenor's latest campaign puts the brand's twist on a well-known fairytale. As a woman wearing a long red cape wanders through the woods, a wolf shows up and chases her to a lake. Thinking fast, she throws her cloak over the wolf, which then magically turns into a handsome, half-naked man. Don't try this one at home.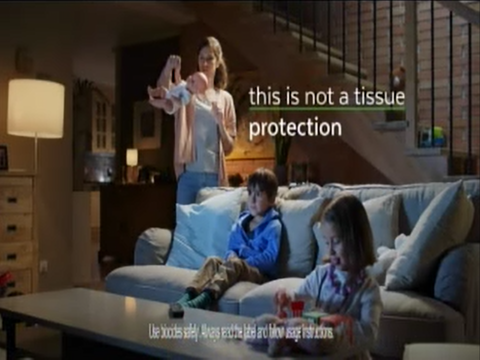 Household: Surface Care
This is not a tissue – protection
Product: Dettol cleaning products
Tapping into a parent's fears is a surefire way to sell products. In Dettol's latest campaign, a boy uses his hand to wipe his nose a few times before wiping the same hand on his sister's doll. Keen to stop his germs spreading to her other child, the mother cautiously picks up the toy and gets out the Dettol All in One spray.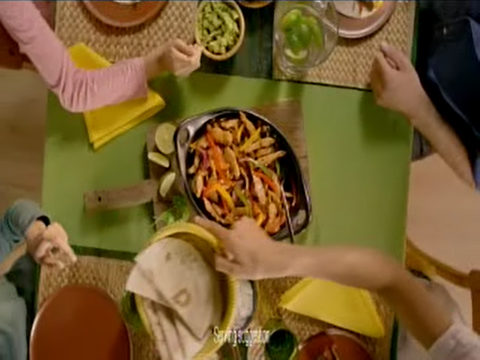 Meal kits
Fajitas – Make it sizzle
Product: Old El Paso Mexican foods
Fajitas are rarely a meal for one, and Old El Paso recognises that in its latest ad. A family sits at the table passing the tortillas as a bowl of steaming fajita mix sits in the middle of the table. A box of the brand's Smoky BBQ Fajita Mix then takes centre stage, and the family tucks into dinner to a Mexican-style musical accompaniment.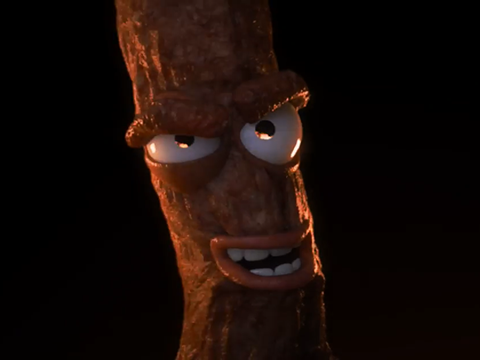 Meat snacks
Wicker Man ride
Product: Peperami snacks
After disappearing from screens when the brand was sold by Unilever in 2014, Peperami's animated 'animal' returns to star in a new push promoting the brand's partnership with Merlin Entertainments. One of the ads sees it take on the new Wicker Man ride at Alton Towers, manically laughing as the rollercoaster descends.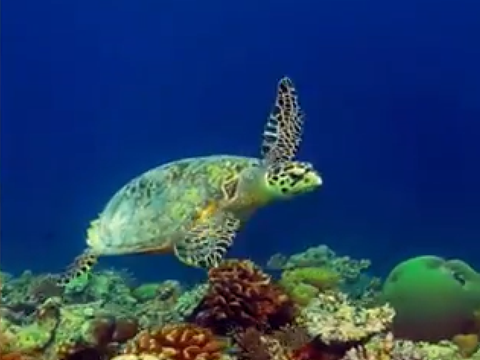 Over the Counter: Analgesics
Sometimes it's just faster with liquid
Product: Nurofen pain relief
Rather than delving into the science behind its new liquid capsules, Nurofen puts it in layman's terms why they are more effective than "standard paracetamol". A series of comparisons show how liquid speeds things up. See how a turtle walks awkwardly compared with how it swims comfortably? Point well made, Nurofen.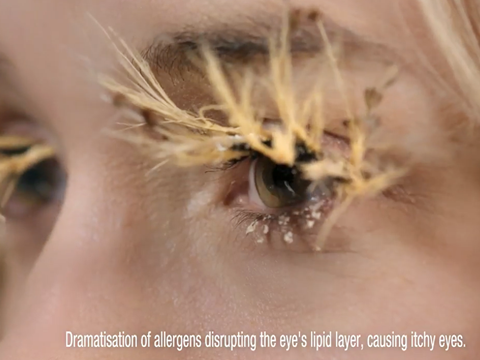 Over the Counter: Eyecare
People's eyelashes become pollen and grass
Product: Optrex eyecare
Optrex has a flair for the dramatic. Its summer campaign featured people's eyelashes becoming laced with pollen and turning into grass. After an exceptionally high pollen count this summer, hay fever sufferers will likely identify with the feeling. Fortunately, an affected woman has a bottle of Optrex ActiMist in her bag, which helps her recover.
Over the Counter: Analgesic Gel
Man kicks orange ball
Product: Voltarol pain relief
A wife has an unusual surprise for her husband in this ad – a giant orange ball. She then seems surprised he can kick it, considering he was suffering from back pain a few days ago. Little does she know he's been using Voltarol cream to help speed up his recovery. The ad goes on to showcase the brand's new gel with a 'no mess' applicator.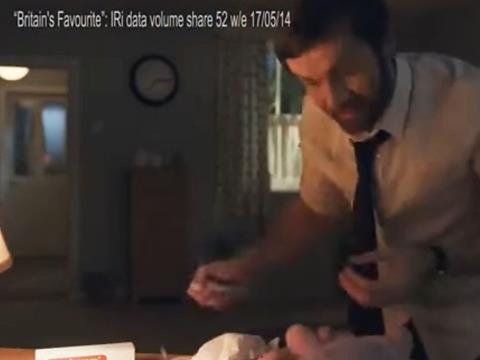 Over the counter: Babycare
Father changes nappy
Product: Sudocrem Care & Protect
It's a tough gig looking after a newborn. Particularly when you factor in the 10 nappy changes they'll need each day on average, points out Sudocrem, in this short advert that shows a dad carrying out just one of those changes in the middle of the night. Luckily the Sudocrem Care & Protect range is there to make his job easier.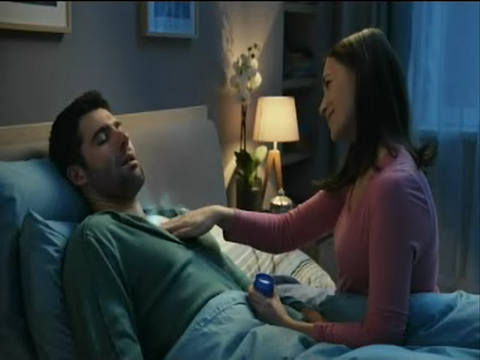 Over the Counter: Cold and flu remedies
VapoRub – when a cold disturbs your family's sleep
Product: Vicks cold & flu medications
As winter approaches, many of us will likely be clock-watching as sleep is snatched away from us by a dreadful cold. The man in the latest Vicks campaign knows the feeling, but his wife has the solution. She rubs Vicks' VapoRub on his chest and back, and he's suddenly sleeping soundly.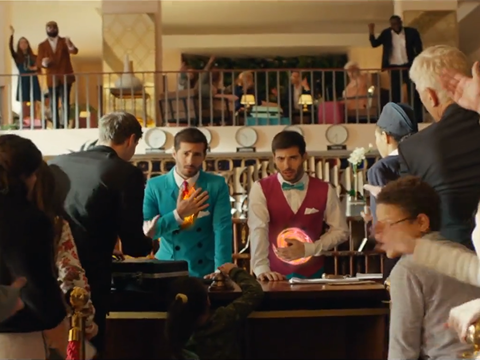 Over the Counter: Digestive remedies
Hotel desk
Product: Gaviscon Antacid
The last thing you need during a busy day at work is heartburn or indigestion, especially if you're working on a hotel reception desk. For the twins facing this problem in Gaviscon's latest campaign, a dose of its Double Action liquid does the trick. The fireman mascot from the brand's previous campaigns makes a fleeting appearance, too.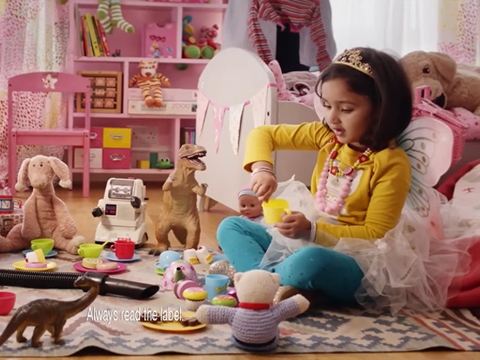 Over the Counter: Paediatric analgesics
Let kids be kids
Product: Calpol pain relief
Wearing underwear on your head while eating cereal. Having Henry the hoover as one of the guests to a tea party. Normal behaviour – for kids. Calpol's campaign tells us 'when kids are ill they're not themselves'. If you want your child back to spinning around in the garden with a bucket on his head, give him Calpol.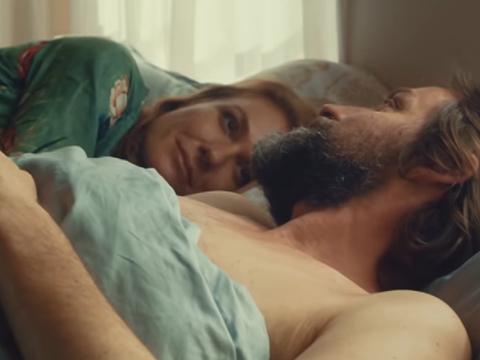 Over the Counter: Sex care
Man dances down stairs
Product: Viagra
The UK became the first country this year to allow Viagra to be bought over the counter, and its first UK ad launched on TV two months later. A couple wake up together and give each other knowing looks as he gets out of bed and cheerfully dances his way down the stairs. We're reminded Viagra is now available without a prescription.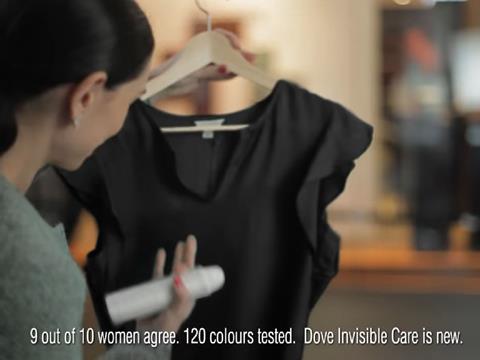 Personal care: Deodorant
Would you spray deodorant on your favourite dress?
Product: Dove Invisible Dry deodorant
Dove's simple ad shows it persuading a group of disbelieving women to spray its Invisible Dry deodorant straight on to their favourite dress. Sure enough, there are no marks left behind. Short but sweet, this campaign also has other iterations involving a big reveal and an offer of a free dress.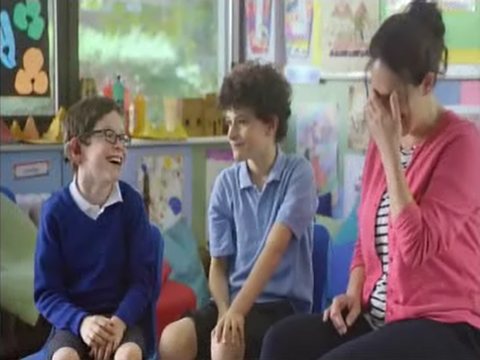 Paper products: Toilet Tissue
Schoolchildren talk cleanliness
Product: Andrex toilet paper
So popular the first time around, Andrex decided to ask school kids yet again how clean they feel after using the brand's toilet paper. While the teacher looks mortified, the kids happily throw out their weird and wonderful answers. "As clean as a squid," one says. And of course the Andrex puppy makes a fleeting appearance at the end.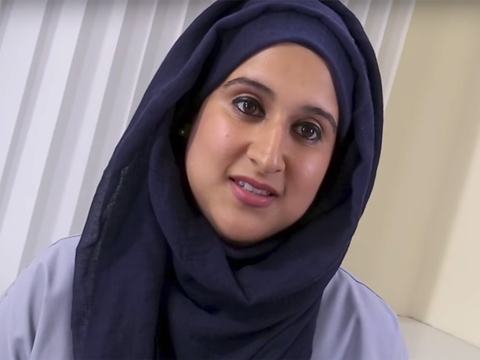 Personal care: Dental
Sensodyne – Rapid Relief
Product: Sensodyne dental care
Bringing in the professionals is a tried and tested method, but one that has worked time and time again. Here Sensodyne lines up an array of smiling dentists and dental nurses to plug the credentials of its Rapid Relief toothpaste, providing viewers with both clarity on its USP but also reassurance that they'll get what they paid for.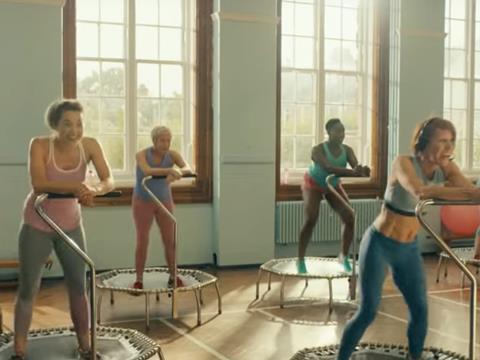 Personal care: Feminine Hygiene
Tena Serenity – trampolines
Product: Tena UK
Tena does an admirable job here of striking a humorous note and tackling a taboo. Joining a group of women in a trampoline class we learn (because they all admit it) that they've each had a bit of an 'oops' moment. But you wouldn't know, thanks to Tena. The ad appeals to the brand's demographic without a blush in sight.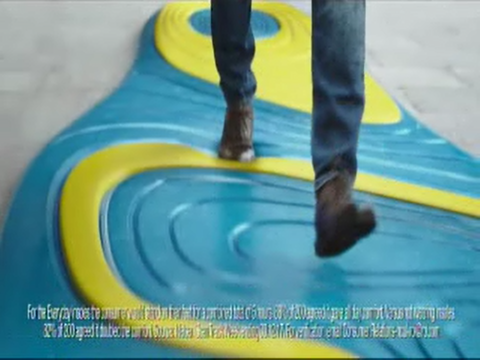 Personal Care: Footcare
GelActiv – Mia & Jay
Product: Scholl footcare products
Poor Jay. He's been on his feet all day assisting Mia on a photoshoot. Sitting down to rub his boot, he whines his feet are killing him. Mia tells him she uses Scholl's GelActiv insoles. Later, Jay feels the difference, walking down the street on a giant insole, which reflects how they offer 'amazing comfort every step of the day'.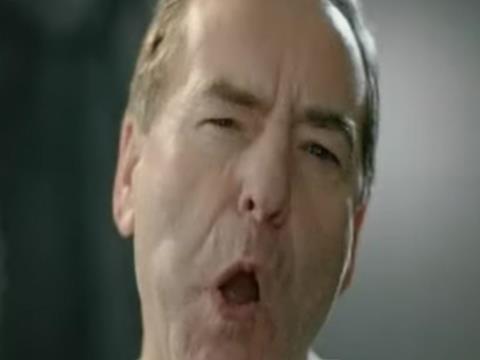 Personal care: Razors
Shave face
Product: Gillette Fusion Proglide
You know that contorted face guys pull when they're looking in a mirror, trying to get that last tricky hair off with a razor? Well, even if you didn't, Gillette is here to tell you about it, and provide the solution – its flexball technology, which is built to get every last pesky hair, with no funny face required.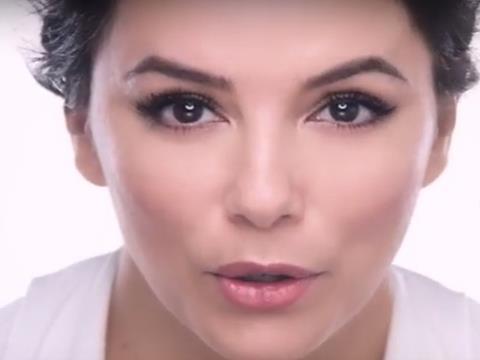 Personal care: Skincare
The Queen of Skincare
Product: L'Oréal Beauty Revitalift
This ad from L'Oréal has all the ingredients any effective beauty marketing needs. Celebrity, in the form of US actress Eva Longoria; a bit of science (hyaluronic acid, anyone?); and the promise to smooth out wrinkles without the need to shell out thousands of pounds and undergo anything painful or invasive. Tick. Tick. Tick.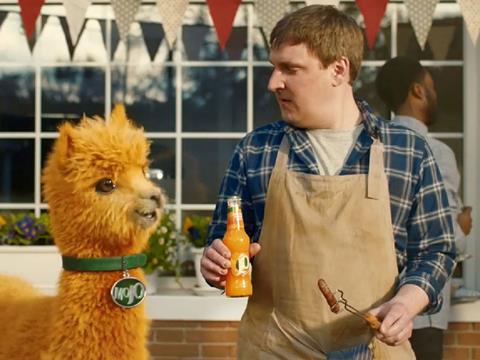 Soft drinks: Juices
Find your mojo
Product: J2O
With adults now opting for more soft drinks than ever, it's a shrewd move by J2O to focus on them in this latest campaign. The scene takes place at a summer barbecue, where Mojo, a straight-talking alpaca, dishes out advice on frankfurters, tongs, and more. Mojo's top tip is that "colourful BBQs start with colourful drinks" – so he snaps open an J20 nearly as vibrant as his fur coat.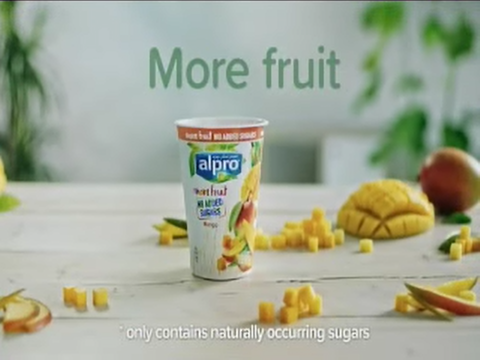 Plant-based
Fruit falls into plant-based yoghurt
Product: Alpro soya
With demand for plant-based soaring this year, the song in Alpro's latest ad is the perfect choice. 'No One Can Stop Me' by Jay Walker plays as a chunks of mango rain down into a pot of the soya yoghurt alternative. The remnants of mangos are scattered in the background, getting the message across that these products contain real fruit.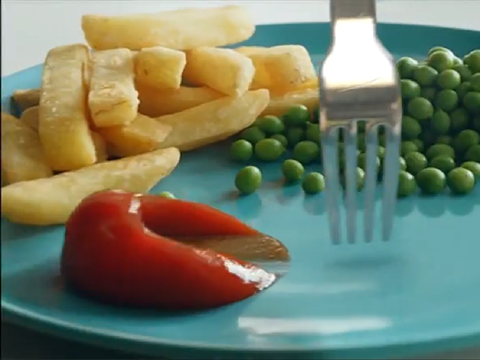 Sauces: Condiments
Ketchup – Dial up the taste
Product: Heinz Foods
Heinz needn't spend millions on an over-the-top ad. Its tomato ketchup is instantly recognisable. Slathered on a bacon sandwich or as a dipping sauce for fish fingers, the famous condiment is versatile as ever in Heinz's latest push. The food only appears once it's made contact with the ketchup, seemingly tasteless without the sauce.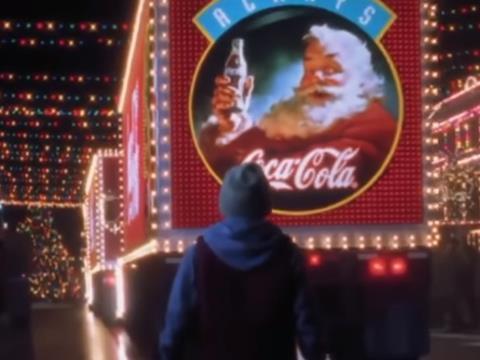 Soft Drinks: Carbonates
Holidays are coming
Product: Coca-Cola
This Coca-Cola Christmas campaign has been iconic for years, which is why the brand has only tweaked it slightly in this latest iteration. There's still the same familiar tune and familiar red truck. This time though, even Santa has given into its hugely effective marketing campaign, sipping on a glass bottle of the soft drink.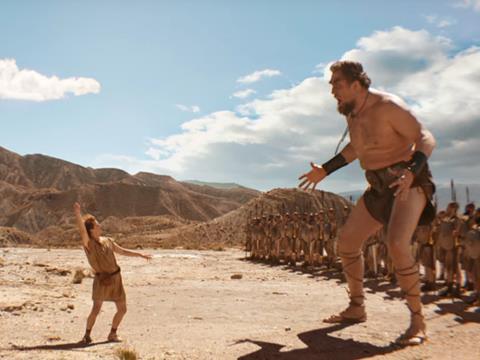 Soft drinks: Energy drinks
David and Goliath
Product: Lucozade Energy
Functional soft drinks are rarely this overt in referencing the nature of the pick-up needed. An extremely hungover David wakes to learn he picked a fight with the wrong guy the night before. On cue, Goliath shows up to settle the argument. Thank God for that bottle of Lucozade Energy on the windowsill…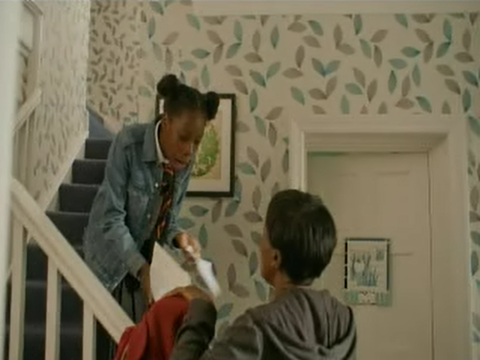 Spreads
Teenage girl's test result
Product: Marmite yeast extract
As always, Marmite's divisiveness is central to its latest campaign. It's results day for a teenage girl and she'd presumably be happier with an F in maths than the results of her Marmite Gene Test. It's in black and white. She loves Marmite, but her mum had been telling her she was a hater. "I don't hate Marmite, I hate you!" she screams.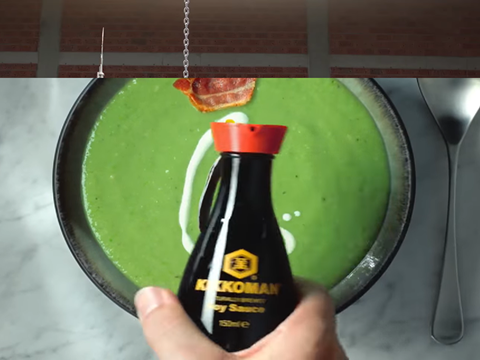 World Foods
Food loves Kikkoman
Product: Kikkoman Foods
Launching ahead of Chinese New Year, this five-week push by Kikkoman demonstrated how the brand's soy sauce need not sit in the cupboard for the occasional use. The product can seemingly be added to anything, from sizzling steaks and steamed salmon to scrambled eggs and even salted caramel sauce for ice cream. Who knew?
Retailer ads we loved this year…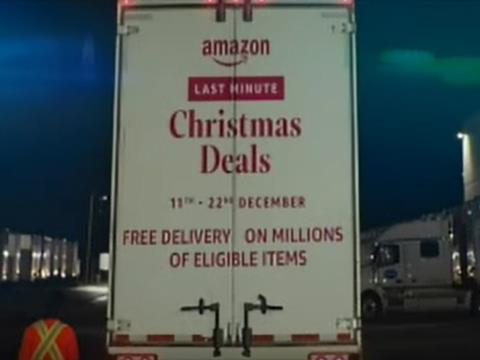 Online retail
Last-minute Christmas deals, Amazon UK
By plugging what it does best here, in a simple, succinct ad, Amazon managed to create one of the most memorable campaigns of the year. Focused on super-speedy fulfilment, right up until Christmas, the retailer does little more than flag up its last-minute deals to a panicked woman, show you how to access them on your mobile and puts a smile on her face. And its parcels, of course.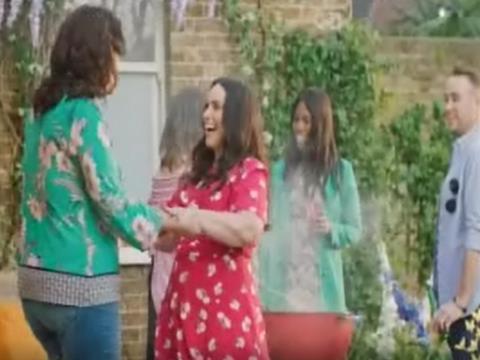 Health & fitness
Vicky, Amanda, Scott, WeightWatchers
Success. It's not a word often associated with diets. Which is no doubt why WeightWatchers repeats it multiple times throughout this advert for its new Flex offer, showcasing the 'success' of a wide group of users in losing weight, thanks to its flexibility and delicious, sociable recipe plans. It doesn't hurt that it ends with a tantalising one month free offer, either.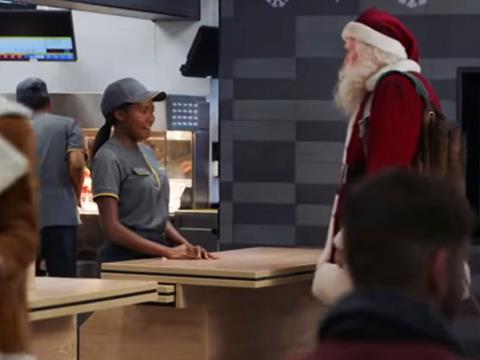 Fast food
Reindeer ready, McDonald's
This ad, from last Christmas, was so successful that McDonald's once again used carrots in its 2018 follow-up, and is now selling actual bags of 'reindeer carrots'. The original featured a little girl who is insistent that rather than not eating them, she is reserving her carrots 'for the reindeer'. The latest one features Santa popping in to McDonald's to buy some bags for the reindeer.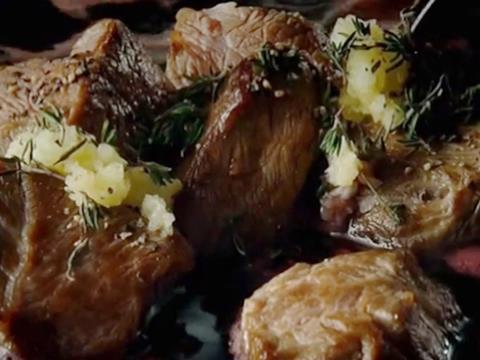 Supermarkets
Perfect beef bourguignon, M&S
There have been many imitators but nobody does food porn ads quite like M&S. Here, for this Gastropub beef bourguignon, we're treated to close-up shots of prime beef soaked in a rich French red wine, thyme and garlic sauce, while button mushrooms and glistening baby onions sizzle in a frying pan. Oh, and the smoked bacon lardons are so perfectly shot you can almost smell them.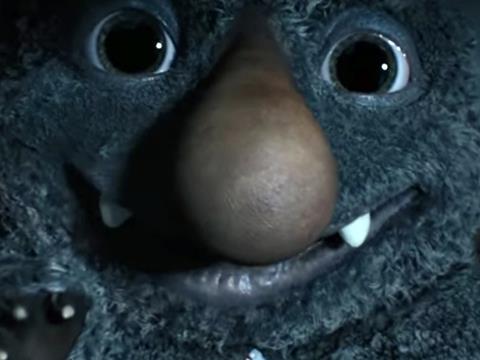 Department stores
Moz the Monster, John Lewis
A classic from John Lewis and clearly more memorable than this year's Elton ad. Here a little boy meets Moz, a monster who lives under his bed. Except this monster is nothing to be frightened of: he burps, giggles and gives the lad piggybacks in the middle of the night. Unfortunately he also keeps him awake. Cue an adorable goodbye and a subtle nod to the all the Christmas gifts in store.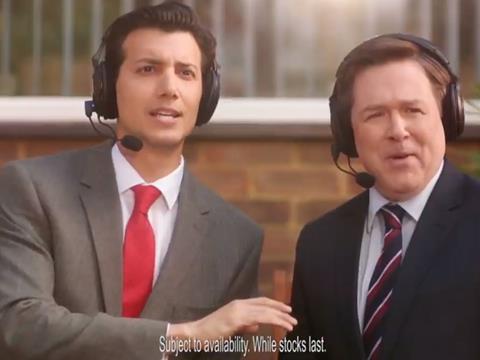 Discounters
Wagyu, Iceland
That 'Christmas' ad was a) from Greenpeace b) not actually an ad. So, despite over 30 million views, it doesn't register here. But Iceland's Wagyu beef ad certainly made a big impression, with its humorous #winningatsummer campaign featuring two US sports commentators at Gary's BBQ, live from a back garden, where the addition of wagyu burgers prove 'bunbelievable'.