We've found 50 ads in 50 categories to enjoy
Alcohol: Lager
Birra Moretti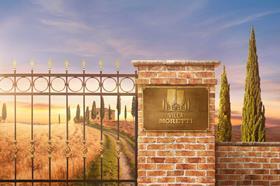 If you build it, they will come. 'It' being an 18-bedroom 12th-Century villa in Tuscany with pool, hot tub, tennis courts and dance floor, oh and a Michelin-starred chef in the kitchen. And 'they' being the world's most influential Instagrammers who, as part of the beer brand's campaign, tried to win a weekend there by posting "an Italian moment" on their socials.
A content creator cohort for each country was carefully chosen for the Heineken-owned brand's first foray into influencer marketing – designed to appeal to a range of target demographics.
In return for hosting them – and taking them on photogenic experiences like gelato tasting, hot air balloon riding and a meet-up with moustachioed brand mascot Baffo – the brand secured countless content and social clout.
Alcohol: Ale & Stout
Guinness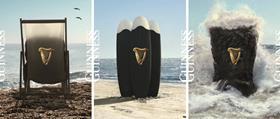 If it ain't broke, don't fix it. During the pandemic, Guinness was praised for its 'Stay at Home' poster – of a white sofa looking like the froth on a pint.
The theme of everyday objects that look uncannily like pours of Guinness was continued last year, the angle being when you're yearning to go out, everything looks stout. Same again for Guinness's 2022 out-of-home campaign – this time with surfboards, a deckchair and wave crashing into a rock given the same treatment.
Alcohol: Cider
Rekorderlig
"Repeat after me…" Two thirds of Brits wished they'd kept up the foreign language they'd started learning at school, according to a survey by the British Council. For those of us whose ambition has got no further than downloading the Duolingo app, this ad offers a fun and easy lesson in Swedish pronunciation.
Colourful close-ups of lips demonstrate how to say each syllable of the cider's name, in between sips and big smiles. "Excellent. Again."
Alcohol: Spirits & Liquor
Pimm's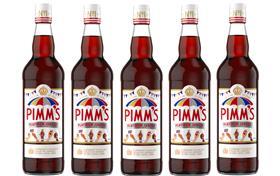 According to Waitrose, sales of Pimm's shot up 97% year on year in the four-day weekend of the Queen's Platinum Jubilee.
Despite its quintessential Britishness, Diageo made doubly sure consumers got the link with limited edition Pimm's No.1 bottles, featuring union flags and a platty jubes banner.
The big celebration boosted an already bumper summer for the brand, which enjoys close associations with Wimbledon and Ascot. Thankfully, a 'statey funes' bottle didn't happen.
Alcohol: Still Wine
Casillero del Diablo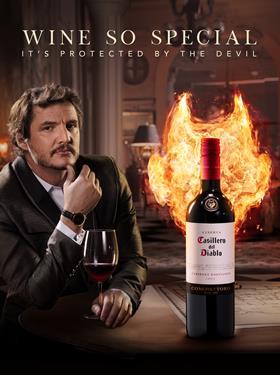 Smouldering Chilean-American actor Pedro Pascal fronted the wine brand's biggest TV push to date in a role he was damned to play: the devil himself.
The high-production ad reached nearly half of British middle-class audiences an average 3.4 times, with big budget spots during primetime shows such as The Celebrity Great British Bake Off. An activation with Sky Cinema saw Pascal present his 'Top Films for a Great Night In', furthering the reach of this classy campaign.
Ambient/chilled Ready Meals
McIntosh of Strathmore
In everyone's life there's a cantankerous old geezer who seems to hate the world and everyone in it. If not, it might be you.
He's a rich character for any ad. In this case, Mr Wilson is cleaning his car when a ball is kicked over the hedge to muddy his efforts. "Ya wee…" he exclaims, the expected expletive beeped out by a microwave pinging.
Cut to him enjoying the meal, knife in said ball beside him. The tagline is perfect: "When Life Takes The Ping."
Bagged snacks
Mini Cheddars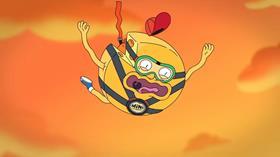 An animated wheel of cheese leaps from a plane (or was it pushed?). It becomes grotesquely puffed up with air in the fall, and ends up on the head – and later the mouth – of a Jacob's bakery worker.
Meanwhile, other cheeses hang around just up the street. They are welcomed into the bakery under the guise of "free skydiving lessons". There are a lot of cues from Rick & Morty in this latest instalment of the 'Cheddar Town' campaign, which launched last year.
Baked goods
Krispy Kreme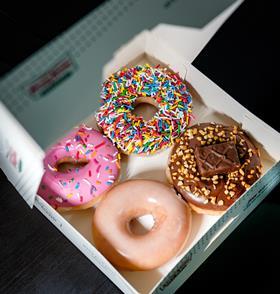 The nuances of brand engagement with content creators on TikTok are still being determined, but Krispy Kreme went about it sensibly in its bid to promote Jaffa Cake-based doughnut the Jaffanut.
The social media competition saw the brand offer a year's worth of doughnuts and £500 (and the title of official Jaffanut taste tester) to the biggest Jaffa Cake fan (which is based on who managed to get the most likes, comments and shares of their entry post).
Cakes
Mr Kipling
The brand mounted a multimillion-pound campaign this year – for the first time since 2018 – in which a father and grown-up daughter in the process of moving house get together to duet on a piano during a (cake-filled) tea break.
The message: "It's the little things that sometimes mean the most," explained Premier Foods CMO Yilmaz Erceyes.
A suitable if unexpected song choice to be tinkled on the ivories, then: Blink 182's All The Small Things.
Batteries
Duracell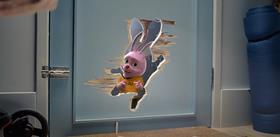 The mascot of the brand is the pink fluffy face of batteries the world over, except – slightly unbelievably – in his birthplace of the US. Having debuted close to 50 years ago, Duracell let its trademark lapse in the late 1980s, an oversight pounced upon by rival Energizer, which launched an ad parodying the drumming bunny – and trademarked its own version.
After some legal wrangling, an out-of-court settlement determined Duracell could continue its rabbit-based marketing in most regions, save North America. Sure, the Energizer bunny, with its longer ears, flip flops and shades, is cooler, but Duracell's has more loveable leporine spark (and an American accent).
In this latest campaign, he bounces in to save the day for a home-improving couple whose power tool has gone flat.
Confectionery: Chocolate
Cadbury Creme Egg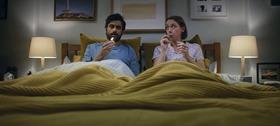 After debuting its 'How do you eat yours?' tagline in the 1980s and giving it a regular outing until the mid-2000s, Mondelez brought back the campaign in 2020. This year it got subverted, with the VCCP London creative asking fans: 'How do you NOT eat yours?'
The campaign put 146 limited-edition – half white, half milk chocolate – Creme Eggs in circulation, with which the finders could claim cash prizes provided they had proof they hadn't scoffed them.
"It's been fun flipping that campaign on its head," said the agency's executive creative director Chris Birch. "It's sticky work. We've eaten about 40 each."
TV spots showed winners miserably finding the valuable eggs. One says: "I don't want to be lucky. You be lucky. I want an egg."
Cereals
Weetabix
By using an old-fashioned animation style – and pulling it off perfectly – this Weetabix campaign both stands out from the ad break crowd and provides a pleasing nostalgia hit.
But it's not all style over substance. The narrative works: after his Weetabix brekkie, big bad wolf has the puff to blow down even the sturdiest brick house. The cartoon style has child appeal, but a rather dark reimagining – the wolf slurps up a pig's tail at the end – clicks with grown-ups too.
Condiments
Hellmann's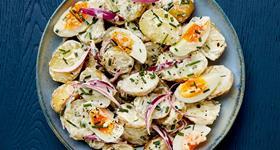 Food waste has been a hot topic this year – if not for environmental reasons, then for money-saving ones. Hellmann's helped consumers on this mission with an app: Fridge Night.
More than just an app – "proven" to reduce food waste by a third, it claims – the campaign challenges families to use leftover food and rustle up a money-saving meal or 'flexipe'.
In the US, the campaign included a Super Bowl ad starring legendary linebacker Jerod Mayo (who else?).
Confectionery: Sugar
Haribo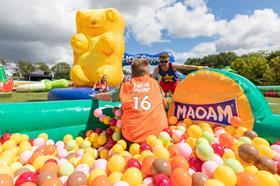 The confectioner continued its fabulous 'Kids' Voices' campaign this year (the eighth on the trot).
And why not? "The creative has become synonymous with the brand and is being rolled out all over the world," said Phil Murphy, head of marketing.
But 2022 saw Haribo's first-ever experiential campaign – Hide 'n' Seekers – where kids were invited to a giant inflatable arena in several cities. It went so well it "will become an annual experiential programme".
Confectionery: Sweet biscuits
McVitie's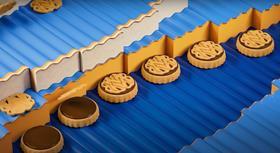 For anyone confused when they hear the gen Z phrase "It's a vibe", look no further for a definition than this gorgeous McVitie's spot.
Overtly computer generated, it features colourful fantasy machinery creating the brand's recently launched Blissful biscuits.
The soundtrack only adds the silky smoothness of the surreal and strangely soothing production line, where everything is perfectly in sync. Blissful all over.
Cooking sauce
Patak's
It's not the first time the brand has shared its origin story, but this ad is probably the most effectively executed version of the family-grown (but now Associated British Foods-owned) business's history.
Each generation, from Grandma Pathak to the present day, gets a scene – with superbly dressed period sets – of them refining the recipes.
And there are Easter eggs for eagle-eyed viewers, with genuine family photos that can be spotted in the background.
Dairy: Butters & Spreads
Lurpak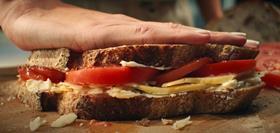 The brand became best known this year for a widely shared shopper photo on social media, showing one of its tubs in a supermarket chiller with a security tag attached.
Although not a great look in a cost of living crisis, the snap might not have been too harmful for the premium image pursued by the brand.
Its TV ad – a cheese sarnie-shaped slice of food porn – certainly gives off that vibe. The deep and dusky Dane voiceover only adds to the sexiness.
Dairy: Cheese
Cathedral City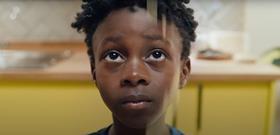 Dad is just about to answer his son Billy's question about where cheddar comes from when a cow pops its head through the window to offer a response.
"Earthworms, Billy," it explains, starting a moo-filled montage of happy cows (one inexplicably on a waterbed). Viewers then get introduced to Cathedral City's actual head cheese grader who, we are told, samples 700 pieces a week.
"Cheddar comes from Cathedral City, Billy," interrupts Dad. A nifty signing-off line.
Dairy: Handheld Ice Cream
Cadbury/Froneri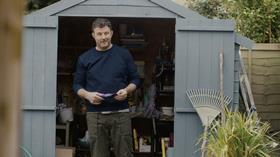 An all-too-familiar parent-child interaction is flipped for Cadbury's ice cream ad, which is maker Froneri's biggest media campaign to date at £6.5m.
In it, a young girl rewards dad for tidying his shed with a frozen treat, to which he is equal parts bemused and proud. And of course delighted.
Brand awareness was boosted as a result, thanks to the daughter's line as she walks away that brings home the role-reversal humour: "Now let's hope it stays that way."
Crisps
Walkers

A sweet idea – see Creme Egg's 'How do you eat yours?' – and one that works well in savoury snacks too: divide the nation on their method of munching.
For Walkers, the two tribes were those who put crisps in their sandwiches and those that leave them on the side.
In a rather on-the-nose nod to Brexit, celebrity 'party leaders' were appointed for the in and out camps: Nigella Lawson, Gordon Ramsay, Ed Balls, Fred Sirieix and Gemma Collins among them.
In June, the campaign was supported with a stunt in Sandwich, Kent (where else?) where a third of the town's residents turned out to vote after seeing a parade of tractors and Gary Lineker on an open-top bus. Collins was awarded honorary presidency of Sandwich. "I'm the Sandwich president now, hunnies!" she said.
Dairy: Milk
Arla Cravendale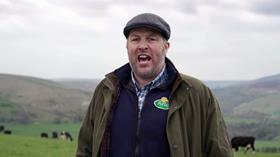 Joe De Souza, creative director at Wieden+Kennedy London – the agency behind Arla's ad – describes the singing of its stars as "heroic and deeply personal". Anyone not in the profession of putting a positive spin on things would more likely describe the farmers' version of 1990s dance hit 'Everybody's Free' by Rozalla as godawful.
The small print at the start of the ad – "Performed by real Arla farmers" – will surprise nobody. But their horrendously off-tune blasting with absolute straight-faced earnestness make for a hilariously off-kilter ad.
The song choice is spot on. It's high on nostalgia, and, true to its message, and the cows shown really do look free (or at least free to graze). The TV spot – with the tagline 'As pure as the place it comes from' – was supported by a big out-of-home and social media campaign.
Dairy: Ice Cream Tubs
Ben & Jerry's
Just like Nigella Lawson becoming an ambassador for Ocado, the right-on ice cream brand's collaboration with Tony's Chocolonely prompts screams of 'how did this perfect match take so long to happen?'
Both known for – and partial to pushing – their ethics and approach to social justice, the pair launched a co-branded quartet of products billed as being inspired by each other.Marketing touted the "chocolate love a-fair", and spelled out the brands' social commitments.
Dairy: Yoghurts
Müller Corner
A dream scenario for any brand: consumer recall prompted only by the most minimal of design elements. Müller Corner yoghurts are now living that dream, and capitalised on the fact with a high-impact, low-fuss billboard campaign.
"We wanted to remind consumers, in a very simple yet bold way, about the moment of anticipation before tucking into their favourite Müller Corner yoghurt," explained Toby Bevans, marketing director at Müller Yogurt & Desserts.
Deli
Quorn
It starts in the typical food porn format. Close-up of a stacked sandwich. Slow-motion tumbling ingredients. Deep-voiced, sensual voiceover. Then a twist.
The voice is that of a Muppets-esque pig character, recording the voiceover right there in the kitchen. There's an awkward pause. Wait. Is there sexual chemistry between it and the home chef? Then two other puppet animals pop up and breathily encourage her to "eat it". Unexpected. Slightly unnerving. Highly memorable.
Fresh produce
UK & Ireland Mushrooms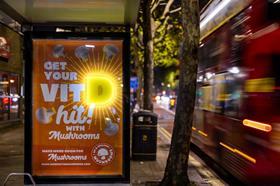 Campaigns for fresh produce rather than branded products are always a bit uncanny. But – as the legendary early 1990s 'Got Milk?' campaign for the California Milk Processor Board proves – can be iconic.
UK & Ireland Mushrooms Producers had two big pushes this year – in summer 'There's More Magic With Mushrooms' and this winter 'Get Your Vit Hit with Mushrooms'. Each was colourful, chirpy and packed full of the superfood attributes of oft-forgotten fungi.
Frozen: Pizza
Dr Oetker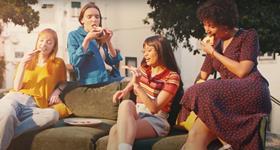 With chinos and tailored blazers, a family feasting al fresco, an il Tricolore made from pesto, mozzarella and tomato, and We No Speak Americano providing the soundtrack, the answer to the question 'how much more Italian can this advert get?' is none. None more Italian.
Aside from the German-sounding brand name, it's 100% bel paese. The ad's 'Play it' refrain communicates all the attractions of the pizza, while making eating it seem like a lot of authentic Italian fun.
Functional
Actimel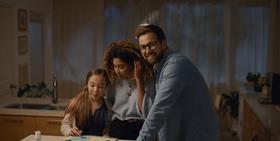 Perhaps aware of the narcissism that comes with all body-boosting, life-lengthening functional products, Actimel is turning self-preservation on its head.
Rather than drinking the probiotic for their individual wellbeing, this lineup of characters are drinking it for each other. The dad for his daughter, the daughter for the soccer star, the soccer star for her fans and so on. The chain of yoghurty selflessness ends back with the dad's partner, who drinks it for "well, you know who".
Haircare
L'Oréal Paris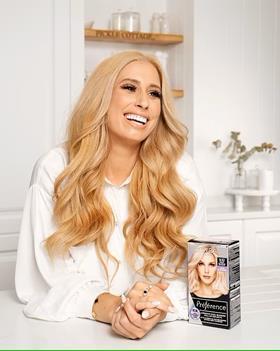 Dying your hair a completely new colour before your wedding is a bold move. Doing it yourself is close to madness, which makes L'Oréal's partnership with nation's sweetheart Stacey Solomon all the more impactful.
Solomon hit up the home dye kit and shared the whole process of going blonde on her much-followed social media channels. The endless glossy mag coverage of her wedding meant her new do was widely seen, and searches for how she did it soared.
Hot Beverages: Instant Coffee
Nescafé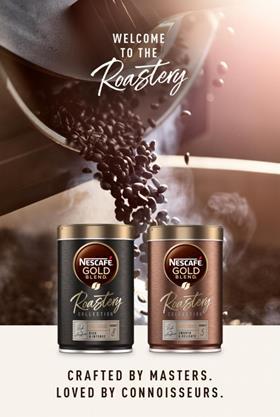 The coffee giant turns mass production into an artisan affair in this high-production, classy campaign for its Roastery range, which launched last year.
Through a great ball of fire, viewers are taken into 'The Roastery' where it appears coffee is being ground by a single machine into hessian sacks, with each part of the process obsessively scrutinised by expert staff. This place is "home to 50 years of craft" where there is "a never-ending pursuit of the best coffee".
Frozen: Potatoes
McCain
RuPaul's Drag Race UK – one of the most-watched linear TV shows in the country – is fast becoming a production line of fmcg campaign stars. Last year, Baileys tapped the contest's Veronica Green and Tia Kofi for its Halloween campaign.
This year, McCain named its "first-ever creative director", another star of the show: Baga Chipz (who else?).
The self-proclaimed 'Queen of Chips' heralded the brand's new Anything Goes campaign. She brought some much-needed fun and lightness to McCain's marketing which, with those countless Ricky Tomlinson-read rhyming couplet ads, had grown a bit stale.
"Her iconic and fearless attitude perfectly encapsulates our Anything Goes philosophy," said McCain marketing director Mark Hodge. You can't say 'much betta' than that.
Hot Beverages: Tea
Yorkshire Tea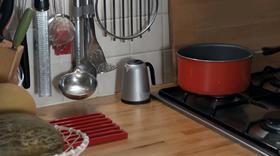 As energy prices soar and the cost of living bites, the humble kettle has become something of an electricity-guzzling villain. But it's not like Brits are going to give up tea – so what to do?
Yorkshire Tea has come up with a solution, and for when the family all want a brew, one that's about as practical as a chocolate teapot.
"We're landing the message by having a bit of fun, with the make-believe invention of the one-brew kettle," says Elle Tehrani, the company's sustainability communications specialist. "It turns out this just isn't a good idea!" But the campaign concept certainly is – the lilliputian appliance causing all sorts of comedic annoyance for the early-adopter family.
Meanwhile the brand's HQ-set series of ads continues to nail it – this year's, starring Patrick Stewart, is no exception.
Household: cleaning
Dettol
We've all got them: Lucky pants, standing for the anthem, a specific bar stool. Ahead of a big match, these superstitious acts just might make all the difference.
Dettol capitalised on the huge groundswell of support for the Euro 2022-winning Lionesses team with a campaign depicting a family preparing for kick-off with their own matchday rituals. The product even features in a few of them. Using a competitor version now, it seems, would be tempting fate.
Household: Paper
Andrex
Few products show someone you really care more than loo roll. That's not true, but Andrex gets close by going beyond its trusty 'aww, a cute dog!' technique in its ad this year.
Mum is doing the shopping for her heavily pregnant daughter. Once the odd cravings are sorted she stops for loo roll. "Sometimes a little love goes a long way," the voiceover explains.
A puppy does make an appearance, but the mother-daughter bond is far cuter.
Meat
Heck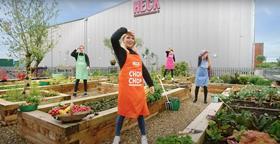 Its factory dance campaign was such a hit, Heck has kept the good thing going with a version featuring its workers picking veg, again to the sound of incessantly chirpy 1980s hit Break My Stride.
The brand also launched a new 'sonic identity' this summer, working with agency DLMDD on the jingle and sonic logo. The 'One Heck of a Flavour' jingle "reflects Heck's rural lifestyle meets urban attitude ethos" the agency said. In any case, it's catchy as heck.
Meat-free
Birds Eye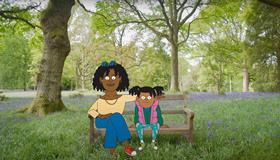 A mum has a few reservations about eating meat-free Green Cuisine dippers. "Is it because you fear change?" asks her adorable daughter.
This charming animated ad was part of a relaunch of the meat-free sub-brand, which included £4.4m of TV ads, new packaging, PR and billboards. It "played off the insight that choosing plant-based foods can sometimes feel like a compromise, even though there are so many benefits," said marketing director Elle Barker.
Milk Alternatives
Alpro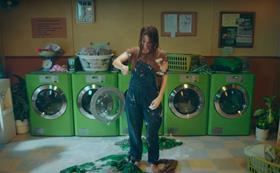 How did you celebrate world password day? Did you have a slice on world pizza day? Point being, there's now a 'day' for everything, even the planet.
"That one day of the year we all suddenly remember how to treat our planet," the voiceover cynically calls Earth Day.
Not at Alpro, where it's the focus long beyond the 24-hour cycle (visualised by a woman emerging from a bank of washing machines). Further campaign activations will happen daily until Earth Day 2023.
Personal Care: Cosmetics
No7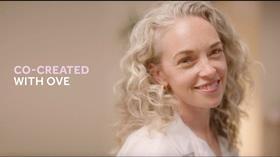 Changes to skin during perimenopause and menopause require specific products, claims No7, which launched a range specifically for the demographic this summer.
Key to the ad is the communication the range was "co-created with over 7,000 menopausal women". A clear statement this oft-ignored group is being ignored no longer.
Thanks to the frankness of several high-profile pushes in recent years, the menopause is quickly losing its taboo status.
Personal Care: Female Skincare
Dove
An incredibly affecting ad where the film runs in reverse. It starts with an Instagram post of a glam-looking teen, with positive comments and likes on the post disappearing. Photo filters are removed, hairspray goes back into its can, and lip gloss is wiped off.
It ends with a sad-looking young girl and the line: "The pressure of social media is hurting our girls' self-esteem." A prompt for parents to "have the selfie talk", for which Dove provided a useful online guide.
Personal Care: Shampoo
Head & Shoulders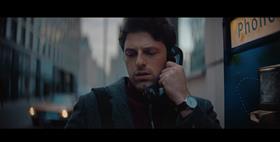 Having spent years forcing home the message that its product cures dandruff, anyone buying Head & Shoulders must be a shoulder-dust sufferer, right?
This campaign reverses that logic: when our protagonist is found with a bottle, people are surprised he has dandruff. "I don't?!" he replies, in a series of increasingly over-the-top scenes based on different movie genres, including a musical finale.
A memorable re-pitching of the product's promise, from cure to prevention.
Personal Care: Deodorants
Lynx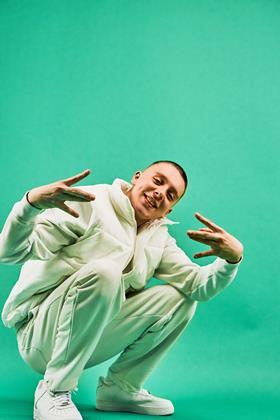 Aitch – not to be confused with H from Steps or the Line of Duty baddie – is a rapper from Manchester with legions of gen Z fans. He's a sound choice for Lynx, who partnered with the star on various forms of content this year.
His appointment as ambassador came after a major youth-focused rebrand for Lynx in 2021, which also saw it partner with boxer Anthony Joshua and internet personalities Calfreezy and Chunkz. It also reformulated its product and redesigned the packaging.
The August launch of Lynx's new Matrix-styled 'AI' fragrance included a QR code on the can, which when scanned would prompt an augmented reality version of Aitch to pop out and perform. As the rapper's avatar put it: "There's a party in the database baby, and we're all invited."
Soft drinks: Carbonates
Pepsi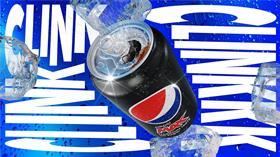 Through no real fault of its own, Pepsi has had a bit of a rough year PR-wise. The carnage resulting from Elon Musk's takeover of Twitter and the awarding of verified blue ticks to anyone stumping up $8 saw an imitator of the brand tweet "Coke is better". Then came Netflix digging up a fumbled decades-old promotional campaign from the cola giant in 'Pepsi, Where's My Jet?' which saw it painted as a mean-spirited corporate bully.
Countering the negativity, Pepsi's onomatopoeic campaign tapped the associated sounds of cracking open, pouring and enjoying a can of the black stuff.
Utilising the voice of UK artist and comedian Michael Dapaah – best known for portraying the fictional rapper Big Shaq – the Pop Fizz Ahh ad is an enjoyable sensory overload with high gen Z appeal.
Personal care: Shaving
Harry's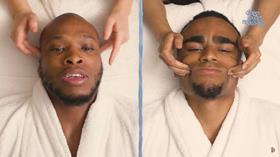 It's an unconventional setting for an interview, but it works. Comedian Munya Chawawa interviews five male celebrities on the masseuse's table in this Harry's sponsored web series 'Deep Issue Massage'.
His guests – among them former France and Manchester United footballer Patrice Evra and kickboxer Michael Page – are not known for opening up, but they readily do.
It's entertaining and engaging, and links well to Harry's support for men's mental health.
Personal Care: Toothpaste
Colgate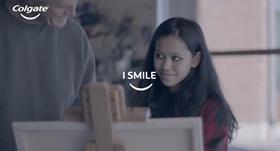 Colgate elevates a shiny white smile from pure vanity to a symbol of inner resilience in its 'Our smile is our strength' campaign. A series of stick-it-to-the-doubter stories are written on screen: "When I hear 'you can't help those kids'… I smile". Viewers can't help but grin themselves.
"Optimism is a choice," the company says of the campaign that's been running since last year. "It's an ability that some people have naturally – others need to be reminded or taught."
Rice
Ben's Original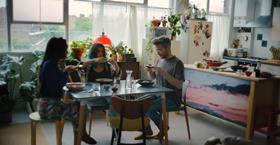 It's an engaging question: "What if 100 families around the world started with the same ingredient?" (Ben's Original rice, of course). It's one that is never explicitly resolved, but the quick-cut montage of diverse families whipping up all sorts indicates the answer is: at least 100 tasty meals (branded recipe book incoming?).
After rebranding in 2020, Ben's Original is going above and beyond to bring home the fact it is for everyone. And it's working.
Savoury Pastries
Ginsters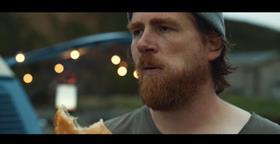 It's grim down south-west. Or certainly grey. Ginsters' ad – part of a "heavyweight" £1.3m campaign – is all moody skies and early mornings where weather-beaten characters put themselves through gruelling labour, physical feats, or a dip in the icy sea.
But here to warm their hands and hearts is a well-earned Cornish pasty.
The brands says the creative "seeks to drive home the importance of quality comfort food". Mission accomplished.
Soft Drinks: Sports & Energy
Red Bull
Regardless of its performance on track – which has anyway been domineeringly good – Red Bull's Formula 1 team has had a great year, adding 14 million fans to its supporter base, according to Turnstile analysis.
The team is now the second most supported in F1, after only Ferrari, overtaking Mercedes into the position.
That's all great news for the energy drink, which has not been without some flat-tyred PR this year. The brand has come under fire for not pausing operations in Russia following the invasion of Ukraine. As activists raise awareness that the drink is still on sale there, Red Bull says it has "suspended all marketing activities and new investments". But its legal pressuring of a small gin-maker founded in 1837 – Bullards – saw it painted as a bully in the media.
Soft drinks: Smoothies
Innocent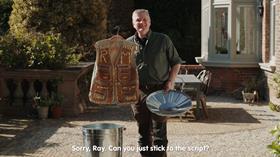 'People off the telly or radio you thought you'd forgotten' seems to be the running brief for Innocent's ads. In 2020 it was Duncan 'Duncan from Blue?' James. This year it's the turn of Ray Mears. He explains the brand's 'Rewild' initiative – and shares tips on making households more wildlife friendly.
The sensible suggestions are embellished with Mears' more wacky ideas – a waistcoat made of nuts to feed birds and reintroducing wolves to your neighbour's garden among them.
Soft Drinks: Squashes & Cordials
Belvoir Farm
The bucolic setting of the brand's first TV ad hides something shocking: Belvoir is pronounced 'Beeva'. Who knew?
"Yep it's Beeva, not Bel-voir," the voiceover confirms, as viewers are introduced to the Vale of Belvoir locals that help make the drinks.
"For the past 40 years Belvoir Farm has grown to a £23m business in the UK alone without anyone really knowing who we are," said director of marketing Daniel Wheeler. Or how to pronounce it.
Spreads
Nutella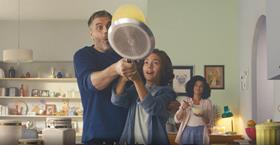 Pancake day is a big moment for Nutella – last year its sales grew 14% in value vs the year before. It was not going to let its mantle of 'the nation's favourite spread for Pancake Day' slip. "It's an unmissable occasion for the Nutella brand," said Levi Boorer, customer development director at Ferrero UK.
This wholesome ad puts the spread at the centre of a family's fun, to "keep Nutella front of mind for shoppers during a key sales opportunity", Boorer explained.
Vaping
Elf Bar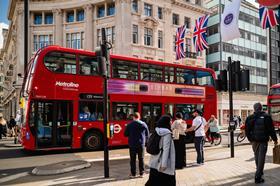 The market-leading brand's rechargeable Mate 500 device was featured on 300 double-decker buses and 147 electronic billboards in central London this summer. Having been "overwhelmed" by its popularity in the UK, the brand sought to "strengthen our connection with local users and retailers".
However, the brand came under fire following an Observer investigation that claimed it was flouting advertising rules by paying TikTok influencers to puff its stuff.
How 'unpredictable' TikTok became essential for fmcg brands
1

2

Currently reading

​Top campaigns 2022: the most influential adverts in food and drink