M&S's new marketing approach is resonating with consumers, with its ads besting other supermarkets this year. How's it done so?
This was not just a year of Marks & Spencer marketing. This was a year of desperately marketing to change consumer perceptions, with its very survival at stake. This was a year of doing things differently and taking risks. It had to.

At the beginning of 2018, Sharry Cramond had returned to the UK from the US to head up M&S Food's marketing function. Soon after she started work at its Paddington HQ, CEO Steve Rowe gave a presentation titled 'Facing the Facts'. With an urgent tone, it noted the "march of the discounters" and consumer shifts to online. "Accelerated change is the only option," Rowe said.

Later that year, the reason for Rowe's mood became clear. November half-year results saw like-for-like food revenue down 2.9%. Clothing was suffering badly, too.

There wasn't a problem with the brand. Three-quarters of UK consumers had a positive opinion of M&S food, according to YouGov. Or was there? The data also showed that even M&S fans commonly described it as expensive. The mission was set: "Reassert our reputation for value for money" and "broaden our appeal".

The debut major campaign from Cramond and her team - which had been freshly spun out from a central, cross-brand marketing function led by the now departed chief marketing officer Patrick Bousquet-Chavanne - was a company first.

"This was the first time we had launched a social-first campaign, and the idea was to reach a new audience, broadening our reach and appeal to a socially engaged customer base of young families," Cramond recalls.
"M&S is no longer positioning itself as special and different, but instead as special and relevant"
The What's New at M&S Food social-only series featured Amanda Holden, Rochelle Humes, Paddy McGuinness and Emma Willis. They are all mainstream TV stars, parents and popular on Instagram. "A natural fit," Cramond says.

"The series tapped into the popularity of mainstream celebrities instead of social media influencers," says Mobbie Nazir, chief strategy officer at creative agency We Are Social, which counts PepsiCo, Spar and Harrods among its clients. "While a food blogger might have felt more authentic, M&S clearly decided that broad appeal and reach was the way to go."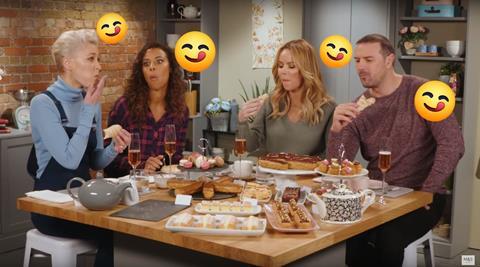 Since they launched, the episodes - which run for 10 to 12 minutes and also feature M&S development chefs - have been viewed 20 million times, by at least 10.6 million unique users.

"Our data shows consumers are seeing more ads than ever - 69% say they see more advertising today compared to three years ago - but increasingly find them intrusive," says Jane Bloomfield, Kantar UK's chief growth officer. "This fun format, social video content was a very natural move for M&S to deliver more engaging, relevant and memorable content to a broader group of consumers than it would have reached using traditional media formats," she adds.

The monthly shows provide a "completely new way to talk directly to families" Cramond says. On them, celebrities pick their favourite products - their #MyMarksFave - which are labelled as such in stores. They "always become instant hits" she adds.
Besting the mults
It's not the only execution that's resonating. M&S has chalked up four of the 10 most memorable supermarket ads since December last year, including the most memorable, according to YouGov, besting both the mults and the discounters. On Facebook, the brand is achieving 50% more engagement than Tesco, Sainsbury's and Waitrose combined, says Gartner. Being bold is working, at least on the food side. This November, Rowe was able to say with a smile: "The food business is outperforming the market", with food sales up for the first time in two years, despite price cuts on 500 food KVIs.

So how has M&S built on the success of that debut campaign? A second social-only show for one: Chris Baber's Cook With - in which the winner of BBC cooking competition Yes Chef shares snappy recipes made with the product range of the same name. "The clips end with a call to action encouraging viewers to screenshot the recipe so they can try it at home - we found this was more effective than informing the audience that the recipe is available online," Cramond says.

Celebs and chefs might have been a success, but in another example of alternative thinking, 2018's Christmas ad featured 'unscripted' members of the public (and store employees) talking about their favourite items from the festive range - with 11 versions running across social media and TV.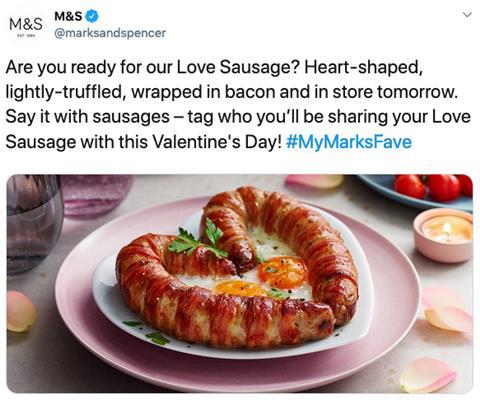 After the previous year's Paddington Bear hit, and up against John Lewis's blockbuster Elton John biographical ad, it stood out by being understated. And it paid off: M&S achieved the highest ad awareness score of the year that December, according to YouGov BrandIndex consumer surveys. And Kantar Millward Brown research found it the third most well received ad among consumers that Christmas, despite being "more commercial in style" than usual. "The smaller-scale, more relatable stories won through over the epic blockbusters," Kantar said.

In February, in a further sign of its confidence in a new approach, the M&S Food marketing team announced a new product solely on Facebook and Twitter - a day before it was available in stores. The heart-shaped, bacon-wrapped sausage for two was named The Love Sausage, making it an almost guaranteed viral hit. "Love sausage? What marketing genius thought of that?" someone wrote beneath the Facebook post. In reply the M&S social media team posted a meme of Leonardo DiCaprio's Great Gatsby character. "Sorry, not sorry" it read.
Brands with the most effective campaigns of the year
Brand ad awareness
Ad awareness Score
Brand Name
Category Name
Month of score
45.5
Marks & Spencer
Supermarkets
Dec '18
44.2
Marks & Spencer
High street retail
Dec '18
43.0
Tesco
Supermarkets
Dec '18
42.0
John Lewis
High street retail
Dec '18
40.1
Sainsbury's
Supermarkets
Dec '18
39.6
Coca-Cola
Carbonated Drinks
Dec '18
38.5
Aldi
Supermarkets
Dec '18
38.3
Marks & Spencer
High street retail
Nov '19
37.4
Marks & Spencer
High street fashion
Dec '18
36.9
Marks & Spencer
High street fashion
Nov '19
36.6
Argos
General retail
Dec '18
36.0
comparethemarket.com
Online services
Jan '19
35.3
Morrisons
Supermarkets
Dec '18
35.1
Marks & Spencer
High street retail
May '19
34.7
Tesco
Supermarkets
Nov '19
34.1
comparethemarket.com
Online services
Mar '19
33.5
comparethemarket.com
Online services
Feb '19
33.5
Marks & Spencer
Supermarkets
May '19
33.4
comparethemarket.com
Online services
Aug '19
33.3
Dyson
Domestic appliances
Dec '18
33.2
Marks & Spencer
Supermarkets
Apr '19
33.0
comparethemarket.com
Online services
Apr '19
32.9
Marks & Spencer
Supermarkets
Nov '19
32.5
Amazon
Online
Nov '19
32.4
Asda
Supermarkets
Dec '18
32.3
Amazon
Online
Dec '18
31.9
comparethemarket.com
Online services
Jul '19
31.9
comparethemarket.com
Online services
Nov '19
31.8
Dyson
Domestic appliances
Jan '19
31.8
Argos
General retail
Nov '19
31.6
comparethemarket.com
Online services
May '19
31.5
Tesco
Supermarkets
Jan '19
31.5
Aldi
Supermarkets
Nov '19
31.4
Amazon Echo
Consumer electronics
Dec '18
31.3
webuyanycar.com
Online services
Feb '19
31.2
Just Eat
Food delivery
Nov '19
31.1
Marks & Spencer
High street retail
Apr '19
31.0
comparethemarket.com
Online services
Sep '19
30.9
comparethemarket.com
Online services
Oct '19
30.9
Lidl
Supermarkets
Dec '18
30.9
John Lewis
High street retail
Nov '19
30.6
comparethemarket.com
Online services
Jun '19
30.5
Specsavers
High street retail
Mar '19
30.3
Go Compare
Online services
Nov '19
30.2
Go Compare
Online services
Sep '19
30.1
Dyson
Domestic appliances
Nov '19
30.0
Iceland
Supermarkets
Dec '18
29.7
Specsavers
High street retail
Jul '19
29.7
Go Compare
Online services
Mar '19
29.7
Go Compare
Online services
Oct '19
Source/notes: Data was provided by YouGov's BrandIndex brand tracker, which is based on surveys completed by a representative 4,000 people each day. The dataset considers advertising and brand awareness among selected categories from December 2018 to November 2019. "Top ad awareness in a given month means that a brand scored the highest aggregated score that month across a 12 month period, meaning that this time period was when brand/advertising recall amongst the British public was at its highest," YouGov says.
Debunk the myths
Another important plank in the strategy has been pricing. Late last year, M&S launched an initiative called "trusted value", reducing prices across its food range and removing "complex and confusing" promotions. Through 2019 the price of over 500 high-volume lines has been reduced by more than 10%, and promos nearly halved.

"M&S Food is changing fast and our value is increasingly competitive, especially on the everyday products families shop most often," said M&S Food MD Stuart Machin in November. Across its marketing campaigns the brand has sought to "debunk the myths about our prices, as we know customer perception doesn't always match reality" he added.

In April, M&S reprised its 'This is not just food' advertising after a 10-year absence. It was another pivotal moment. The "much-loved, celebrated and parodied" ad, as Cramond describes it, was given a new spin. "We wanted to give it a completely fresh, new perspective to broaden our appeal to customers, so we gave the previous campaign a makeover to reflect the current position," Cramond says. "We kept the iconic 'food porn' moments that made the initial campaign such a success and added a new twist."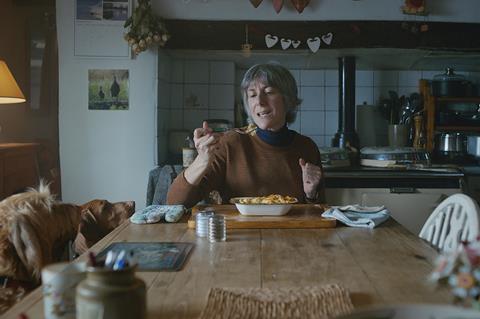 The result is people in everyday settings being hypnotised by M&S ads on screens and billboards and mimicking the classic voiceover as Fleetwood Mac's Albatross plays in the background.

"This is not just… is an iconic M&S line that has been embedded into the everyday vernacular for many years. We wanted to bring this back, making it less exclusive and more relevant to more people more often," says Fleur Stoppani, chief client officer at M&S media agency Mindshare UK. "To do this, we needed to drive relevance beyond those special occasions," she adds.

The ads ran alongside M&S's sponsorship of Britain's Got Talent. "M&S wants to be more relevant for families and what better way than partnering with the most-loved family show?" Stoppani says. The brand had never sponsored a TV programme before. Across the eight-week series, M&S plugged 39 products in 75 ident edits. The voices of judges from the show were added to in-store self-service checkouts.
"We kept the iconic 'food porn' moments that made the initial campaign such a success and added a new twist"
The sponsorship "will not have been cheap" says Callum Saunders, head of planning at Zeal Creative. And he's not wrong: M&S spent £155.1m on marketing in the year to March, a 2.3% increase. And in the six months to September it pumped £88.9m into marketing, a 26.8% increase on the previous year.

But it was necessary, says Saunders: "Historically, M&S has attracted an older and more affluent shopper demographic. But with more and more of Britain's consumers using a wider repertoire of supermarkets, retailers need to engage a bigger pool of shoppers."

Recently, M&S has been even plainer in its messaging. In November it launched its 'Re-Marks-able Value' campaign across online, social media and print advertising.

"M&S has pursued a bold strategy of reinvigoration, giving a new and contemporary voice to the brand, but without straying too far from its core identity, roots or values. This balancing act is no mean feat," says Saunders. "But the ultimate proof is in the pudding."

No one is kidding themselves that M&S is out of the woods: revenues sank 7.8% in the six months to September in the troubled clothing division, but on the food side the new approach offers a glimmer of real hope.

"These early steps to attract families and broaden customer shopping occasions have produced encouraging results," the retailer says, "M&S is no longer positioning itself as special and different, but instead special and relevant".

As for this year's Christmas ad, Cramond and her team tapped what had landed best through the previous year. Two of the stars of its What's New at M&S Food series - McGuinness and Willis - visit a Christmas food market manned by M&S product developers for what feels like an on-location version of the social show. And again, it's resonating.

"Our customers are highly engaged with our strategy because we are listening to them and looking at how they engage with our marketing," says Cramond. "We employ a test-and-learn strategy to learn what type of content works best on which platforms so we can create bespoke content by platform as well as customer base."

This is not just marketing talk. This, it would appear, is really working.
Who else is getting advertising right?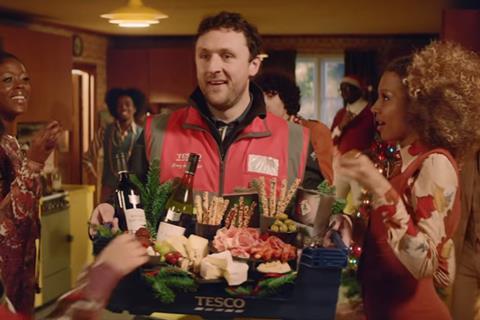 Supermarkets
All the supermarkets' top ad awareness scores were achieved in December.
M&S's 2018 Christmas ad earned it the highest awareness score for the whole period, across all categories. Next-best stores in terms of ad recall for the year were Tesco, Sainsbury's, Aldi and Morrisons.
This year's M&S Christmas ad has also scored highly for awareness - but has been beaten so far by Tesco's 2019 effort.
Fast food & delivery
McDonald's marketing effort this year, as ever, has been expansive, expensive and effective. It achieved top ad awareness scores in the category every month.
KFC and Domino's Pizza also produced some effective advertising, but face competition in the brand awareness stakes from delivery services Just Eat and Deliveroo.
This amounts to doubly good news for KFC - it can be ordered via the Deliveroo platform as well as Just Eat.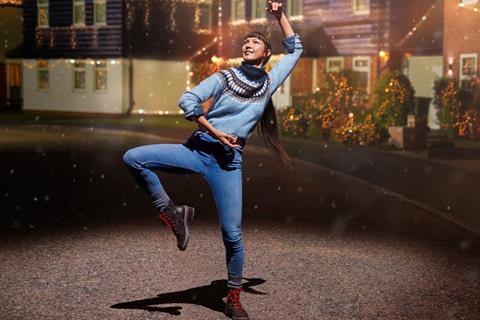 High street fashion
In November, M&S CEO Steve Rowe revealed revenue across its Clothing & Home division was down by 7.8%. The poor performance couldn't be blamed on lacklustre marketing: M&S scored the highest awareness for its clothing-focused ads for most months of the year.
This year's Christmas ad for M&S clothing is performing well too. In response to the success of 'Go Jumpers', a 'Go Pyjamas' ad has been launched.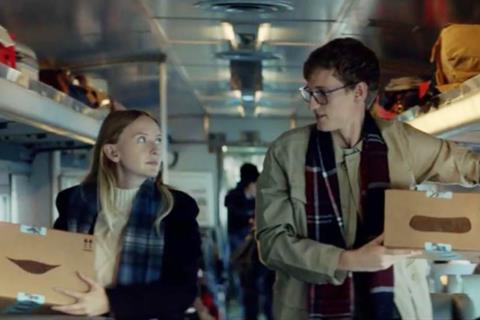 Online
Amazon has ramped up its advertising in recent months. Campaigns have focused on two things: convincing people to order their Christmas gifts on its website, and convincing others to come and work in its warehouses so all those orders can be fulfilled.
Amazon's Christmas ad sees people carry the smiling boxes to loved ones (in the US). In its recruitment ads, real staff members share the benefits of working in Amazon's huge DCs.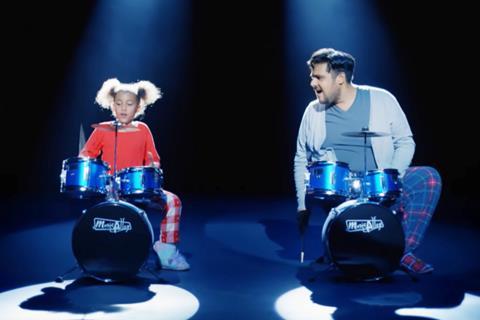 General retail
The Argos 'drum kit' Christmas campaign this year has already performed well in the category, but its ads were also readily recalled before and after Christmas last year.
Argos stores are being closed by the score, as owner Sainsbury's overhauls its estate and integrates them into its supermarkets - a set-up portrayed in Argos's 2018 Christmas ad.
Ads from Ikea, B&Q and Currys were also well recalled.