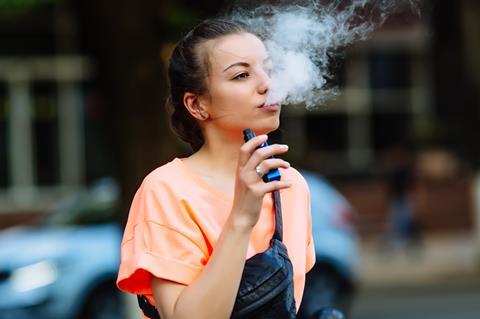 The UK Vaping Industry Association has kicked off a new media campaign aimed at reassuring vapers who may be put off by the high-profile health scare in the US, where authorities have so far linked 25 deaths to the use of vaping devices.

The association placed full-page ads in The Metro and I newspapers on Friday using the headline Facts Not Fiction, and is also pushing the campaign on social media using the hashtag #vapingmatters.

The UKVIA warned 'misinformation and scare stories' had threatened to push the UK's 3.6 million vapers back to cigarettes.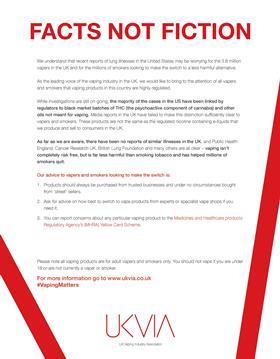 The adverts contain information on the situation in the US as well as advice from Public Health England, which states that vaping is at least 95% less harmful than smoking and a valuable tool for smoking cessation.
The advert reads: 'While investigations are still ongoing, the majority of the cases in the US have been linked by regulators to black market batches of THC (the psychoactive component of cannabis) and other oils not meant for vaping. Media reports in the UK have failed to make this distinction sufficiently clear to vapers and smokers. These products are not the same as the regulated nicotine containing e-liquids that we produce and sell to consumers in the UK.'

John Dunne, director of UKVIA, added: "It may seem like a bold move, but we believe the stakes are high enough to justify it. Vaping represents one of the most vital harm reduction opportunities for public health in decades.

"UKVIA is determined to protect that potential, as well as protecting the vapers who have already made the life-changing switch from cigarettes. To do this, the British public needs facts not fiction, and this is exactly what our campaign delivers."