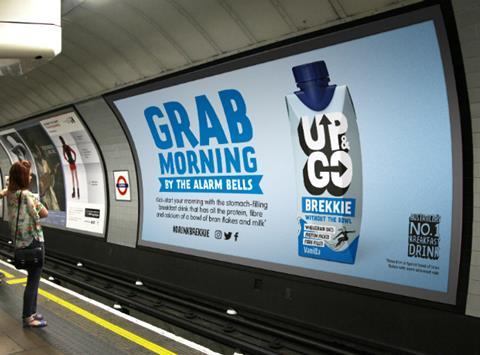 Life Health Foods has kicked off a multichannel marketing campaign for Up&Go to promote the breakfast drink's new look.
Covering press, OOH, radio, PR and social media, the 'significant' spend comes after the Australian on-the-go brand unveiled a major overhaul in a bid to better tap the fast-growing breakfast drink trend and extend its oat-based products into other meal occasions.
Up&Go launched in the UK in 2015 with its £1.1m Aussies Suck push, but the brand's creative direction had since evolved from establishing Up&Go's Australian roots to a more product-led message, said James McMaster, CEO at Life Health Foods.
"Bold visuals hero our fresh new pack design and lead on the brand's unique active adventure lifestyle positioning and core usage to firmly establish Up&Go in the category with people who believe there are better things to do than sit down for breakfast."