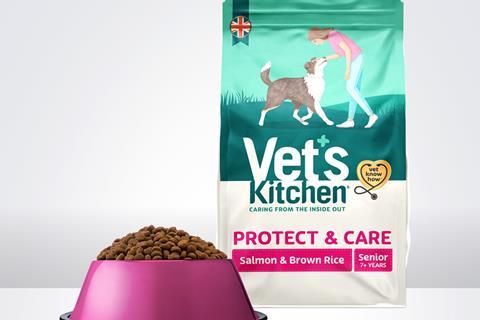 Vet's Kitchen is set to unveil new-look packaging and a marketing push, to highlight the petfood brand's veterinary credentials.
The Swindon business claims to be the UK's only petfood maker with its own in-house veterinary practice. Known as Vet's Klinic, it was an "inspiration" for Vet's Kitchen's foods, treats and supplements, it said.
Revamped packaging will roll out this month. It aims to leverage the brand's veterinary credentials by clearly communicating the health benefits of each recipe. And for the first time, imagery includes a human on the brand's dogfood lines. This marked "a significant departure from traditional petfood design," said Vet's Kitchen MD Laura Shears. "But the bond we share with our pets is important to the health and wellbeing of dogs and their owners, so we wanted to celebrate this unique relationship."
To support the rebrand, Vet's Kitchen has invested in a new website and an ad push, designed by the Atalanta agency, which will focus initially on common health conditions suffered by dogs – including excessive flatulence and obesity.
The brand had "a real passion to improve the health and wellbeing of the nation's pets through nutrition" said Stewart Hall, creative director at Atalanta. "We developed a campaign that uses fun yet simple images to emotionally connect with owners by highlighting the issues they encounter."
It comes as Vet's Kitchen is set to move to 100% recyclable packaging. All its dry and wet food will be in 100% recyclable packs from early 2021, with remaining lines to follow in 2022.
"Going green was an integral part of our rebrand strategy," said Shears. "More and more, customers consider the environmental impact of the products they buy and expect trusted brands to behave accordingly."