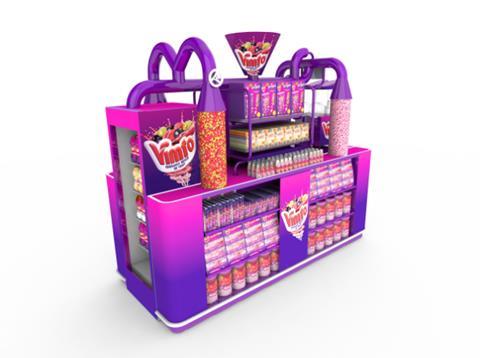 Vimto has opened its first pop-up 'factories' to drive awareness of the brand's products and showcase its licensed portfolio.
Running in the Manchester and Birmingham branches of Selfridges from today (18 July), the six-month trial will offer Vimto-branded soft drinks and confectionery, which are aimed at a core audience of teenagers but are also meant to appeal to a broader demographic that includes adults.
The pop-ups will also feature gift packs at price points from £4.99 to £12 – and a consumer competition is set to give away five 'purple tickets' worth £100 to be spent in-store at the factory.
The marketing exercise is "unique opportunity" for shoppers to see the full range of Vimto products in one place, according to brand licensing manager Helen Hartley, who hoped to generate new interest from current licensees and attract new partners.
"The Vimto factory will create great impact at point of purchase, and we are delighted a retailer as prestigious as Selfridges has endorsed the concept," she added.