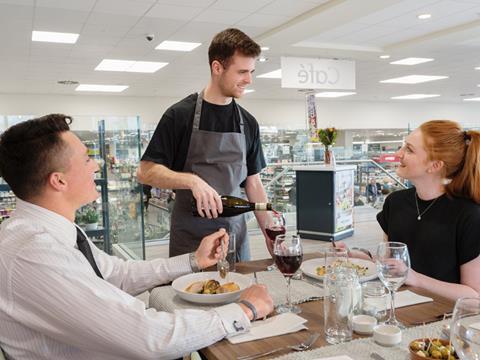 Waitrose is sizing up other locations for its supper club after selling out at its Haywards Heath branch.

The retailer added a ninth date to its experimental supper clubs, which offered three-course meals for £35 in the store's mezzanine-level café in April and May, due to high demand.

The "overwhelmingly positive feedback" has prompted Waitrose to weigh up taking the concept to other locations.

"There is a lot for us to consider before we decide if it is something we will and can take forward, but the experience from Haywards Heath has been incredibly encouraging," said Waitrose Cookery School manager Karen Himsworth.

But not all branches had a space suitable for a supper club and location would be an important factor in any decision, Himsworth added.

"Being located next to a busy station and having a large café area to work with meant our Haywards Heath store was the ideal location for us to first launch a Supper Club," she said. "But we know each of our stores are different with a specific demographic and varied preferences when it comes to food and drink, so need to think carefully about menu choice etc. The experience for the customer is the most important factor so we would need to know we could deliver that in each location we'd choose."

The £35 in-store supper club was trialled for "short periods" in Waitrose's Newbury and Salisbury stores last year. Waitrose also ran a supper club at its Finchley Road cookery school in October at £85 per head, but this was a different format with five courses and interactive elements.