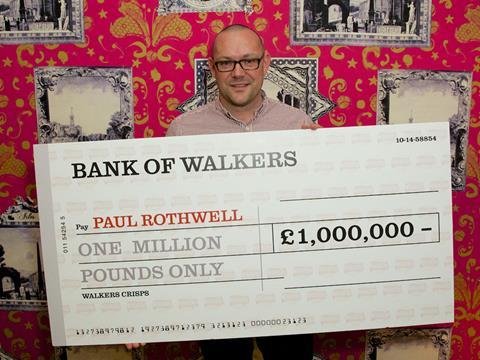 Pulled Pork in a Sticky BBQ Sauce has been declared the winning flavour in Walkers' Do Us A Flavour campaign.
Up against five other flavours – including Ranch Raccoon, Cheesy Beans on Toast and Chip Shop Chicken Curry – the winner attracted 26% of the public vote and secured its creator, Essex man Paul Rothwell, a £1m prize.
Launched in January, the campaign attracted 1.2 million entries, which were whittled down to the six finalists by a judging panel that included comedian David Walliams and Michelin-starred chef Marco Pierre White. Among the creations that didn't make the final cut were Piri Piri Pigeon with Sour Cream; and Roast Pork & Toffee Apple.
The finalists have been on sale since July in individual 40g bags (rsp: 70p), two six-packs each containing two bags of three of the flavours (rsp: £2.06) and 20-packs with three bags of each flavour, a bag of ready salted and one cheese & onion (rsp: £5.29). All flavours are available for a limited time only.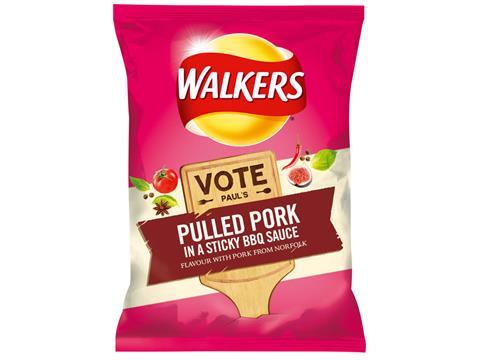 Winner Rothwell, a 40-year-old dad from Westcliff-On-Sea, chose his suggestion as he knew pulled pork was a huge trend in the UK and he'd seen it on many cooking programmes.
"I can't believe I have won £1m," he said. "You always dream about what you would do with such a large amount of money and now that dream has become a reality.
"It was nail-biting toward the end of the campaign and I really had no clue which way the public would go with the vote. Thank you so much to everyone who voted for me, I'm over the moon."
The five runners-up, who each pocket £10,000, were: Hotdog with Tomato Ketchup by Sarah Morgan from Bradford; Ranch Raccoon by Robert Gibson from Harrogate; Cheesy Beans on Toast by Emma Cooper from Tewkesbury, Gloucestershire; Sizzling Steak Fajita by Jed Poole from London; and Chip Shop Chicken Curry by Emma Garnett from Cardiff.
The 2014 version of Do Us A Flavour came six years after the original version was won by Builder's Breakfast flavour, which contributed to an 8.4% hike in value sales of the brand.