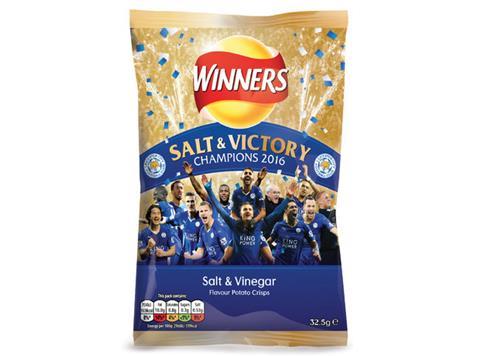 PepsiCo led grocery's celebrations of Leicester City's Premier League triumph this week with plans to shower the people of Leicester with Walkers crisps.

The snacks brand will hand out thousands of special-edition bags of 'Salt & Victory' in the streets of its home city, having unveiled the salt & vinegar snack less than 24 hours after LCFC managed to secure their historic victory.

Packs are also to be given away via the Leicester Mercury newspaper, while 30,000 more will be offered free to fans at the King Power Stadium during the Foxes' home game against Everton tomorrow (7 May).

The bags - featuring an image of Leicester City's players - wouldn't be available to retail, said Walkers, which has completed its Countdown to Kit Off promotion that saw ad star Gary Lineker 'stripping off' on digital screens across the city. An image of Lineker's head on a scantily clad body has been revealed, following his promise to present Match of the Day in his underpants if the Foxes won the title.

"Everyone at Walkers is incredibly proud of our Leicester heritage and we are absolutely delighted the club will be taking home the Premier League trophy," said Thomas Barkholt, Walkers marketing director.

FA CEO Martin Glenn, former UK & Ireland president of PepsiCo, added: "Leicester is a city that outperforms in rugby (Tigers), football (Foxes) and crisps (Walkers). Well done LCFC: a tribute to true teamwork!"

Rum brand Captain Morgan also marked Leicester's success. It unveiled a limited-edition bottle starring club captain Wes Morgan. His image replaces that of the brand's 'buccaneer' and sees him dressed in blue and white robes to match his team's home kit.

And Asda's George got in on the action with the Vardy Cardy - a blue V-neck named in honour of striker Jamie Vardy. George has its head office in Lutterworth, south of Leicester.