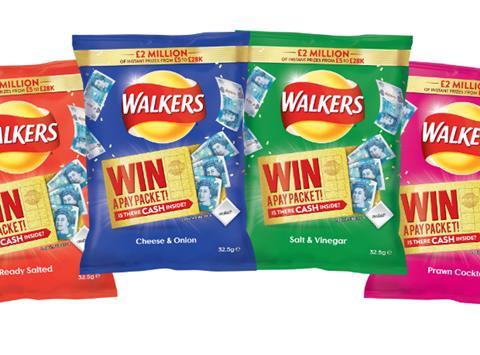 Walkers is to give away a total of £2m in its latest promotion, Pay Packet.
Running from 3 April to 3 June, the on-pack push will offer the chance to instantly win cash amounts equivalent to average salaries. The one-off prizes, based on recent ONS statistics, range from a week's pay of £540 through a month's £2,200 to a year's £28,200. There will also be £5 notes inside some packs.
The latest activity will run across the core range of Walkers crisps in single, grab bag and six-pack multipack formats. Consumers who buy the latter variant will also be in with a chance to win another multipack by providing their pack's unique code at walkers.co.uk/paypacket.
Set to be supported by a "high-profile" TV and digital advertising from the end of April, Pay Packet was a "modern spin" on the Moneybags drive of 2001, "one of the most well-loved and memorable Walkers promotions ever", according to the snacks giant.
"People love that payday feeling, as well as promotions with lots of chances to win cash prizes," said Thomas Barkholt, marketing director at Walkers owner PepsiCo. "That is why we're bringing back one of our most famous on-pack activities this April, but with a fresh spin."