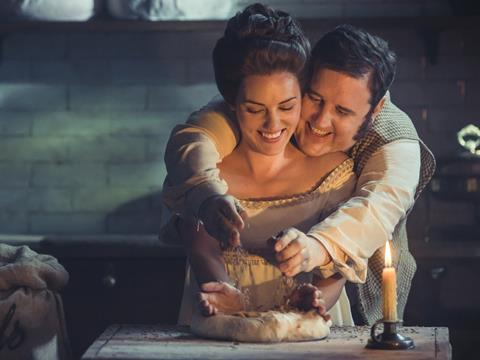 Warburtons' latest multimillion push will make its TV debut this weekend. Called 'Pride & Breadjudice' and starring Peter Kay, it arrived online today (5 October).
It begins with the comedian pitching a story of the Bolton bakery's family history to chairman Jonathan Warburton. A flashback finds Kay as a version of the brand's founder, Thomas Warburton. He's a seeds salesman, wooing his future wife Ellen.
A three-minute version will air on 7 October during ITV's The X Factor, with shorter edits running over the following five weeks. Its focus is Warburtons Seeded Batch loaf – one of the bakery's most "iconic" lines, according to Jonathan Warburton.
The ad was the "third of our star-packed campaign" following ones starring Sylvester Stallone and The Muppets, Warburton told The Grocer. There were "lots of obvious synergies" between Warburtons and Bolton-born Kay. "We always knew Peter would be a natural fit and this just happened to be the right time."
The comic was "a delight" and did a "brilliant" job, but his frequent improvising made him harder to work with than Sly or Kermit, the bakery boss added.
The ad was aimed at "selling the proposition of what this business stands for" Warburton said. "We're a very serious business that doesn't take itself too seriously."
In June, Warburtons reported it had seen annual sales slide by 4.6% amid tumbling sales for wrapped bakery, but profits edged up to £34.6m as it kept tight control on costs.