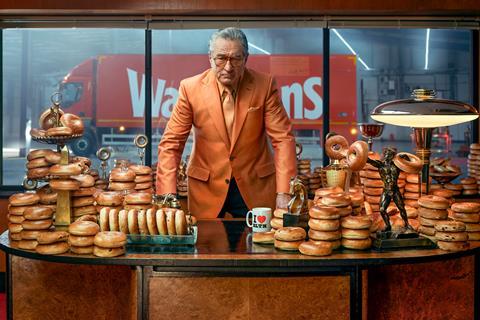 Warburtons' highly anticipated TV ad starring Robert De Niro is set to hit screens this week.
A pastiche of a mafia drama, 'GoodBagels', will make its small screen debut on 17 May. It sees De Niro, as a mob boss, heading with his goons from New York to Bolton, where Warburtons makes its new, full-size bagels.
Seeing the product as a threat to their own, the gangsters burst into chairman Jonathan Warburton's office to threaten him, but he mistakes their visit as storytelling for a potential movie – similar to the pitches in previous ads starring Sylvester Stallone, Peter Kay and The Muppets.
Warburton asks, "How does it end?" – to which De Niro replies, "Not well".
Warburtons launched its New York-style bagels last month. Available in Plain and Cinnamon & Raisin (rsp: £1.60/5x80g), they are made in the traditional manner of boiling and then baking – resulting in "a soft and chewy bagel with a light texture" according to the bakery brand.
De Niro's involvement in the TV ad was first revealed in late November, when the two-time Oscar winner filmed his part in an undisclosed location – most likely in north-west England – and was spotted in an Italian restaurant in Halifax.
"As an iconic New Yorker, Robert De Niro knows his way around a bagel," said Warburton. "So it's great to have his seal of approval."