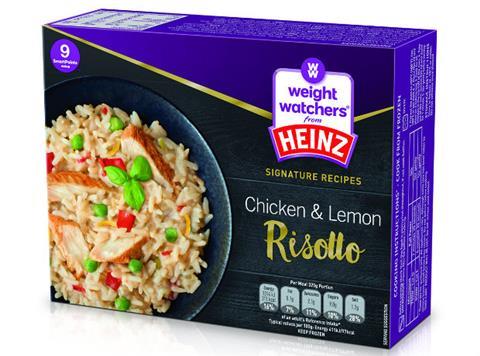 Kraft Heinz has revamped its WeightWatchers from Heinz packaging to make the ready meals' food the 'hero'.

Moving away from its entirely purple design, the new look features larger imagery to showcase dishes in the Classic Recipe and Signature Recipe ranges on both the front and back of packs.

The refreshed packaging also sports a refined 'WW' logo and the SmartPoints value on the front, to highlight the measurement calculator that has replaced the former ProPoints system and encourages people to include exercise as part of their healthy lifestyle.

Elements of gold are included in the Signature Recipe colour scheme to "accentuate the premium feel of the collection", said Kraft Heinz brand manager Aaron Crinion.

"With the health trend set to continue we have ensured the packs have great shelf standout, focusing on food cues and appealing photography across both ranges, to inspire consumers and tap into their health-conscious foodie mindsets," he added.