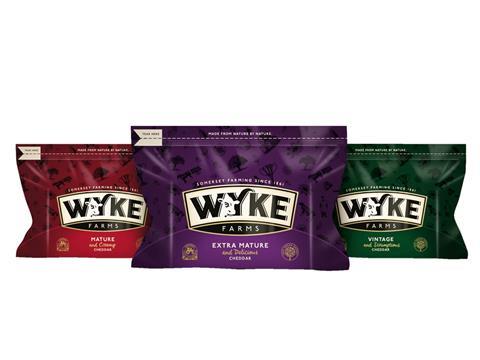 Somerset cheese producer Wyke Farms has given its Cheddar portfolio a £1.6m revamp in a bid to achieve a four-fold sales increase.

The updated packs, rolling out across Wyke Farms' core Mature, Extra Mature and Vintage Cheddar range from 12 October, feature thicker and darker packaging alongside an improved resealable zip to allow easier opening - no scissors necessary - and a click-shut fastener.

More prominence has been given to the brand's '100% Green' strap and Red Tractor logo, with a new 'Made from Nature by Nature' flash introduced along the top of the pack in a nod to the energy biogas plant Wyke Farms started installing in 2012 to power its entire cheesemaking operation.

The new pack is made using less material, resulting in a 4% weight reduction, it said.

The makeover, its first in three years, would give the brand a "more premium" feel and help it achieve a four-fold sales increase within 12 months, said MD Rich Clothier, who added the revamp had been designed to create "an identity that works to communicate the strength of our brand and shout about our credentials".

Last year, Wyke Farms suffered a 33.1% fall in value sales, falling by £13.2m to £26.7m. The Cheddar category experienced a slight 0.3% growth, according to The Grocer's Top Products Survey 2014.

The producer reported a 44.5% fall in pre-tax profits from £2.43m to £1.35m in July, with turnover up marginally from £59.8m to £60.8m for the year to March 2014.

Wyke Farms is supporting the overhaul with a consumer press push running until the end of this year alongside social media activity.

Clothier said Wyke Farms would also be relaunching its export range shortly to "convey more Britishness".