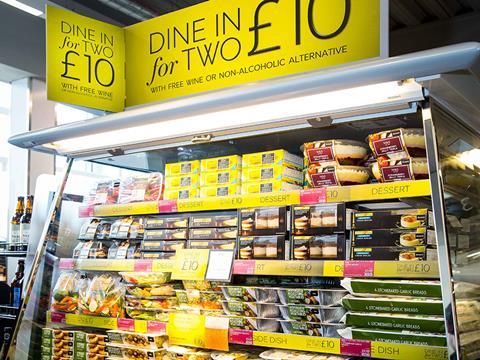 As a symbol of how M&S has lost its way in food, exhibit A has to be Dine In. It started off with the best of intentions: the promotion ran monthly, and was used to showcase the best new innovation from M&S. As such it was not only a trailblazer (it's been much copied); it was super successful.
But over the years, Dine In was watered down. It increased in frequency from monthly to fortnightly and from fortnightly to weekly. And the promos stopped showcasing innovation, with the same options running every week. Dine In didn't just become predictable. Over the years it actually introduced complexity. Special lines were introduced purely for inclusion in the Dine In range. To hit a price point.
Not surprisingly, Dine In lost its way. It stopped making money. In fact, it was losing money. So earlier this year new M&S food boss Stuart Machin did the unthinkable. He put the Dine In price up to £12. It was a big statement of intent in challenging sacred cows and institutionalised thinking within M&S.
Trouble is, the new price point alone didn't really fix it. It didn't bring back the sparkle.
So in recent weeks, he's been messing about with it, mixing up the component parts. And dropping it some weeks – prompting an outcry among customers who still loved it and feared it was gone forever.
At the half-year M&S results today, with like-for-like food sales down 2.9%, CEO Steve Rowe didn't rule out a comeback for Dine In. He promised that M&S would always have some sort of deal for customers, but Dine In in its present form had run its course.
The new emphasis is on what M&S referred to as 'trusted value', with 100 everyday lines reduced in price, including its Oakham whole chicken at a new price of £3.50, and artisan bread loaves for £1, with more to come in time for Christmas, including deals on turkey, potatoes etc - though he wouldn't say by how much.
The aim is to make M&S more contemporary and appealing to families. And this EDLP strategy, at least on KVI, is again controversial, because M&S is a premium food retailer. But it cannot lose touch with ordinary people. As Rowe says, M&S "has become excessively dependent on both short-term promotions and complex and confusing multibuys, including the profit-dilutive Dine In programme".
Dine In is an object lesson in the dangers of complexity but also complacency and fear. It is also a reminder that a cookie-cutter approach won't cut it in food. Even the best ideas have to evolve, and to do so in the right way.
The same is true in the restaurant trade. There was a fascinating story in The Times on Monday about how middle market restaurant chains were struggling because millennial diners were opting to eat in novel pop-ups so they could post pictures on instagram to show friends how up to date they are with the latest trends. With their carefully costed, never-changing menus, restaurant chains are struggling to create the excitement – the sparkle – the modern customer craves.
Successful innovation is always hard at scale. And it's getting harder, as consumer tastes diversify, inflation bites, and increasingly fickle consumers seek out the next cheap thrill. But you have to face in to that reality, in all aspects of your operation. And to be fair to M&S, it is, with marketing redirected towards sales driving programmes including 'What's new at M&S' on social channels, appealing to a different audience at a lower cost than traditional media.
But a like-for-like fall of 2.9% is steep. And if M&S was able to surprise the City with higher profits than expected, the 8% drop in the share price this morning is a reminder to the senior management that they can't dine in on that. A lot of hard work lies ahead.