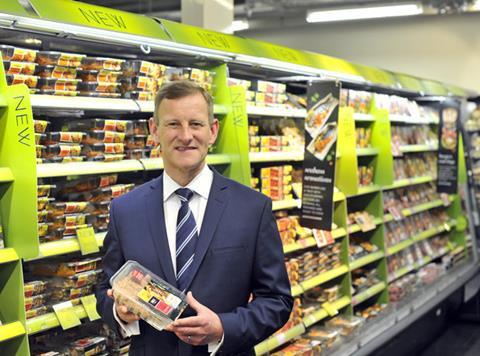 A 64% plunge in M&S profits failed to deter CEO Steve Rowe's optimism earlier this week. Speaking at the retailer's annual results conference, Rowe said the fall was a forecast consequence of its restructuring costs and insisted M&S remained "on track". He remained confident the strategy to boost clothing sites – while cutting back on clothing and home space – was right for the future. "We are not complacent about the challenges we face. However, I do believe our plan is right to deliver a long-term, sustainable future for the business," he argued. So what were the five main takeaways from the strategic update?
1. The business will be more integrated
Rowe was particularly keen to break down the perception of M&S as two separate businesses. "Both the clothing & home and food business are underpinned by unrivalled quality," Rowe stressed. "Seventy-five per cent of revenue comes from customers who shop in both areas."
As Rowe highlighted, this integrated thinking was evident in this month's Spend it Well campaign, which united food and clothing under the same tagline for the first time.
It looks like M&S will pursue this united front behind the scenes. Rowe said both sides of the business were pursuing the same strategy of delivering high-quality innovation that resonated with the customer. "In food, we stand for innovation that is appropriate for customers' lifestyles," he said, referencing its Mediterranean-inspired Spirit of Summer collection. "In clothing & home, it means taking inspiration from the catwalk and turning it into clothing that is appropriate for our customers' lifestyles."
2. M&S will up its game further in food…
Food is at the forefront of the five-year M&S estate revamp, as it sets out to open 34 more food-only stores this year. Rowe says the retailer views London as a particular promising area for future sites. It's not just about new openings, though; things will also look different in-store. Rowe is keen to tap further into the growing demand for food service. He hailed the trial rotisserie counters in Meadowhall and Bluewater as a success, and plans roll out a further 20 into stores this year, on top of 30 more café openings.
3. …but clothing will remain important
As M&S prepares to close clothing & home stores, you would be forgiven for thinking this side of the business is being sidelined. But Rowe is adamant this isn't the case. In fact, he expects M&S to generate the same amount of clothing & home sales with the remaining "fewer, more inspirational branches".
"People said we were retreating from clothing and home. We are absolutely not," Rowe stressed. "We see the same opportunities for growth off a smaller, much more efficient estate."
4. Online grocery trial is "very, very, very" small
Rowe was so keen to downplay this autumn's trial that it was hard to count the number of times he referred to it as "very small". The M&S boss declined to reveal details of the potential model or the geographical area, partly due to fears press tests would skew the results. But he did suggest its initial foray into online would offer same-day delivery. "The overall trend in the market is for more frequent, smaller basket shopping and one of the things we specialise in is meals for tonight," he said.
Rowe also put a swift end to rumours of an imminent tie-up with Ocado by stressing the trial would be a "low-cost" operation using an in-house store picking system.
5. Rowe is confident in new board appointments
M&S has announced two senior appointments over the past month in the form of Asda veteran Archie Norman as chairman, and former Halfords CEO Jill McDonald as managing director of clothing, home and beauty. Rowe was enthusiastic about welcoming both to the team. He stressed that McDonald would "not be a buyer" but would concentrate on customer insights. "She has a great track record of absolutely living the customer and great operational experience from her time at McDonald's, and retail expertise from Halfords," he said. As for Norman, who will replace outgoing chair Robert Swannell: "I've thoroughly enjoyed our meetings and he is very supportive of the plan we are undertaking and recognises the work we have to do."