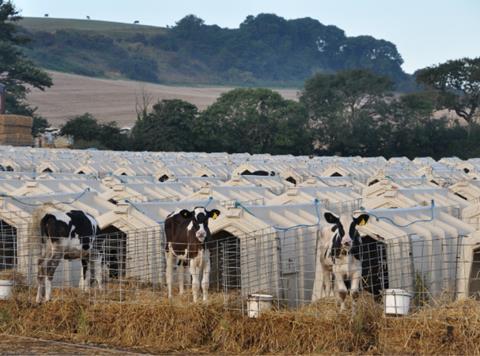 Marks & Spencer has admitted to failings in its supply chain and apologised after one of its dairy farmers was alleged to have broken animal welfare laws by keeping calves in cramped conditions.

The retailer said all 40 of its UK dairy farms would now be audited to RSPCA Assured standards as a minimum requirement, after vegan pressure group Animal Equality UK revealed calves aged up to six months old were being kept in pens designed for animals of up to eight weeks at its Dorset-based supplier Grange Dairy.

However, M&S said it would resist calls by Animal Equality to cut its ties with Grange Dairy, citing a desire to support the farming community.

"We hold our hands up," said M&S food director Andy Adcock. "Keeping calves over eight weeks old in such pens is unacceptable. One of our farmers made a mistake. However, we are not going to sever our ties with this farm and we are not going to weaken our valued links with Britain's farming community."

He added that M&S took animal welfare "extremely seriously", and would never knowingly compromise on it. "If a trusted supplier makes a mistake, we believe it is right to stick with them, help them to rectify the issues and, in turn, make them a more robust business. It is not in our nature to cut and run at the first sign of a problem."

Adcock pointed out a team of independent specialists, including one of the country's leading vets, had checked the health and wellbeing of every single calf on the farm and found that there was no distress among the animals, "confirming that animal wellbeing wasn't compromised".

He insisted "any calf over the age of eight weeks old should not have been housed in these pens", but added M&S believed it to be a "one-off incident; a good farm making a bad decision".
RSPCA Assured

Bringing in RSPCA Assured to audit farms represented a "significant strengthening of our animal welfare standards", he added. "We are already recognised by leading animal charities but are always looking to improve and RSPCA Assured is the best in the business. Very few farms operate to that level of animal welfare and adoption of these standards will set M&S dairy farms apart - and that's what our customers want and expect from us."

M&S would publish the results of the audits in full, and would take any action against any contraventions of standards with full transparency, Adcock pledged.

"British farming is in a precarious position. The number of dairy producers in England and Wales has fallen dramatically and yet the UK dairy industry accounts for around 18% of UK agricultural production by value," he said.

"As a British retailer, it is right that we support this vital sector, and as the country heads into uncertain times, we believe solidarity with other sectors of domestic industry - rather than knee-jerk reactions against them - is crucial," he added.