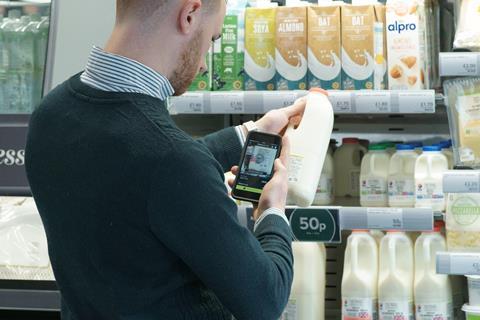 M&S is rolling out a checkout-free, mobile self-scanning and payment option to a further 44 stores, following an 18-month trial.
Customers use the M&S app to scan barcodes as they walk around the stores. Once they've scanned everything they want, they pay using the card they've saved in the app and leave.
Removing the requirement to stop at a checkout means shoppers can "purchase their lunch in under 40 seconds" M&S said.
A trial of the technology at six stores in London – Edgware Road, Bankside, Waterside Paddington, West Hampstead, Canary Wharf and Stratford Westfield – started in October 2018. The technology was later added in M&S's Clapham Junction store.
During lunch time, those stores are reported to have clocked up a Mobile Pay Go transaction every three seconds.
The checkout-free option "helps to reduce queueing times and frees up colleagues so they can offer great service in other areas of the store" the company said.
"Today's rollout means more of our customers will be able to benefit from this popular technology and enjoy a seamless shopping experience – which we know is especially important at lunchtime," said Sacha Berendji, M&S director of retail, operations and property.
"M&S is changing to become a digital-first retailer with industry-leading store operations, and Mobile Pay Go is a really exciting part of that," he added.
The company said that Mobile Pay Go would be rolled out in further stores "where it's right to do so". All its 50 mobile self-scan and payment enabled stores are in London, apart from one, Market Street, Manchester.
The M&S rollout is the most extensive of the major chains. Sainsbury's, in what it called a "UK supermarket first", introduced in-app scanning and payments at its Clapham North Station Local store in 2018. The option is now available in eight stores.
Co-op launched 'Pay in aisle' to 30 stores in a trial starting in July last year and Tesco has made in-app payments available to 5,000 employees to trial.
The M&S Mobile Pay Go enabled stores are: Archway, Bankside, Beckenham Simply Food, Bishopsgate, Blackheath Simply Food, Brent Cross, Brixton Road, Camden Town Simply Food, Canary Wharf, Cardinal Place Victoria, Chancery Lane Simply Food, Chelsea Simply Food, Chiswick Simply Food, Clapham, Clapham South Simply Food, Dalston Simply Food, Dulwich, Ealing Broadway, Earls Court Simply Food, East Dulwich Station, Edgware Road, Finsbury Pavement, Green Park Simply Food, Greenwich Simply Food, Hackney, Hammersmith, Kensington, Kings Road, London Square Streatham Hill, Manchester, Mill Hill, New Change Simply Food, Notting Hill Gate Simply Food, Pantheon Oxford Street, Paternoster Square Simply Food, Queens Park, Southbank, Southfields Simply Food, Stratford, Surbiton Simply Food, Swiss Cottage Simply Food, The More Simply Food, Tottenham Court Road Simply Food, Upminster Simply Food, Walworth Road, Wanstead Convenience, Waterside Simply Food, West Hampstead, Wimbledon Simply Food, and Woolwich Simply Food.