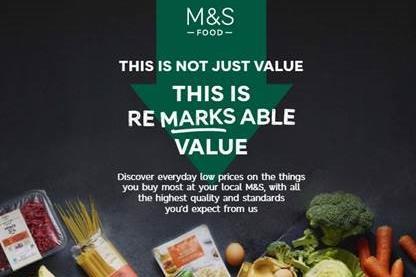 Marks & Spencer is lowering prices across its Remarksable ranges in a bid to attract shoppers as food costs keep on mounting.
The retailer is investing in its value position by slashing prices for everyday staples – such as bread, bananas, milk, spaghetti and beef mince – as it ramps up the competition for other grocers amid hiking food inflation.
M&S COO and Food MD Stuart Machin said: "As we transform M&S Food, we have invested significantly over the last three years in making our ranges even better value, whilst protecting the things our customers love most – our market leading sourcing standards and our delicious, innovative products.
"We want M&S to be more relevant, more often and that's why now is the right time to go further, by investing in the value of everyday items families buy week-in week-out, without compromising the quality our customers want and expect from us."
M&S, which has in recent years grown its Food division through a major transformation strategy that has seen it shift its focus to bigger stores and an expanding food range, first launched the Remarksable campaign in 2019.
As part of the overhaul, M&S Food has invested over £100m in its value position in the past three years, the company said.
The retailer had previously said that the investments made in the more affordable range have helped drive its value perception to its highest in four years.
Read more: Stuart Machin on M&S Food's turnaround: 'The job's not done'
In addition to lowering some Remarksable prices, M&S is also revamping its iconic Dine in For Two meal deal by launching a Family Dine In deal for four following a successful trial.
The Family Dine In menus will change regularly, but a £10 Pizza Dine In deal that is set to launch later this month will be a permanent feature.
In efforts to have more families do their weekly shopping at M&S, the upmarket grocer is also launching Bigger Pack Better Value choices for shoppers, including a 10% saving across fridge essentials and cupboard family favourites.
Parents can also get free meals for their children at M&S cafes during school holidays throughout the year as long as they spend at least £5 in a single transaction.
The latest value investments are part of M&S's larger plans to expand its Food division and maintain its position as the UK's fastest-growing food retailer, as recent Kantar data showed.
Food MD Machin is set to take on the role of co-CEO alongside clothing chief Katie Bickerstaffe when Steve Rowe steps down next month.