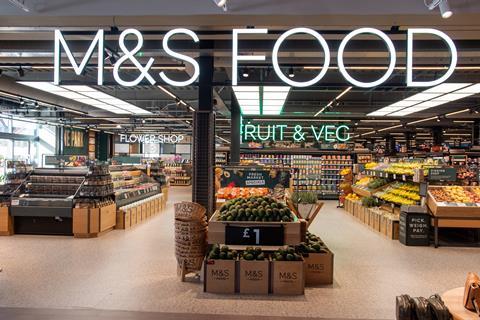 Marks & Spencer is pushing its quality credentials in a new campaign launching today, using the finale of its TV ads with celebrity chef Tom Kerridge to kick it off.
Under the strapline 'This is not just food – it's never just food', the new campaign will include "huge and striking" out of home and print advertising showcasing the standards in M&S Food's product sourcing and ingredients, according to the retailer.
The 13th 'Farm to Foodhall' M&S ad with Kerridge, due to air at 9.45pm tonight (25 September) on ITV, will see the chef reminiscing over what he has learned about M&S quality and standards from its suppliers.
The OOH and print advertising to follow will highlight what M&S "always does" and "never does" in its food standards. Among other things, it will showcase the retailer's animal welfare and environmental standards and its commitment to only using natural flavours and colours.
It will also showcase M&S as the first retailer to only sell 100% free-range eggs and "being number one for animal welfare and selling more RSPCA assured products than any other retailer".
The campaign, involving "significant" OOH, print and advertorial spend, will also be backed by social media and paid-for digital media.
"Our customers are more interested than ever in where their food comes from, as well as what is in it, for when they are feeding their families," said M&S Food and hospitality marketing director Sharry Cramond.
"So we wanted to shout about what really sets us apart from other supermarkets when it comes to quality and ingredients and have packaged it up under the banner 'This Is Not Just Food….It's Never Just Food'."
Maintaining high quality standards, as well as pushing its value credentials and appealing more to family shoppers, has been credited by analysts with helping M&S grow its food sales and recently re-enter the FSTE 100, four years afters its demotion.
Writing a blog to be published today, M&S Food MD Alex Freudmann said: "Quality is as much part of M&S Food's DNA as Percy Pig.
"It's what we're famous for and what customers always expect when they shop with us.
"This summer, Tom Kerridge has been bringing this to life brilliantly as part of his Farm to Foodhall campaign which champions farmers across the UK. Today sees the conclusion of that with the final ad landing on screens, and also the launch of our biggest quality campaign yet, which is expected to reach over 40 million people across the UK.
"This campaign is at the heart of what M&S Food is about, and what our customers should always or never expect from M&S when they buy our products. Because we know more customers are becoming as obsessed with quality – in every sense of the word – as we are.
"Like us they care more and more about what they are feeding their families."