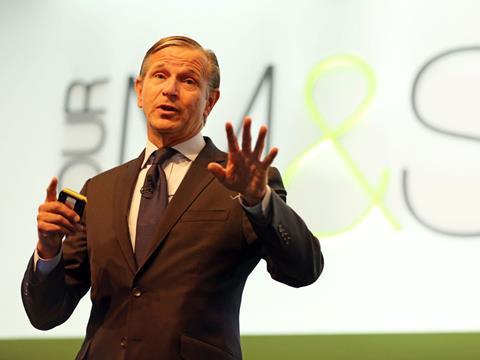 Marks & Spencer has reported strong growth in quarterly food sales, helping to offset a sharp fall in online sales.
M&S said like-for-like food sales increased by 1.7% during the first quarter ending 28 June. The figures were boosted by the late timing of Easter, and adjusting for this, like-for-like sales increased by a more modest 0.1%.
The retailer said it benefited from its more specialist positioning and the launch of about 700 new products during the quarter. In the wake of the supermarket price war, it also said it remained price competitive while protecting gross margin.
"Our Food business had another great quarter, continuing to outperform the market, through our focus on differentiation through quality and innovation," said M&S CEO Marc Bolland.
General merchandise, comprising clothing and homeware, failed to match the strong performance of the food division. It suffered a 1.5% drop in like-for-like sales.
M&S.com sales were also weak, falling 8.1%. As M&S warned in May, the "settling in" of its new e-commerce platform affected sales. It said it expected online sales to return to growth later this year.
The retailer said it was less promotional during the quarter in general merchandise and that this would help bolster margins.
"We have seen a continued improvement in Clothing, although as anticipated the settling in of the new M&S.com site has had an impact on sales," said Bolland.
"We are pleased that the womenswear business was in growth, driven by full price sales, in line with our increased focus on margin."
In international markets, M&S said it continued to perform well, benefiting from strong performance in key markets. However, it acknowledged that trading conditions in the Republic of Ireland continued to be challenging and sales in the Middle East were impacted by the timing of shipments to franchise partners.
M&S shares rose a 0.8% in early trading on Tuesday to 436.8p.