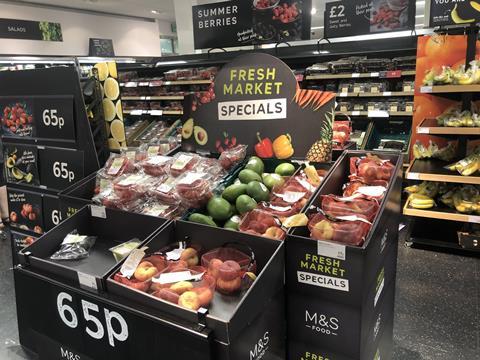 M&S has launched a range of 65p fresh fruit & veg offers, along with offers on meat, fish and poultry.

The 'Fresh Market Specials' arrived in stores this week, including a twin-pack of avocados, a five-pack of doughnut peaches, 225g of baby plum tomatoes or a single mango, all at 65p each.

The meat, fish and poultry offers include two salmon fillets for £4 and two outdoor-bred pork loins for £2.

The offers coincide with a TV advertising campaign launched last week, showcasing M&S fresh food and featuring ITV weather presenter Lucy Verasamy. They are to run alongside the campaign throughout the summer.

"In-store point of sale and a monthly What's Fresh at M&S magazine will highlight the brand's Fresh Market Specials, great-value offers on produce and meat, fish and poultry," said a spokeswoman.