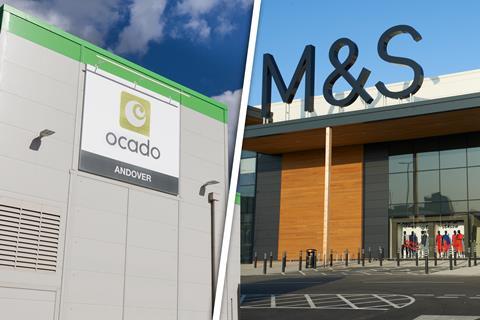 Since its first Penny Bazaar in 1884, M&S' successes have been built on innovation. That original entrepreneurial M&S spirit was about constantly listening to the customer but being bold with first to market products (chicken kiev, anyone?) and setting new standards in food quality and sourcing – be that pioneering the cold chain process in the 1960s or being the first to go fully free-range on eggs in 2002.
When I joined in mid-2018, with the march of the discounters in full flow and the competition's growing imitation of our ranges biting at our heels, I was clear that our transformation was dependent on protecting that magic of M&S Food. Upholding the things that, when we're at our best, set us apart from the competition, while modernising the elements that hold us back – our supply chain, our selling channels and perception of our prices.
2020 was always going to a transformative year, as we took our full food offer online for the first time thanks to our acquisition of 50% of Ocado Retail. What no one predicted was a year that would throw the whole grocery sector under the spotlight, accelerate fundamental change in shopping habits and increase customer focus on value more than ever. Every food retailer has faced these challenges as customers complete fewer, bigger shopping trips, but it's been heightened at M&S – with our franchise travel and convenience locations shuttered, the absence of an online offer and a limited number of stores carrying our full range.
But in this crisis, we have seen what we are capable of: responding with pace and agility to meet customer needs, with solutions such as temporary delivery partnerships and adapting our ranges to deliver growth over 10%, accounting for the closure of our franchise and hospitality business. Critically it's made our transformation priorities more relevant than ever and given us laser-sharp focus on what we need to do: accelerate growth through Ocado, unlock the value and efficiencies in our supply chain and deliver trusted value across a bigger, better, fresher food offer.
Read more:
The partnership will bring together Ocado's market-leading service with our delicious quality food range. But we know we can't be complacent and our preparations for launch have made us look again at the breadth and depth of our offer. We've listened intently to what customers want and added over 750 new products to our range. Over 70% will land in selected stores (starting this month) as well as online – with more family pack sizes, more scratch cooking and baking ingredients, as well as upping household staples and organic options.
This range extension complements our wider product development, which in recent years became too niche. But we're now delivering a pipeline of more commercial, relevant innovation such as our Plant Kitchen range, which has attracted over half a million new customers, our Cook With range, featuring simple, fast fresh meal solutions for busy families, and our reduced sugar products, with clear labelling to help customers make informed choices.
Going online will make our prices more visible than ever before and while we're not interested in a race to the bottom, we are very serious about busting the myths around M&S pricing. In November, we launched Remarksable – a new way of talking to customers about our trusted value – highlighting the investment we've made in great everyday prices on the products customers shop often, with a promise to never compromise our quality or sourcing standards. This week we've gone big again on Remarksable – including our first TV campaign focused on staples – showcasing our sliced bread with added fibre and vitamin D for 65p and RSPCA Assured milk for 85p.
Ocado will no doubt increase our share of family customers and enable customers to do a bigger M&S shop, but we've seen first-hand in our test and learn renewal stores that we can make this happen offline too. Making customers (and colleagues) think differently about M&S Food has been the driving force behind our renewal programme. As an own-brand retailer, homogenising with the pack doesn't work and we need a store experience that shows the freshness, quality and value of our product offer. One year on since our first renewal store in Hempstead Valley, we're testing and learning in nine locations and formats across our estate. The early signs are encouraging and through lockdown we saw a strong performance in these sites, with customers consistently shopping bigger baskets.
While all eyes are on 1 September, our transformation is a multi-year plan and our partnership with Ocado is set for the long term. There will no doubt be bumps in the road, but we want to be set up to serve our customers to the best of our abilities. Going online is a reset moment for M&S Food – not simply because we're getting immediate profitable access to the UK's fastest-growing grocery channel, but because it provides a unique opportunity for customers to reappraise the breadth of our range and value of M&S Food. This will provide a halo effect in our stores, where I am confident customers will find our delicious great-quality M&S Food costs less than they think.