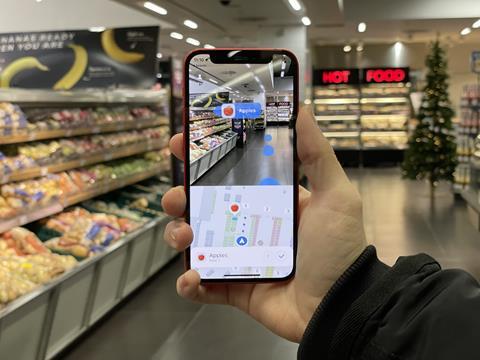 M&S is to commence staff trials of an augmented reality wayfinding app at its Food Hall in Westfield Shopping Centre.
The tool, which has been trialled by a handful of colleagues already, allows users to enter a product, and follow an on-screen path to its shelf location.
When a user's smartphone is held up, the app shows markers and points to a product on a shelf. When the phone is held down, a compass points which way users should walk to reach it. The tool, developed by AR startup Dent Reality, also allows users to enter a full shopping list and calculate the optimum route between items.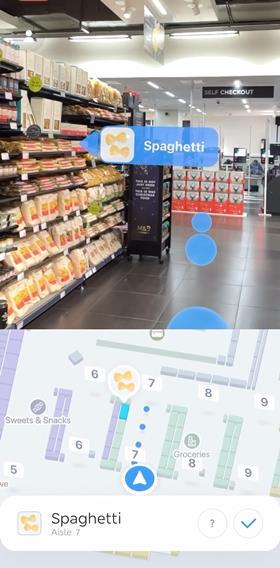 It is understood if staff trials are successful, the app will be made available for public use in January. It is expected to become a feature of the M&S app, rather than a standalone app.
Dent Reality – which late last month secured £2.5m in funding – said the tool pinpointed a shopper's location using a store's existing wi-fi network, and creates maps of stores using digital planograms. A link between the store's systems and Dent Reality's technology means the app is automatically updated whenever planograms change.
Dent Reality – which has the backing of Pi Labs, Sugar Capital and 7percent Ventures, one of the first backers of Oculus VR – says among the "biggest inbound interest" in its solution has been from grocery.
"They want to improve their customer experience, surface recommendations and recipes, and bring all the things they do online, to the in-store experience," Dent Reality co-founder Andrew Hart told The Grocer. "And the second thing is – they want to improve their online order picker efficiency."
He said retailers had tried alternatives in the past, including Bluetooth beacons and electronic shelf labels, "and the feedback we get is it isn't accurate enough and it's not scaleable," he added. "You need to install thousands of beacons or ESLs.
"We've taken an entirely different approach."
The company is working towards being able to roll out the tool in a supermarket within one or two days.
"So if they wanted to add 100 stores tomorrow we can do it," Hart said.
One of Dent Reality's advisors is Tom Tang, until last year Sainsbury's digital chief technology officer. Tang wrote in 2019 that "augmented reality has a lot of potential across [Sainsbury's] brands – not just externally, through our customer-facing technology, but also internally, across our various departments".
Several grocers have trialled or rolled out in-store augmented reality features. Tesco in 2013 used its now-defunct Tesco Discover app to deliver video content when shoppers pointed their smartphone camera at a bottle of wine in store. Sainsbury's in 2019 ran an AR-based Easter bunny hunt, which challenged young users to users to track down digital animals hiding in the aisles.
Online convenience platform Jisp in September launched augmented reality voucher system, Scan & Save, which shows virtual vouchers when products are viewed via its app. It is being rolled out to several Nisa stores. Scandit, a company that supplies the barcode reading capability to many supermarket apps, also offers AR product information display capabilities.