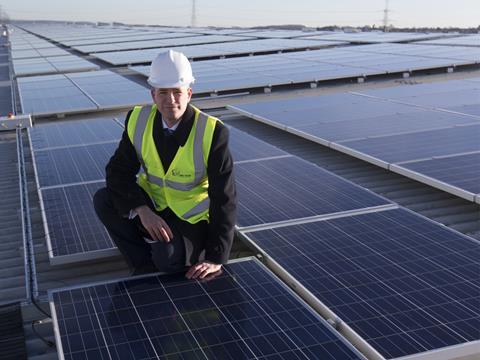 M&S has completed the installation of what it claims is the UK's largest single roof-mounted solar panel array on its 900,000 sq ft non-food distribution centre in Castle Donington, Leicestershire.

The solar photovoltaic (PV) array is expected to generate more than 5,000 MWh of electricity annually, which M&S says is enough to power 1,190 houses.

The structure comprises 24,272 PV panels which, if laid end to end, would stretch 25 miles.

M&S said the solar panels would lower the company's carbon footprint by 48,000 tonnes over 20 years.

It will help the retailer maintain its commitment to sourcing all its electricity for UK and Ireland properties from renewable sources, with half sourced from small-scale renewables by 2020.

"This is the first significant step in a number of solar energy initiatives. The scale of the project demonstrates our ambitious goals and long-term commitment to on-site renewable energy," said M&S director of property Hugo Adams.

M&S has signed a 20-year power purchase agreement with Amber Infrastructure to buy all the electricity the solar panels generate.