In a January of lukewarm Christmas trading updates, M&S was a rare winner, with food like-for-likes up 1.4% in Q3.

Compare that to a year ago, when like-for-likes were down 2.1%. It's a solid endorsement of the turnaround efforts of M&S Food MD Stuart Machin, then only eight months into the job.

Now 18 months into his five-year plan to transform the food business, Machin has a "countdown clock" above his desk, ticking down the weeks until M&S replaces Waitrose on Ocado in September.

Showing The Grocer around the recently opened Food Hall in Hedge End, the third to be completely overhauled in his store renewal programme, Machin talked us through the work that's been done, and is left to do.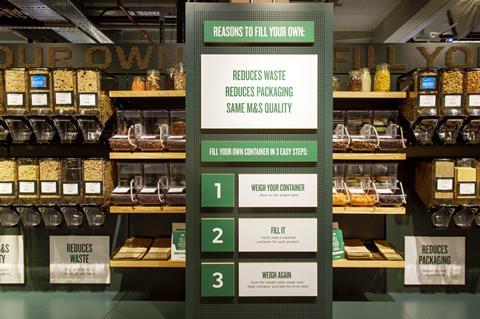 The range
The full range reached 6,000 lines last August when M&S relaunched the 17,000 sq ft Hempstead Valley Food Hall in Kent, the first store to be renewed. Hedge End, which like Hempstead Valley has taken space from clothing, has 6,500.

Range expansion and development has been part of Ocado preparations: M&S Food needs to shed its image as a purveyor principally of ready meals. It's only 12 months since M&S CEO Steve Rowe said the food business was not suited to online because around 40% of shoppers were only buying for now or tonight.

That's why, at Hedge End as in Hempstead Valley, you arrive first in fresh fruit and veg, then bakery and fresh meat. "You would usually walk into ready meals," says Machin.

A wall of hot food-to-go counters on the right includes a Pasta Evangelist concession, a pizza oven and "Prep Kitchen" putting together M&S ingredients in tray bakes to be cooked at home.

"People don't naturally think of us for cooked ingredients," says Machin. "They think of us as convenience in terms of prepared meals to put in the microwave or oven. Part of what we're trying to work on is getting customers to realise they can buy ingredients from us."

There are around 20 frozen bays, recipe kits, exclusive Itsu noodle soups and a large ambient section, with brands but also retaining M&S's bias to own-label. "If I see a brand, I always say why can't we do it?" says Machin.

There's even a packaging-free aisle with refill stations.

Yet with 32 weeks to go, Machin believes the range is still not ready for Ocado, although it is big enough now he says. "I worry a bit about SKU proliferation. We've got 6,500 lines but we're also trying to work out what customers expect. We know where we've got gaps, we know where we've got duplication."


The estate
Having a bigger range is one thing. When nearly all your shops are too small for it, getting it to customers is another. When Hempstead Valley opened, Machin described the "challenge" of having only about a dozen stores that stock the full range. M&S needed "customers to see more of our fantastic food". The number is still only 15. Even 15,000 sq ft Clapham, the second store to get the renewal treatment, and devoted entirely to food, doesn't quite have it all.

Machin has a new target ratio of big-to-small for four years' time, albeit one only shared internally. "You want your small, your medium and your large. We're just slightly outweighing with a lot of small. We just need to rebalance."

The transformation has already reached beyond the larger stores, with M&S's value-driven Fresh Market Specials and 'Re-Marks-able Value' campaign launched late last year. But Machin now also talks about rolling out the renewal programme itself to them.

"This [Hedge End] is all well and good, it's great, but I've got a lot of stores at 9,000 sq ft," he says. "What does it mean for those stores? That's what we're going to do as well as part of our trial" A decision on the rollout to smaller stores is about six months away, he adds.

The joint venture with Ocado, announced last February, is a better way to make more customers aware of the range: M&S's average basket value was estimated at £13, while Ocado's was £100-£110.

"I don't think I need to" get people to fill a trolley in smaller stores, he says. "When we launch on Ocado, customers will see the range online. People who aren't used to M&S will say 'I never knew they did all this range'. But they'll realise because it's online.

"Why would I worry about whether customers in a 9,000 sq ft store know what we do? Over time they will, whether it's on Ocado or because we have a more stores like this."
Setbacks
Lessons have been learned in the store renewal programme. In Clapham, for example, people have spent less at the coffee counter than Machin anticipated, instead taking a free sample in the coffee aisle and leaving. So at Hedge End, customers must scan their Sparks loyalty card to get the sample. "That means if you've had a Brazilian, I can offer 50p off Brazilian coffee," says Machin. In Hempstead Valley, desserts were in three different places and it wiped 30% off sales. "We changed it all in two weeks."

But the bigger lesson of Machin so far is Christmas waste levels, which hit margins, putting them at the lower end of guidance for the full year.

"Our availability was good but a little too good," says Machin. "So we had a bit of waste, which took away the shine."
Costs and efficiencies
Hence Vangarde, the name M&S has given to a major rethink of its supply chain, from the size and frequency of deliveries to warehouses to processes at stores. Launched last year, M&S says the new methods have led to a 30% reduction in waste in trial stores. Ninety branches currently employ the new systems, served by the Barnsley depot, and it's due to roll out across the estate this year.

It's part of a wider plan to save the food business £200m in costs by 2023, a target Machin insists is not at odds with the complexities of store renewal and range expansion, although he's watching the counters closely. "I do think we have to proceed with caution. I very much want the counters quite tight and efficient, and that's the work we've still got to make sure of.""

Store efficiencies are being made elsewhere with measures such as "shelf-friendly" packaging. At Hedge End, tins are put on display in shelf-ready cardboard trays, where before it has been more "one by one".

"I visited a store the other evening, and we didn't design the bakery preparation area properly," he adds. "It's one small room for bakery and hot food. The team can't even get two people in a small room, never mind the trays of bread. That won't happen again."

The changes needed run right through the culture of the business, from getting leaders, under Machin, to work together more, to rethinking store hours. "We might go to seven-day deliveries. What does that mean for DCs, working capital, back-of-house hours?"

But, with that countdown clock over his desk, Machin is clear that his focus for 2020 needs to be narrow.

"We have the key things to do in 2020 and then how we're going to reshape the business," he says. "Ocado and supply chain have to be the focus for this year. Don't underestimate, there's a lot of work to do.