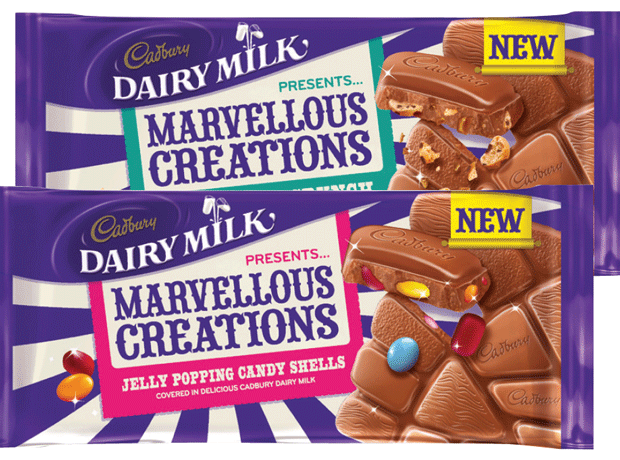 Mondelez is axing several lines from its award-winning Cadbury Dairy Milk spinoff Marvellous Creations as supermarket range rationalisation start to bear fruit, The Grocer can reveal.

With supermarkets looking to simplify ranges, axe under-performing skus and focus on base price, Mondelez marketing director Matthew Williams said its priority was now to "make sure we have two bestsellers in the range", with the lower-selling tail of products less of a priority.

Williams admitted the ongoing Tesco review - dubbed 'Project Reset' - was one of the drivers behind the range rationalisation.

"With Tesco's commitment to reduce its range and other customers going the same way - we have to ask if that extra SKU on shelf really adds that much," he said.

All Banana Caramel Crisp and Cookie Nut Crunch skus will be axed, though a new flavour - Rocky Mallow Road - will be added. Jelly Popping Candy is the only existing Marvellous Creations chocolate bar to survive the cull.

The Mondelez move comes as suppliers report a huge knock-on impact from Project Reset. Tesco has shifted its negotiations from back to front margin and is asking suppliers for long-term commitments on ongoing price cuts.

"[Tesco CEO] Dave Lewis has decided there are a lot of SKUs in the fixtures that don't warrant the space," said one supplier source.

"Clearly those ranges are all vulnerable and a lot of Tesco's biggest suppliers, like Mondelez, are going to be affected because of the size of their range and the tail of some of their products which are not big sellers.

"When Tesco was negotiating around back margin those suppliers would be able to secure their space with overriders based on their scale and presence. But with Tesco it is now all about front margin and price."

"Tesco is asking suppliers to come up with long-term price cuts which run into millions," said another source. "In return they are predicting that suppliers will see double-digit sales growth by being part of a more consolidated line-up of SKUs."

"The discussions have become all about permanent cost-price reductions," said another supplier. "If Tesco can get big strategic agreements with big companies like Unilever, Heinz and Mondelez, it would be a big strategic win," said another supplier.