This article is part of our Meat, Fish & Poultry Report 2015.
Young's Seafood is Britain's most sociable frozen fish brand, according to exclusive research for The Grocer by content marketing agency Headstream.
The brand posted significantly more content on Facebook throughout May than rivals Whitby Seafoods and Birds Eye, prompting 3,524 likes, 81 comments and 182 shares from its 24,000 followers.
Sharing recipe ideas was at the heart of the brand's strategy, says Headstream social media executive Victoria Bellamy. "There are a huge number of people participating in online conversations about food, and in particular healthy food, which accounts for the success of Young's top performing post."
So what were the most effective posts?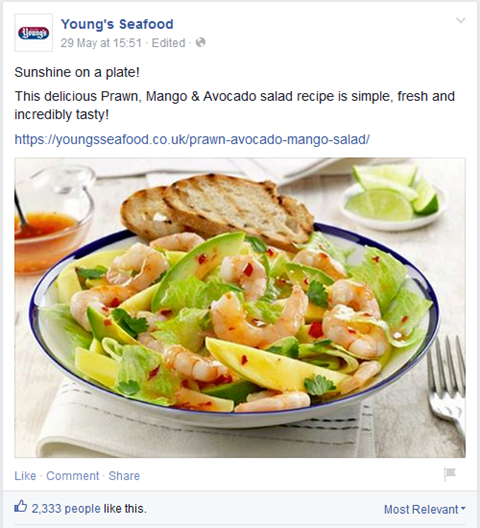 Sunshine on a Plate! Young's Seafood
(2,333 likes, 32 comments, 128 shares)
This recpie isn't just tasty; it's timely too. With summer nearly upon us Young's posted this salad made with the brand's frozen prawns, prompting an impressive 128 shares. The quality of the photo is also key, says Bellamy. "Strong image posts are far more likely to be engaged with than text only or posts a poor quality image," she says. "In fact, Facebook actively squeezes the reach of posts with poor quality images, to ensure that the posts delivered to a user's newsfeed are always interesting, relevant and appealing."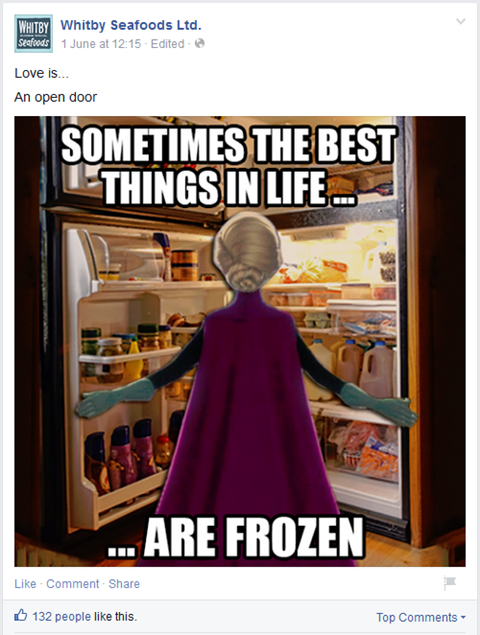 The Best Things in Life… Whitby Seafood
(132 likes, 10 comments, 39 shares)
In this post Whitby combines two of the most popular phenomenons of the internet age: memes(though they usually feature cats, not frozen food) and Disney's Frozen. The 'humour' might not be to everyone's taste, but it's proven relatively popular with the brand's followers. "It's interesting that the most successful post for Whitby is not product related, which is the case for other brands," says Bellamy. "Whitby has a more varied approach to content on the page and in this case it proves to be well received."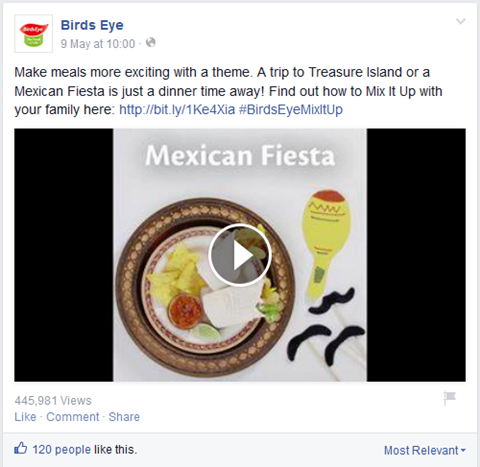 Mexican Fiesta - Birds Eye
(120 likes, 3 comments, 0 shares)
Birds Eye is the least active on Facebook of the three brands, posting only once during the analysis period. "What is notable about this post is that it makes good use of video content, which is particularly popular amongst Facebook users," says Bellamy. "The Facebook algorithm has a growing preference for serving video content, which drives up the reach and often leads to better engagement rates. Auto-play on the platform helps to drive up the number of views, and at the end of last year the platform was serving up an average of a billion video views a day."
Facebook activity 2 May - 2 June, 2015
| Ranking | Brand | Likes | Comments | Shares | Score |
| --- | --- | --- | --- | --- | --- |
| 1 | Youngs | 3524 | 81 | 182 | 4232 |
| 2 | Whitby | 682 | 34 | 49 | 897 |
| 3 | Birds Eye | 120 | 4 | 0 | 128 |
Methodology:
The Grocer provided Headstream with an original source list of the UK's biggest frozen fish brands to be considered. Their social performance was monitored for a one month period dating from 2 May to 2 June inclusively. Headstream extracted each of the Facebook posts published on the brand pages and analysed post engagement. For the purpose of this report, an engagement is considered to be a like, comment or share on Facebook. One point was awarded for a like, two for a comment, and three for a share – based on their value to the brand. These figures were then totaled to form the combined score shown in the above ranking of the most socially active brands.