This article is part of our 2016 Meat, Fish & Poultry digital feature
Let's face it, Spam will never be glam. And no self-respecting dinner party host would ever serve up a Fray Bentos pie or frozen beef lasagne. Ambient, canned and frozen meat products have an image problem. It's time that changed. So we've tasked creative branding agency Webb deVlam to come up with concepts that could turn a tired, neglected fixture on its head. It's done just that…
Terrine & Tipple Oaked Smoked Chopped Pork Infused With Calvados
Posh, boozy ham in a can is about as far from Spam as Lambrini is from Lanson. T&T proves that canned meat needn't mean cheap. This is aimed at the Waitrose crowd for those summer evenings sipping Champagne from plastic flutes at Proms in the Park and bopping up and down in red chinos.
"This is the sort of product you wouldn't be ashamed of having on your table or your picnic rug," says JP Hunter, creative director at Webb deVlam. "Eighty three per cent of people now eat cooked/ready-to-eat meat, but the canned category is still heavily stigmatised."
T&T would carry a price of about £6, suggests Hunter, adding: "It's sufficiently sophisticated to serve directly from the can at the dining table or at a picnic. It could alter perceptions and reinvigorate the market. These terrines would be of near-equal quality of department store hampers, but made accessible and inclusive for all."
Stokes Brothers Sous Vide Frozen Steak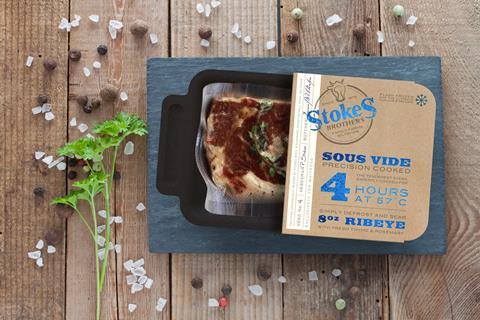 Restaurant quality sous vide steak, straight from the freezer! "Fifty nine per cent of people now spend 30 minutes or less preparing their evening meal, but that shouldn't mean they have to compromise on the quality of food or enjoyment of the cooking experience," says Hunter.
Enter Stokes Brothers with its slow-cooked prime steak, flash frozen at the point when flavour and tenderness reach their pinacle. This would cost you dear - Hunter suggests a price point of £10 to £12 - but it would be worth it.
"Freezing would be the only way to preserve the benefits of the sous vide cooking method and deliver it to people it at home," he adds. "Unlike their supermarket own brand competitors, these packs have a distinctive shelf presence, due to their premium identity, while the structure enables the user to interact with the product conveniently and intuitively."
Gravy Train Protein Shots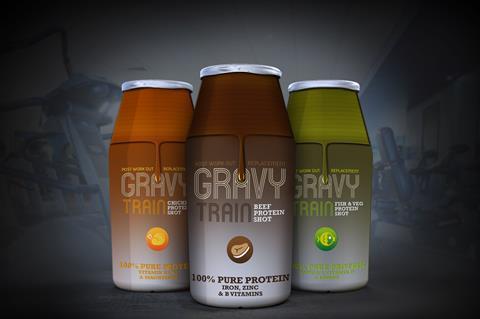 Mmm… the great taste of cold gravy, post-workout. Hunter admits this idea is pretty out there, but don't dismiss it entirely. "We were bouncing around ideas about post workout protein shots when one of our designers said he likes a Bovril after a run," he says. "That got us thinking."
According to Hunter, 75% of people believe meat is an important source of vital nutrients but on-the-go formats are too few. Enter Gravy Train. "If you take a chicken and wring it out that's got to be one of the highest forms of protein you could get. It's going to be disgusting but if you're in the market for good protein it could work."
The meat, fish and poultry-based compact protein drinks would sell for £2 to £3 and would each emphasise their unique health credentials. "Similar to protein milks and shakes, these would be ideal before, during or after a workout," says Hunter.
It might be a while before Gravy Train rolls into town, but this could get the creative juices flowing at Bovril.
Previous article - Meet the buyers: Price war is a 'great opportunity' for meat
Next article - Duck is flying as spend soars by £11m
In partnership with…

With offices in Chicago, London and Singapore, Webb deVlam is a strategic brand design and innovation consultancy that helps build brands with strategy, innovation, and branding design. Since 1992, Webb deVlam has been working with leading companies across multiple sectors to create meaningful connections between consumers and iconic brands that deliver valuable results. To learn more, visit www.webbdevlam.com .